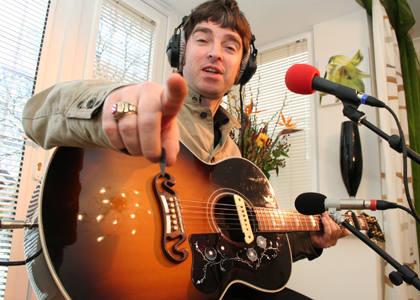 Can you think of anything more exciting than having a member of your favorite classic rock group play a set in your living room for your family and friends? That's what happened December 1, 2006, for Ben Haynes when Noel Gallagher of Oasis performed at his home in the small English Midlands town of Poynter.
It's easy to forget just how big Oasis was. Before we get to our On This Day feature, here's a wild fact: the group released seven studio albums. Each hit #1 in the U.K. (as did a 2008 compilation album). They also scored eight #1 U.K. singles and a remarkable 23 Top 10 hits. Two songs were U.S. hits: 1995's "Wonderwall" (#8) and 1996's "Champagne Supernova" (#20 on the airplay chart, since it didn't have an American physical release). Both are from (What's the Story) Morning Glory which has sold a reported 22 million copies worldwide.
Ben Haynes – a chef at Selfridges in Manchester – was indeed a fan, having seen Oasis live nine times. But he found it still almost inconceivable when Gallagher showed up at his home after Ben won a contest on BBC's Radio 1. "I just couldn't believe it was really happening."
But it was, as the Oasis songwriter and guitarist performed for Haynes in his living room, playing the songs "Half The World Away" – theme tune to the English TV show The Royle Family – "The Importance of Being Idle" and "Don't Look Back in Anger" to Haynes, his parents and a few of his close friends. Plus millions of Radio 1 listeners who tuned in to the set broadcast from the Haynes's household.
""It was a totally amazing experience. We were all chatting to him and he was really nice."
Watch a clip of the actual performance
When Gallagher tours, tickets are available here and here.
Oasis Knebworth 1996, a live album and DVD/Blu-ray, was released in 2021 to commemorate the 25th anniversary of their concerts.
Related: Listings for 100s of classic rock tours

Latest posts by Best Classic Bands Staff
(see all)