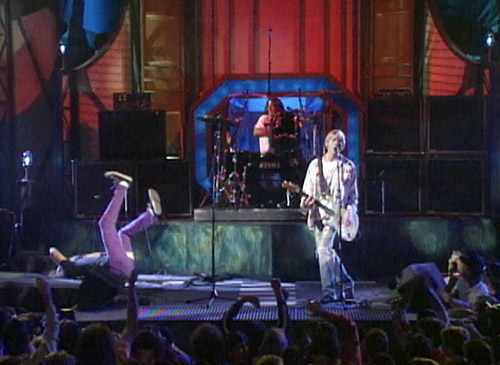 It was a lively evening on this day at the 1992 MTV Video Music Awards in Los Angeles for recently minted superstars Nirvana. The fun begins with a backstage spat between Kurt Cobain and Guns N' Roses singer Axl Rose. After Cobain's wife Courtney Love jokingly invites Rose to be a godfather to recently born daughter Frances Bean, Rose tells Cobain to "Keep your bitch in line." Kurt sarcastically orders Love to behave.
The tension between the two bands continues as Nirvana heads to the stage to perform and GN'R bassist Duff McKagan and Nirvana bass player Kris Novoselic exchange tense words (the two later become friends). Members of the production crew hustle Novoselic onto the stage. Cobain plays the opening of the song they were asked not to play, "Rape Me," before the trio actually performs "Lithium."
As Novoselic later recounts in his column in the Seattle Weekly: "One should take the stage in a good frame of mind, but I wasn't there… I'm plugged into some awful bass rig that's distorting terribly. I can barely hear what I'm playing, and the tone deteriorates into an inaudible mess. Fuck it – time for the bass-toss schtick. Up it goes!!!!! I always try to get good air – I bet I hit over 25 feet, easy! But no matter how high it went, I was not on my game – the only time I've ever dropped it was then in front of 300 million people. Ouch! I was fine, but I faked like I was knocked out, perhaps expressing my inner torment over a taxing evening. (Maybe I was just embarrassed.)"
The bass struck Novoselic on the head, and he stumbles offstage and into a bathroom to find streams of blood on his forehead. Paramedics arrive and apply a bandage to the cut, and "then handed me a long medical release form to sign," he writes. "Standing behind them was Brian May, the guitarist of Queen, with a glass of chilled champagne. I signed the release just to get the medics away from me so I could take a sip of Mr. May's wonderful medicine. Ahh, yes!!! Moments later Dave Grohl burst in. He'd been looking all over for me, only to find me enjoying a calm glass of bubbly with Mr. May. It was a relief for all!" And on September 9, 1992, Nirvana took home the Best New Artist award.
Watch Novoselic's accident at the 4:10 mark…

Latest posts by Best Classic Bands Staff
(see all)