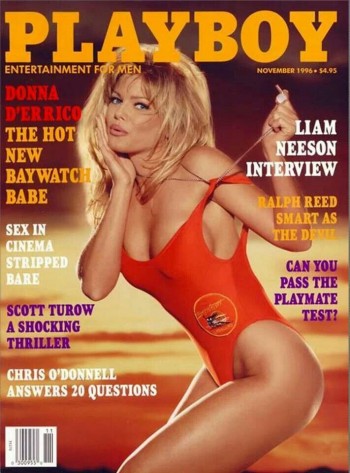 Many fellas dream of dating or even marrying a pinup model. But two? That's pretty much out of every guy's league.
But on December 23, 1996, Motley Crüe co-founder and bassist Nikki Sixx did just that, tying the knot with Playboy's Miss September 1995, Donna D'Errico, one month after the classic rocker divorced the magazine's Miss October 1987, Brandi Brandt.
The marriage to Miss Sixx (the first) lasted over seven years.
While married, Brandt appeared as the model who greets Stephen Tyler in the 1989 Aerosmith video for "Love in an Elevator."
The Sixx-D'Errico union lasted nearly ten. Sadly, both women fell into rough times: in 2014, Brandt pleaded guilty to drug charges and was in prison for several years. D'Errico, who co-starred for two seasons of Baywatch, filed for bankruptcy protection, also in 2014. In 2022, she announced that she was celebrating two years of sobriety after struggling with depression, "quietly working, raising kids alone. I did a few things right… my kids turned out amazing."
On December 10, 2016, Sixx announced on Facebook that he would be leaving the social media platform and abandoning his Twitter account, due to his constant feuding there. (Here's the link to his Twitter page.)
At the time, he wrote on Facebook: "GOODBYE FACEBOOK….I WANNA GET BACK TO WHATS REAL.WRITING MUSIC,LYRICS,BOOKS,PHOTOGRAPHY ETC ETC…..IF YA WANNA FOLLOW ME I POST PHOTOS ON INSTAGRAM…OTHERWISE SEE YOU LIVE NEXT TIME I GO ON TOUR….MUCH LOVE…"
He ultimately changed his mind and is active once again on social media. And in December 2019, Motley Crüe announced their return with a big stadium tour with Def Leppard. After being postponed twice, it finally took place in 2022. The bands are returning for a world tour in 2023; tickets are available here and here.

Latest posts by Best Classic Bands Staff
(see all)