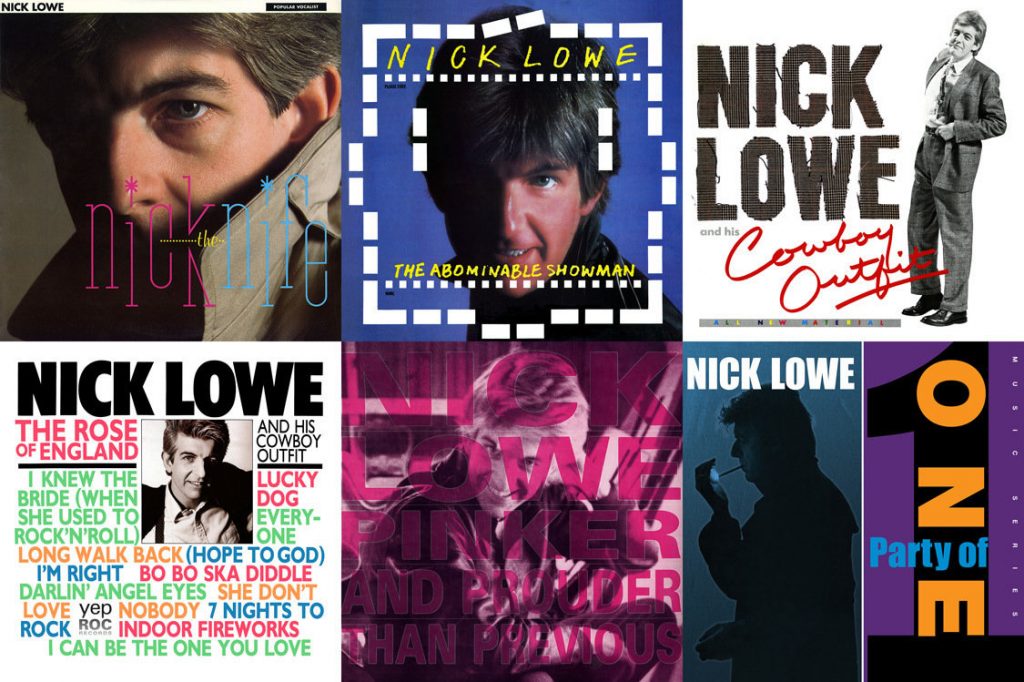 On July 14, Yep Roc Records will reissue six long unavailable Nick Lowe albums. The titles—Nick the Knife, The Abominable Showman, Nick Lowe and His Cowboy Outfit, The Rose of England, Pinker and Prouder Than Previous and Party of One—span the years 1982 thru 1990.
All six albums will be released digitally for the first time ever, with CD and vinyl reissues for the first two titles, Nick the Knife and The Abominable Showman, arriving on that date as well. CD/vinyl reissues for Nick Lowe and His Cowboy Outfit and The Rose of England will be released on August 25, followed by Pinker and Prouder Than Previous and Party of One on October 20.
Highlights and special guests abound on these six albums, with many mainstays of Lowe's live show, such as "Raging Eyes," "Half a Boy and Half a Man," "All Men are Liars" and "What's Shakin on the Hill," originating in this period. Every member of Lowe's former band Rockpile (Billy Bremner, Dave Edmunds and Terry Williams) and his future group Little Village (Ry Cooder, John Hiatt and Jim Keltner) collaborated with Lowe during this period, as did Elvis Costello, Huey Lewis, Paul Carrack, Carlene Carter and many others. The reissues include demos, outtakes, live recordings and alternate art, are available via the Amazon links below. Exclusive merchandise is available through Yep Roc's online store (including a Nick Lowe lunch box).
In other news, Lowe will be honored with the Independent Icon Award at this year's A2IM Libera Awards on June 8 in New York City. He'll mark the occasion with a short run of area solo shows, including three already-sold-out nights at City Winery New York on June 9, 10 and 11. Se
Nick Lowe Tour Dates
June 8 – New York, NY – A2IM Libera Awards at the PlayStation Theater
June 9 – New York, NY – City Winery
June 10 – New York, NY – City Winery
June 11 – New York, NY – City Winery
June 12 – Sellersville, PA – Sellersville Theater
June 15 – South Orange, NJ – SOPAC
June 16 – Tarrytown, NY – Tarrytown Music Hall w. Alejandro Escovedo
June 17 – Croton-On-Hudson, NY – Croton Point Park
Nick the Knife Track List
Burning
Heart
Stick It Where the Sun Don't Shine
Queen of Sheba
My Heart Hurts
Couldn't Love You (Any More Than I Do)
Let Me Kiss Ya
Too Many Teardrops
Ba Doom
Raining Raining
One's Too Many (And a Hundred Ain't Enough)
Zulu Kiss
Heart (Demo) (Bonus Track)
Raining Raining (Demo) (Bonus Track)
I Got a Job (Bonus Track)
The Abominable Showman Track List
We Want Action
Raging Eyes
Cool Reaction
Time Wounds All Heels
Man of a Fool
Tanque-Rae
Wish You Were Here
Chicken and Feathers
Paid the Price
Mess Around with Love
Saint Beneath the Paint
How You Talk To an Angel
(What's So Funny 'Bout) Peace, Love and Understanding? (Live) (Bonus Track)
Cracking Up (Live) (Bonus Track)
Nick Lowe And His Cowboy Outfit Track List
Half a Boy and Half a Man
Breakaway
You'll Never Get Me Up (in One of Those)
Love Like a Glove
The Gee and the Rick and the Three Card Trick
(Hey Big Mouth) Stand Up and Say That
Awesome
God's Gift to Women
Maureen
L.A.F.S.
Live Fast, Love Hard, Die Young
Honky Tonk Hardwood Floor (Bonus Track)
Walk On By (Bonus Track)
The Rose Of England Track List
Darlin' Angel Eyes
She Don't Love Nobody
7 Nights to Rock
Long Walk Back
The Rose of England
Lucky Dog
I Knew The Bride (When She Used to Rock and Roll)
Indoor Fireworks
(Hope to God) I'm Right
I Can Be the One You Love
Everyone
Bo Bo Ska Diddle
Pinker And Prouder Than Previous Track List
(You're My) Wildest Dream
Crying in My Sleep
Big Hair
Love Gets Strange
I Got the Love
Black Lincoln Continental
Cry It Out
Lovers Jamboree
Geisha Girl
Wishing Well
Big Big Love
Party Of One Track List
You Got The Look I Like
(I Want to Build A) Jumbo Ark
Gai-Gin Man
Who Was That Man?
What's Shakin' on the Hill
Shting-Shtang
All Men Are Liars
Rocky Road
Refrigerator White
I Don't Know Why You Keep Me On
Honeygun
You Stabbed Me in the Front (Bonus Track)
Rocket Coast (Bonus Track)
Rocky Road (Demo) (Bonus Track)
Don't Think About Her (Demo) (Bonus Track)
Listen to Nick Lowe's original recording of "(What's So Funny 'Bout) Peace, Love and Understanding?"

Latest posts by Best Classic Bands Staff
(see all)