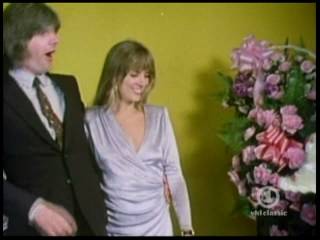 The pub-rocker turned new wave renegade Nick Lowe married into country music royalty when he tied the knot with Carlene Carter, daughter of June Carter, granddaughter of Mother Maybelle Carter (of legendary country music act the Carter Family), daughter of country singer Carl Smith and stepdaughter of Johnny Cash. The union placed the couple at the nexus of a London/Nashville musical interchange that showed how the newest rock and truest country were not all that far apart.
Both launched their solo artist careers in 1978. Carter's self-titled debut was produced by Lowe's former bandmates Brinsley Schwarz and Bob Andrews (from the band Brinsley Schwarz) with their current group The Rumour, Graham Parker's backing band.
Lowe produced her third album, Musical Shapes (1980), on which she was mainly backed by his group with Dave Edmunds, Rockpile, and co-produced her fourth, Blue Nun (1981). As well, the group Clover (sans singer/harp player Huey Lewis) that backed Elvis Costello on most of his Lowe-produced debut album My Aim Is True would later become Carter's touring band, and its members played on her recordings.
The couple wrote a number of songs together, most notably "Too Many Teardrops" (which both recorded). Lowe would enjoy having two of his songs recorded by Cash: "Without Love" on his 1980 Rockabilly Blues album and "The Beast In Me" on Cash's acclaimed 1994 American Recordings disc, produced by Rick Rubin.
The two would "recreate" their nuptials for the video for Lowe's #12 pop hit "Cruel to Be Kind" (co-written with his former Brinsley Schwarz bandmate, Ian Gomm).
Lowe and Carter would amicably divorce in 1990. Both are now musical veterans enjoying creative and lauded careers in their respective genres. Hey, who's that driving the limo?
Related: Lowe releases "So it Goes" as debut solo single

Latest posts by Best Classic Bands Staff
(see all)