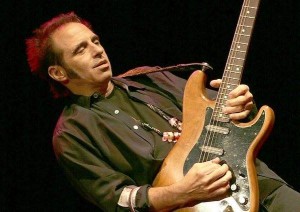 Virtuoso rock guitarist and Rock and Roll Hall of Famer Nils Lofgren had no problem postponing his solo tour. That's because he got the call last fall that Bruce Springsteen and the E Street Band – of which he's been a member since 1984 – would be touring the U.S. behind The Ties That Bind – The River retrospective.
"It's very exciting for me to be out again with E Street," Lofgren confides. "It's always an honor to play with them."
Lofgren, who turned 65 on June 21, 2016, had put together a 10-disc comprehensive retrospective in 2014, Face the Music, toured the U.K. in January 2015, and recorded the last half of the same tour for a live album that he released in November 2015, UK2015 Face the Music Live. (Thanks goes to his wife, Amy, for making that smart suggestion while they were on the road.)
Lofgren says: "We'd been out on the road promoting the new album when the call for The River tour came, and we'll pick up where we left off at the conclusion of the E Street run."
Lofgren's passion, musicianship and knack for storytelling are front and center on his own tour which features the rocker on vocals, keyboards, guitar and lever harp, accompanied by Greg Varlotta on vocals, keyboards, guitar, trumpet and tap dance percussion. The 15 tracks include Grin classics as well as a tribute to Lofgren's late E Street bandmate, Clarence Clemons.
Lofgren will resume his acoustic tour once the Springsteen tour ends.
UK2015 Face the Music Tour Track List:
Too Many Miles
New Holes In Old Shoes
Lost A Number
Walkin' Nerve
Miss You "C"
Girl In Motion
I Don't Want To Talk About It
Rusty Gun
Black Books
Goin' Back
The Sun Hasn't Set
Like Rain
Mud In Your Eye
No Mercy
Shine Silently

Latest posts by Best Classic Bands Staff
(see all)