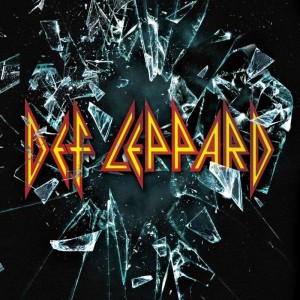 "Welcome to the edge of your seat," sings Def Leppard in their trademark harmony over the multimillion-selling band's potent crunch and guitar snarl on "Let's Go," the first single from the group's new self-titled album (hear it below), out on October 30th. No doubt many Lep fans have been on the edge of their seats awaiting for the last seven years what is the English hard rock meets pop act's 11th LP.
Then again, the reigning kings of the 1980's new wave of metal movement have been getting many thousands of their followers up and out of their seats on a world tour that began last April and continues into February, 2016 packing arenas and amphitheaters. The 14-track album was recorded in between this year's concerts at lead singer Joe Elliot's Dublin studio, Joe's Garage, no doubt bringing that live show energy to the set's tracks.
"We got together to see what we had with maybe putting out a three track EP in mind," explains Elliott. "All of a sudden we had twelve songs on the go, and two more would come just a few weeks later. Although we recorded it over a period of a year, while we were out touring, it really came together in nine or 10 weeks. It all had a very organic flow to it, and we are excited for our fans to now hear it."
As to why the group is releasing a self-titled album so far into their career, Elliot says, ""It's just called Def Leppard because that's what it sounds like. It doesn't sound like any one specific era of Def Leppard. It's got everything." It is also the first Lep album that they have recorded without being signed to a record label, and will be issued in the U.S under their own Bludgeon Riffola imprint.
The album will be released on vinyl as well as CD available for pre-order on CD and vinyl on Amazon (see below).
Update: Meanwhile, guitarist Phil Collen has written his memoir – Adrenalized: Life, Def Leppard, And Beyond – also out this week. Tickets to their tour are available here.

Latest posts by Best Classic Bands Staff
(see all)