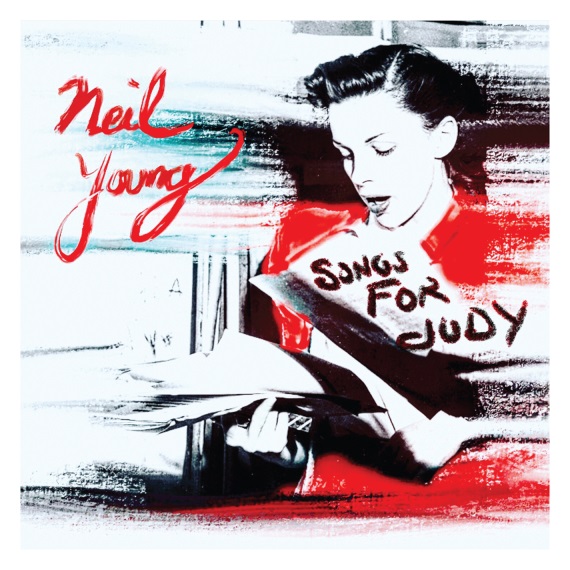 A new collection of vintage Neil Young, Songs for Judy, was released on CD and digitally on Nov. 30, while the vinyl edition will follow on Dec. 14. Songs for Judy is the debut release on Shakey Pictures Records, Young's own imprint, distributed by Reprise Records. Listen to several of the classic songs below.
Click here to read Notes About the Recording, courtesy of Cameron Crowe and Joel Bernstein, who curated this collection. Order is available here.
Songs for Judy, announced October 19, is a collection of live acoustic performances culled from Young's November 1976 solo tour and features 22 songs recorded at various cities along the tour.
Says a press release, "This song cycle of live recordings is particularly powerful and unique. Young had spent much of the year traveling around the world on tour with Crazy Horse. When touring on his own, he recharged and focused on songs that would not surface in recorded form for several years. Of the albums many treasures, 'No One Seems To Know' would not see the light of day until now and it remains unreleased in any other iteration."
Listen to "Sugar Mountain" from November 24, 1976
Related: When Neil Young found a Neil Young bootleg
Songs written in that era would "come into focus and then seemingly disappear only to re-enter Young's orbit somewhere down the road," the release says. It cites "White Line" and "Give Me Strength" as "examples of finding the light in 1990 and 2017, respectively." It's also fascinating to hear Young revisit early gems such as Buffalo Springfield's "Mr. Soul" ('67), "Here We Are In The Years" ('68), and "The Losing End" ('69) from some of his earliest solo recordings.
Related: Young and Bob Dylan will co-headline a concert in London's Hyde Park in Summer 2019
Songs For Judy Track List
Songs For Judy Intro Atlanta, GA Nov 24 (late show)
Too Far Gone Boulder, CO Nov 06
No One Seems To Know Boulder, CO Nov 07
Heart Of Gold Fort Worth, TX Nov 10
White Line Fort Worth, TX Nov 10
Love Is A Rose Houston, TX Nov 11
After The Gold Rush Houston, TX Nov 11
Human Highway Madison, WI Nov 14
Tell Me Why Chicago, IL Nov 15 (late show)
Mr. Soul New York, NY Nov 20 (early show)
Mellow My Mind New York, NY Nov 20 (early show)
Give Me Strength New York, NY Nov 20 (late show)
Man Needs A Maid New York, NY Nov 20 (late show)
Roll Another Number Boston, MA Nov 22 (late show)
Journey Through The Past Boston, MA Nov 22 (late show)
Harvest Boston, MA Nov 22 (late show)
Campaigner Boston, MA Nov 22 (late show)
Old Laughing Lady Atlanta, GA Nov 24 (early show)
The Losing End Atlanta, GA Nov 24 (late show)
Here We Are In The Years Atlanta, GA Nov 24 (late show)
The Needle And The Damage Done Atlanta, GA Nov 24 (early show)
Pocahontas Atlanta, GA Nov 24 (late show)
Sugar Mountain Atlanta, GA Nov 24 (late show)
Neil Young turned 73 on November 12, 2018. But it's hard to imagine he's in any mood to celebrate. The musician reported that his home has been destroyed in the November fires that are devastating California. On his Archives site, Young wrote: "California is a paradise for us all. A gift. We are sad to not be able to defend it against Mother Nature's wrath." And in a rebuke to President Trump, Young writes: "We are not ill-prepared. We are up against something bigger than we have ever seen. It's to big for some to see at all. Firefighters have never seen anything like this in their lives."

Latest posts by Best Classic Bands Staff
(see all)