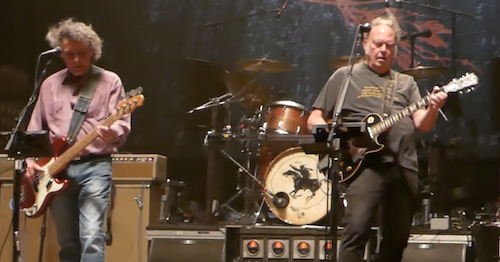 Neil Young fans have a lot to look forward to. The ever-prolific singer-songwriter-musician has not only just wrapped up a new album with his go-to band of the past five decades, but has also just announced another great archival release as well.
First the new: With the 50th anniversary of the release of their debut, Everybody Knows This Is Nowhere, just weeks away, Neil Young has announced that a new Crazy Horse collaboration has been completed. The first mention of the project came when Young responded to a letter to the editor on his Neil Young Archives website asking for new material, He said, simply, "Crazy Horse is about to enter the studio with 11 new ones."
Young has since announced that the album has already been completed: "We believe we have a great Crazy Horse album, one to stand alongside Everybody Knows This is Nowhere, Rust Never Sleeps, Sleeps With Angels, Psychedelic Pill and all the others. [It's] one of the most diverse albums I have ever made."
As for the old music, Young will release Tuscaloosa, from his ongoing live archival series, on June 7. The previously unreleased, 11-track recording with such favorites like "After the Gold Rush," "Heart of Gold" and Old Man," features Young with the Stray Gators, recorded live at the University of Alabama, Tuscaloosa. on Feb. 5, 1973. Listen to a track below.
Pre-order the Tuscaloosa CD here and the LP here.
The Crazy Horse lineup for the new, as-yet-untitled album will include guitarist Nils Lofgren, along with longtime CH members Ralph Molina and Billy Talbot.
In an announcement, Young explained Lofgren's involvement: "Crazy Horse history goes back to our original founding singer-guitarist, the great Danny Whitten. When Danny died of a drug overdose in 1973, Nils joined us for Tonight's the Night, playing electric guitar and piano in a wake for Danny and roadie Bruce Berry, who died a similar tragic death.
"Previously, Nils had replaced Danny during most of the recording of 1970's After the Gold Rush, singing, playing both piano and acoustic guitar. Poncho Sampedro joined the band in 1975 and stayed with Crazy Horse until 2018, making tons of great music with us."
Related: What were some of the other highlights of 1969, the year of Neil Young and Crazy Horse's first joint album?
There is a connection between the early Crazy Horse and the Stray Gators, who are featured on Tuscaloosa. In between tours with Crazy Horse or solo, Young would switch up his sound to suit the material he would focus on when touring with the Stray Gators between 1971 through 1973. Composed of Tim Drummond (bass), Kenny Buttrey (drums), Jack Nitzsche (piano) and Ben Keith (steel guitar) this lineup, most notably, would go on to record Harvest and Time Fades Away. Tuscaloosa features live versions of songs from Young's self-titled 1969 debut ("Here We Are In the Years") plus classic songs from his two most commercially successful album of his early career, After The Gold Rush (1970) and Harvest (1972).
The album also contains a version of the title track from the live album Time Fades Away that would not surface until later in 1973, as well as songs from Tonight's the Night that would eventually be released in 1975.
Listen to "Don't Be Denied" by Neil Young and the Stray Gators, from Tuscaloosa.
Crazy Horse has also announced two dates in Vancouver at the Queen Elizabeth Theatre, on May 14-15. Both shows will also feature Elvis Costello and the Imposters.
Tickets for the Vancouver shows and all other Neil Young dates are available here and here.
Young posted on his site, "Elvis' songs and his history in music are amazing. These will truly be incredible nights of meaningful music for our music loving fans."
Talbot and Molina have been consistent members of Crazy Horse, having been in the band since its inception. To date Crazy Horse has appeared with Young on 11 full albums and parts of several others, and has released eight albums on their own. Psychedelic Pill and Americana, both released in 2012, were the band's most recent releases with Young.
Beside Crazy Horse, Young often performs now with Promise of the Real, a group fronted by Willie Nelson's son Lukas.
Watch Neil Young and Crazy Horse perform "Down By the River" at Farm Aid in 1994

Latest posts by Best Classic Bands Staff
(see all)