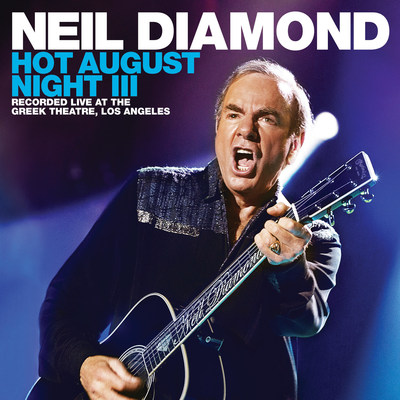 Capitol/UMe released Neil Diamond's Hot August Night III, a live concert DVD/CD Blu-Ray multi-disc set, on Aug. 17. The set chronicles Diamond's return to the Greek Theatre in Los Angeles in August 2012. The evening was Diamond's 40th anniversary celebration of the original multiplatinum-selling Hot August Night collection that was recorded at the very same venue in 1972.
Order is available for the 2-CD/DVD; the 2-CD/Blu-ray; or the 2-CD.
We've got clips of several favorites from the performance below.
According to a press release, "Diamond's noted concert performance and onstage musical prowess is in full evidence on Hot August Night III, which features 33 songs including 31 greatest hits. Clocking in at over two hours and 20 minutes in length, Hot August Night III will be released in multiple audio/video configurations, including 2CD, 2CD + 1DVD, and 2CD + 1Blu-ray, as well as digital and download options. The multidisc set's accompanying video content contains rare behind-the scenes footage with both the band and the crew, showcasing the undeniably palpable energy surrounding Diamond's return to this most historic venue."
Watch "Cherry, Cherry" from this performance
Related: Though Diamond has announced his retirement from touring, he recently performed for Colorado firefighters
Released in December 1972, the original Hot August Night—the title of which was culled from the opening line to 1969's "Brother Love's Travelling Salvation Show"—captures a performance on the evening of one of his 10 sold-out shows at the Greek that August.
Watch Diamond perform "America" from Hot August Night III
Disc 1
1. Overture
2. Soolaimon
3. Beautiful Noise
4. Forever In Blue Jeans
5. Love On The Rocks
6. Hello Again
7. September Morn
8. Play Me
9. Shilo
10. Red, Red Wine
11. You Got To Me
12. Girl, You'll Be A Woman Soon
13. Thank The Lord For The Night Time
14. Cherry, Cherry
15. Kentucky Woman
16. Solitary Man
17. Glory Road
18. Chelsea Morning
19. I'm A Believer
20. Happy Birthday Rose
21. Cracklin' Rosie
Watch "Sweet Caroline" from the new release
Disc 2
1. And The Grass Won't Pay No Mind
2. Pretty Amazing Grace
3. We
4. Stones
5. You Don't Bring Me Flowers
6. Holly Holy
7. Morningside
8. Crunchy Granola Suite
9. Sweet Caroline
10. Sweet Caroline – Reprise
11. I Am…I Said
12. Walk Off
13. America
14. Brother Love's Travelling Salvation Show
15. I've Been This Way Before
16. Walk Off
17. Band Bows
18. Audience Exit
Listen to "Solitary Man" from the original Hot August Night in 1972

Latest posts by Best Classic Bands Staff
(see all)