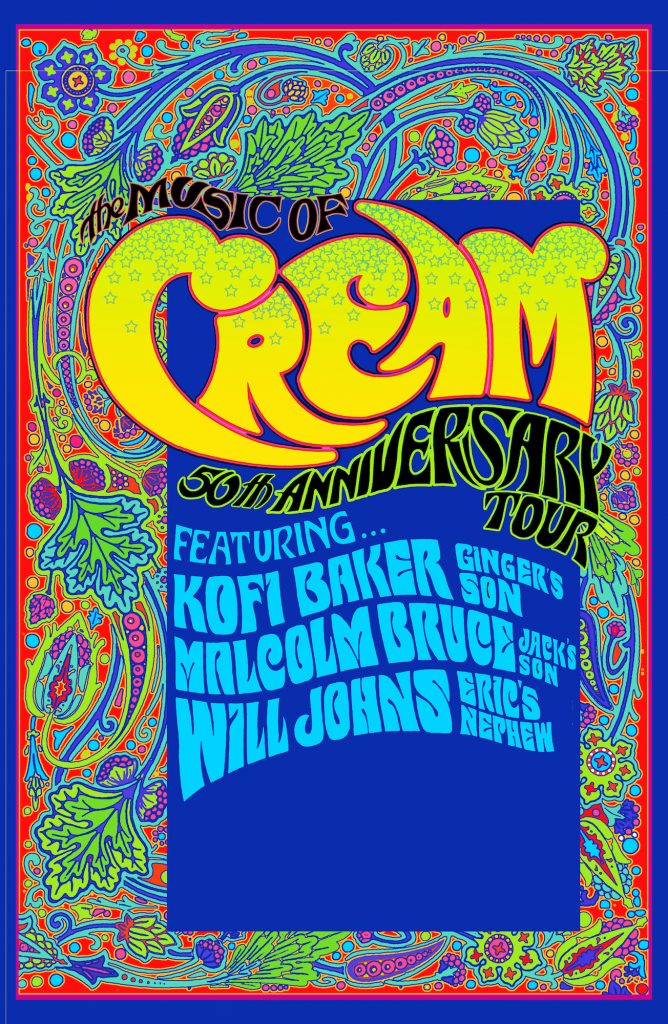 Does anyone remember the rumors about a "Sons of Beatles" band a few years back? There were reports that James McCartney, Sean Lennon (or maybe Julian), Dhani Harrison and Zak Starkey were going to try to recapture the magic their fathers created together. Fortunately, those rumors proved to be just that. There was no truth to it, and thank goodness, because no band, not even one consisting of their sons, could ever come close to matching that legacy.
That experiment never came to pass, but there is another "sons of" project that actually has come to fruition to carry on the legacy of another legendary British band, and surprise, surprise—it's a stunning success. Maybe there is something to the idea that musical talent—and group chemistry—can be passed down through DNA after all.
Music of Cream unites bassist/vocalist Malcolm Bruce (son of Jack Bruce) and drummer Kofi Baker (son of Ginger Baker) with guitarist/vocalist Will Johns, who is Eric Clapton's nephew by marriage (from when "Slowhand" was married to Will's aunt, Pattie Boyd). Music of Cream started with a 2017 tour of Australia and New Zealand in which the trio of Bruce, Baker, and Johns was augmented by guitarist Robben Ford and vocalist Glenn Hughes. In 2018, the group decided to pare down to a trio in the spirit of the original Cream, arguably the first power trio (and "supergroup," for that matter) in rock.
It was a good call. On March 31, the band's 2019 U.S. tour landed in Lancaster, Pa., at American Music Theater, a state-of-the-art venue in the middle of Amish Country more likely to host Christmas pageants than rock shows.
Music of Cream performs a night of non-stop Cream tracks, but it is more than just a tribute band. The fact that the sons of two of the original band's members have assumed their dads' roles certainly gives this a sense of authenticity, but that only gets a band so far. This trio has the talent to live up to the Cream legacy, and they do amazing things with the material. Rather than simply replicate the original recordings and arrangements, they take the music to new places, creating a fresh, in-the-moment concert experience.
Related: We look back at the short reign of Cream
There were two sides to Cream. As a studio band, they created meticulous, experimental pop/rock records with touches of psychedelia and blues revivalism, all under the guidance of producer Felix Pappalardi. But they were blues men at heart, and virtuoso musicians, and those sides came to the fore in their legendary live concerts, in which Eric Clapton, Jack Bruce and Ginger Baker would all improvise, veering off into new territory with their impromptu jams. And as a band with three master instrumentalists, it was not uncommon for all three to play solos, frequently at the same time. Somehow it all worked, and although Cream was only together for about two-and-a-half years, their legend has endured.
The trio of Malcolm, Kofi and Will carries on the original band's tradition of improvisation and three-way soloing. And they're really, really good at it.
It doesn't hurt that they have such an enduring, classic-filled catalog as a starting point. The set appropriately kicked off with "N.S.U.," the first song from the first Cream LP, Fresh Cream (1966). Even in such a compact song, the band added some moments of improvisation, setting the template for the night. And as evidenced by his strong lead vocal on this song, it was clear that Malcolm Bruce was a vocal ringer for prime Cream-era Jack Bruce.
Original Cream did its share of cover songs, frequently of the music of American blues pioneers, and Music of Cream followed in this tradition with its second song, Blind Joe Reynolds' "Outside Woman Blues." Johns took the lead vocal here, and while he's not a Clapton soundalike, his first turn at the mic showed off his strong, soulful voice.
Watch Music of Cream perform "N.S.U." one night earlier
The set list covered most if not all of the Cream hits that any devoted fan would want to hear, from the slow blues riff-fest "Politician" to the classic collaboration with George Harrison, "Badge." But it was filled with deep-but-welcome album cuts such as "Sleepy Time Time," which was preceded by Malcolm recounting his mother writing the lyrics.
Another classic hit, "Strange Brew," was played halfway through the first set, but it was bookended by deeper cuts, "Deserted Cities of the Heart" and "Pressed Rat and Wart Hog." On the latter, a whimsical piece that originally featured narration by Ginger Baker, Kofi recreated this recitation in a voice eerily similar to his father's. This was followed by "SWLABR" (which stands for "She walks like a bearded rainbow"), a classic from Disraeli Gears.
"White Room," which closed out the first set, began with an acapella re-creation of the opening chords, a nice, innovative touch.
After a short intermission, the band came back for a second set heavy with renditions of classic Cream covers: Skip James' "I'm So Glad," Albert King's "Born Under a Bad Sign," Robert Johnson's "Crossroads" and Mississippi Sheiks' "Sitting on Top of the World." Leading into "Crossroads," Johns recounted playing drums in Clapton's studio as a boy, until his uncle told him to take up a "proper instrument." He then joked about asking Clapton to teach him how to play "Crossroads," to which he replied, "No."
After another deep (but fabulous) track, "Sweet Wine," the band kicked into "Toad," a highlight of the evening that featured Kofi Baker recreating his father's classic extended drum solo while footage of Ginger playing that piece showed on the theater's video screens.
Related: A "lost" interview with Jack Bruce
Next up was "We're Going Wrong," appropriately introduced by Malcolm as a "moody piece" on which the drum parts were played by Kofi using mallets, as his father did.
The show wrapped with a powerful take on Cream's biggest single, the classic "Sunshine of Your Love." Called back for an encore, the band launched into the closer for the night, an extended take on "Spoonful."
Watch Music of Cream perform "Spoonful"
Like their predecessors, the three musicians who make up Music of Cream are all masters of their respective instruments, as proven by their amazing performances that night. Malcolm Bruce is an adventurous, busy bassist who, like his father did, walks the fine line between the traditional bassist role of supporting the song, and more creative improvisational playing. He was constantly soloing, filling the space, playing dazzling bursts of notes from top to bottom of the neck of his Warwick bass, while never forgetting to hold down the bottom end. And his singing was spectacular. He is every bit the singer his father was, and while he does sound a lot like him (which is welcome as it helps re-create the sound of the original band), he has his own approach to the songs and didn't strive to replicate every vocal line note for note or inflection for inflection. His vocal approach was like his take on the bass parts, reminiscent of the original versions but with his own creative spins.
Kofi Baker is a powerhouse drummer who would be a standout in any band. His playing certainly recalls his father's style, but as with his bandmates, he made the parts his own with unique fills and inventive improvisations.
When the band took off on such tangents, he was with them beat for beat, thought for thought. It was clear that this band has "locked in," that they have the intuition and sense of each other's playing, and where one another will go, to walk the tightrope of jamming that can be deadly for an audience if not done right.
Will Johns is pure soul on guitar and vocals. While not a Clapton vocal clone, he more than holds his own on his uncle's songs. And it should be noted that this band didn't necessarily stick to who sung what from the original records, such as on "Sunshine…," where Malcolm sang Clapton's lines at certain points, followed by Johns' take on Jack Bruce's vocal parts. It didn't seem out of place at all. Like so much of what they did that night on that stage, it made for a fresh musical experience.
Clapton's playing in Cream helped cement his reputation as one of rock's finest guitar soloists, and his nephew is a worthy successor of his mantle; Johns is a world-class guitarist whose ability as a lead guitarist can stand up to virtually any player going today. Seriously, his talent is huge, his chops impeccable, his tone pure and true. Malcolm Bruce and Kofi Baker made the perfect choice in picking their "Clapton"; family relationships aside, Johns is just so damned good and so deserving of his role in this band.
The staging was excellent. Video screens on both sides of the stage showed visuals varying from photos of the original band, films of Cream in concert, and psychedelic light show-styled graphics to give the proceedings a perfect 1960s feel. Lighting was superb, and the theater's backdrop, with small lights that lit up like an array of stars, was put to especially good use during "Toad," when the stage lights were brought down during the drum solo.
The sound mix was a little murky at first, but it improved as the night proceeded and was crisp and punchy by the second set.
For Cream fans, this is not the real thing, but it's as close as we're going to get at this point. Jack Bruce passed away in 2014, Ginger Baker is no longer performing due to health problems, and Eric Clapton has spoken of slowing down as well, so we're not going to see a Cream reunion. But Music of Cream is an amazing new take on this classic repertoire, played by three men deeply connected to its makers, who invest these songs with plenty of passion, energy, skill and conviction.
It may never happen, but I'd love to hear what these three, who are all songwriters and recording artists, could come up with in terms of new music in the Cream tradition. They are that good.
Are you a Cream fan? If so, do not miss this band the next time they're around. [Tickets will be available here and here.]
Watch Music of Cream perform "White Room"
Latest posts by Howard Whitman
(see all)