When you're the most famous person on the planet for decades, you acquire quite the following. And now, in death, Muhammad Ali is being mourned by fellow legends from all fields, all of whom were touched by his genius, his humor and his compassion.
Ali's funeral will take place in his hometown of Louisville, KY on Friday, June 10 at the KFC YUM! Center. Will Smith, who portrayed the Champ in the 2001 biopic Ali, will be among the pallbearers, as will former Heavyweight champion Lennox Lewis. The service will be open to the public and will begin at 2 pm. It will also be streamed live via alicenter.org. Earlier that day, there will be a procession throughout Louisville to allow the general public to pay their last respects, beginning at 9 am.
Related: Muhammad Ali, The Greatest Showman of a Generation
— Muhammad Ali (@MuhammadAli) June 4, 2016
Hana Ali & the whole family, my heart goes out you. Muhammad Ali has been a fine man. That will never die. pic.twitter.com/3L5HK0zPCb

— George Foreman (@GeorgeForeman) June 4, 2016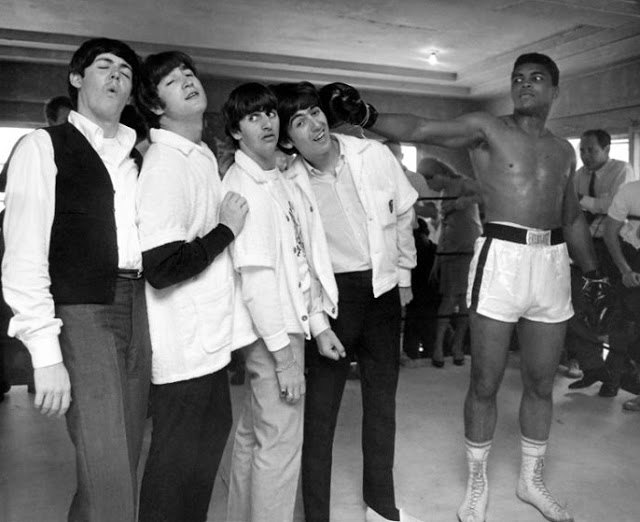 Paul McCartney (via Facebook): "Dear Muhammad Ali. I loved that man. He was great from the first day we met him in Miami, and on the numerous occasions when I ran into him over the years. Besides being the greatest boxer, he was a beautiful, gentle man with a great sense of humour who would often pull a pack of cards out of his pocket, no matter how posh the occasion, and do a card trick for you. The world has lost a truly great man. Love Paul"
God bless Muhammad Ali peace and love to all his family. 😎✌️🌟💖

— #RingoStarr (@ringostarrmusic) June 4, 2016
He shook up the world, and the world's better for it. Rest in peace, Champ. pic.twitter.com/z1yM3sSLH3

— President Obama (@POTUS) June 4, 2016
God came for his champion. So long great one. @MuhammadAli #TheGreatest #RIP pic.twitter.com/jhXyqOuabi

— Mike Tyson (@MikeTyson) June 4, 2016
Boxing promoter Don King: "He will never die. His spirit will go on forever."
For the greatest man I have ever known. https://t.co/OUZHVZWBHY

— Billy Crystal (@BillyCrystal) June 3, 2016

You'll always be The Greatest for more than just what you did in the ring. A champion to so many people in so many ways.
— Tiger Woods (@TigerWoods) June 4, 2016
On Muhammad Ali: [1/2)

"If the measure of greatness is to gladden the heart of every human being on the face of the earth…

— bobdylan.com (@bobdylan) June 4, 2016
On Muhammad Ali: [2/2]

".. then he truly was the greatest. In every way he was the bravest, the kindest and the most excellent of men."

— bobdylan.com (@bobdylan) June 4, 2016
RIP ALI. You gave us all the strength to fight for the whole truth. Your in great company

— Will Smith (@barelywill) June 4, 2016
Related: Paul Simon interrupts performance of 'The Boxer' to tell audience of Ali's death
Official statement from the National Press Club (excerpted): "The National Press Club collectively mourns the passing of Muhammad Ali. He was the greatest. We recognize him for his great skill as a sportsman, but he was far more than that. He was a social force who challenged and forever changed the way Americans think about race, religion, war and peace. And Muhammad Ali was an absolute gift to the news business. He loved the cameras and was quick with a quote. His picture was everywhere. His words were often like poetry: 'Float like a butterfly, sting like a bee.' He was an American original who was beloved by many in his country and known around the world to millions. He was the Champ."

Latest posts by Best Classic Bands Staff
(see all)