Mr. Big, the American rock band that scored several hits in the early '90s, announced on May 8 that they have recorded a new album and revealed the first dates of a worldwide tour. According to a press release, the "To Be With You" band, convened in a Los Angeles studio to make Defying Gravity in just six days, their ninth studio album and start of a new worldwide tour.
Defying Gravity was released on July 21 via Frontiers Music Srl as a deluxe edition CD and bonus DVD (that features music videos and a "making-of" behind-the-scenes look). A vinyl version and deluxe collector's edition will be available on August 18. See the official trailer for the album below.
We've got several tracks for you below.
Related: Click here for other classic rock tours
Original Mr. Big members Eric Martin (lead vocals), Paul Gilbert (guitars), Billy Sheehan (bass) and Pat Torpey (drums) reunited with producer Kevin Elson (who was behind the boards for the band's 1989 self-titled debut, 1991's Lean Into It and 1993's Bump Ahead). With Torpey unable to perform some of the songs on Defying Gravity due to a recent diagnosis of Parkinson's disease, Matt Starr has been filling in for him on a majority of the album. Starr also been touring with the band for the past couple of years, with Torpey able to play a couple of songs at each performance.
Watch the official trailer for Defying Gravity…
And here's the official music video for the title track
Defying Gravity Track Listing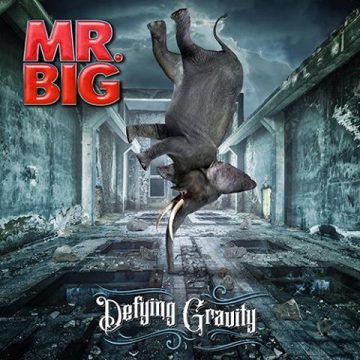 1. Open Your Eyes
2. Defying Gravity
3. Everybody Needs a Little Trouble
4. Damn I'm In Love Again
5. Mean to Me
6. Nothing Bad (About Feeling Good)
7. Forever and Back
8. She's All Coming Back to Me Now
9. 1992
10. Nothing At All
11. Be Kind
Watch the video for "Everybody Needs a Little Trouble"
"It was great to get back in the studio with our original producer, Kevin Elson," says guitarist Paul Gilbert. "We immediately felt that magic chemistry with him on Defying Gravity. We basically played live in the studio. Over the years, we've all had a chance to experiment with every recording technique possible, but it's still always the best just to play together as a band. Most of my guitar solos were tracked live with the band. I've worked hard on my improvisation in the last few years, and it really paid off on this record…both melodically, and on the face-melting stuff."
About recording the new album, Martin says: "This album was kind of a surprise attack. We kind of reached into our little bag of tricks."
Adds Sheehan: "Six days… We've got songs, we work together, we know each other well. And when you have that pressure, it always gets a better result."
Listen to "1992"
The band has August concert dates in South America. They'll tour Europe and the U.K. beginning October 26.
Watch "To Be With You," a #1 hit in 12 countries, from 1991…

Latest posts by Best Classic Bands Staff
(see all)