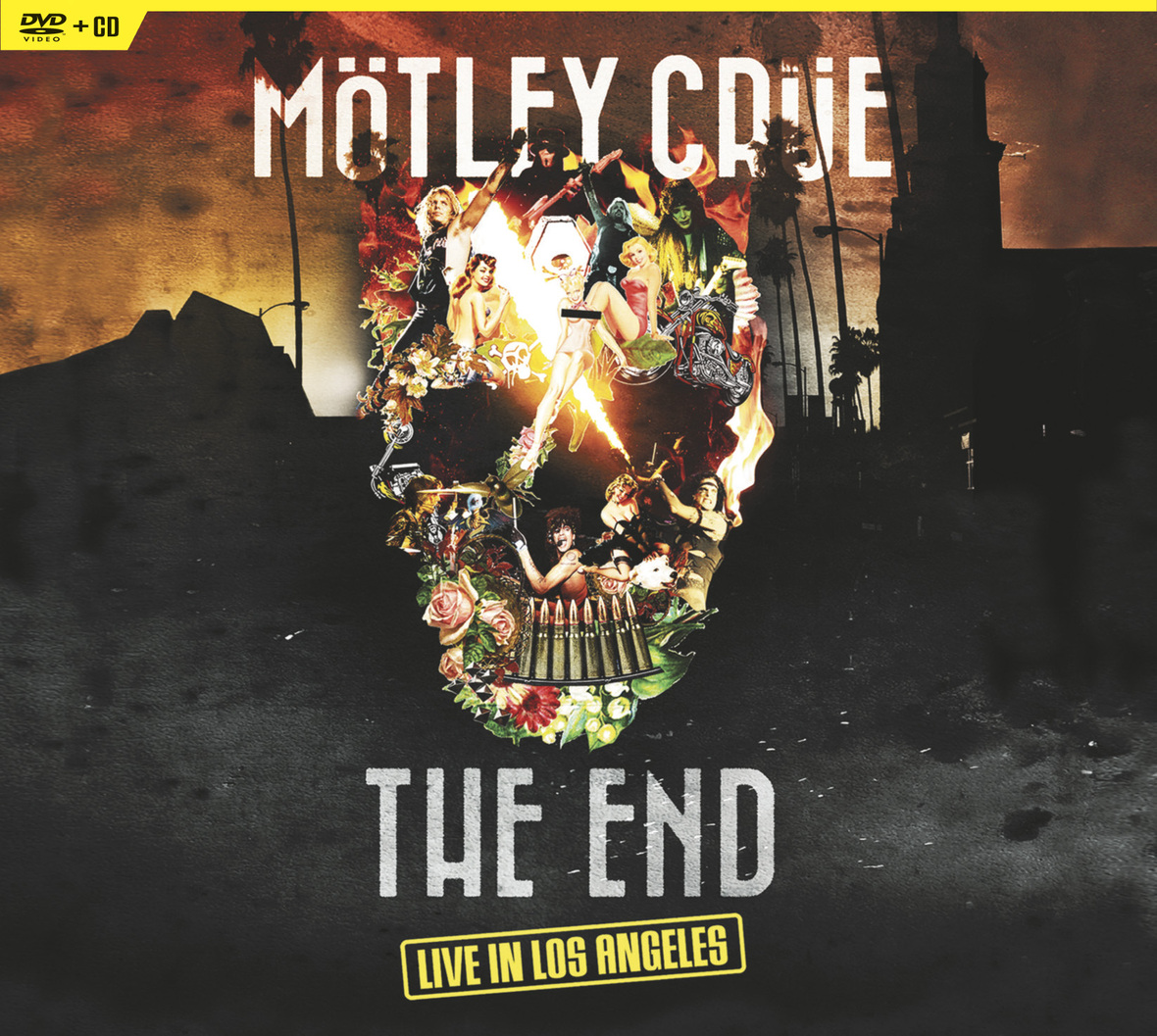 Update (September 28): On December 31, 2015, before a sold-out Staples Center arena in Los Angeles, Mötley Crüe ended their long run as one of the world's most popular metal bands. Their 35-year career ended with a New Year's Eve performance in their hometown, just a few miles from where it all started on the Sunset Strip. Now, Eagle Rock Entertainment is releasing Mötley Crüe: The End – Live In Los Angeles – presented earlier this year in theaters worldwide –on DVD+CD, Blu-ray+CD, and digital formats. The release date is November 4; pre-order Blu-ray+CD here and the DVD+CD here.
The track listing is as follows:
1.) Intro
2.) Girls, Girls, Girls
3.) Wild Side
4.) Primal Scream
5.) Same Ol' Situation (S.O.S)
6.) Don't Go Away Mad (Just Go Away)
7.) Rock N Roll Part II / Smokin' In The Boys' Room
8.) Looks That Kill
9.) Mutherf***** Of The Year
10.) In The Beginning / Shout At The Devil
11.) Louder Than Hell
12.) Drum Solo*
13.) Guitar Solo*
14.) Saints Of Los Angeles
15.) Live Wire
16.) T.N.T (Terror 'N Tinseltown) / Dr. Feelgood
17.) Kickstart My Heart
18.) Home Sweet Home
*not included on CD portion
Also available, through a partnership with PledgeMusic, the band is offering exclusive packages to celebrate The End. Filled with unique offerings commemorating the band's final concert, fans will have access to limited edition memorabilia available through this pre-order The release date is November 25.
Here is our original post about Mötley Crüe's final show…
If you missed Mötley Crüe's farewell "The End" tour last year, you may just be lucky enough to catch its final New Years Eve show at The Staples Center on the big screen this June. Crüe fans can enjoy all the action with one of hard rock's wildest bands when Fathom Events, Live Alliance, Eagle Rock Entertainment and Tenth Street Entertainment present Mötley Crüe: The End in select U.S. cinemas on Tuesday, June 14 at 7 PM (local time) for one night only.
Tickets for Mötley Crüe: The End can be purchased online or at the box offices of the nearly  250 participating movie theaters nationwide in Fathom's Digital Broadcast Network. Locate one near you on the Fathom Events website. (Theaters and participants are subject to change).
Mötley Crüe ended their 35-year touring career on December 31, 2015 with a bittersweet, over the top performance at the acclaimed venue in Los Angeles, CA, 10 miles from the Sunset Strip where the band's infamous career took shape. The Crüe was undeniably one of the most popular hard rock/pop-metal acts of the 1980s, known largely for both backstage antics as well as onstage theatrics such as setting Nikki Sixx's pants on fire during songs.
Their last concert was, of course, no exception. Between Sixx's bass guitar spitting fire over 30 feet into the air and Tommy Lee's "Crüecifly" drum roller coaster, the Crüe did not disappoint on their last show. Lead singer Vince Neil delivered an emotional "thank you" speech to the audience, and the band supplied high-octane energy, ringing in the New Year onstage with thousands of balloons raining down on the crowd.
Don't ever miss a post! Sign up for Best Classic Bands' Newsletter; form is on every page.
The grand finale of the show includes a performance of their hit single "Kickstart My Heart" with Sixx and Vince Neil floating above the audience. The show concluded with an emotional encore rendition of "Home Sweet Home," leaving fans in tears.
Says Fathom Events CEO John Rubey, "Filled with their hard-rock anthems and unforgettable stage presentation, this show is not to be missed."

Latest posts by Best Classic Bands Staff
(see all)