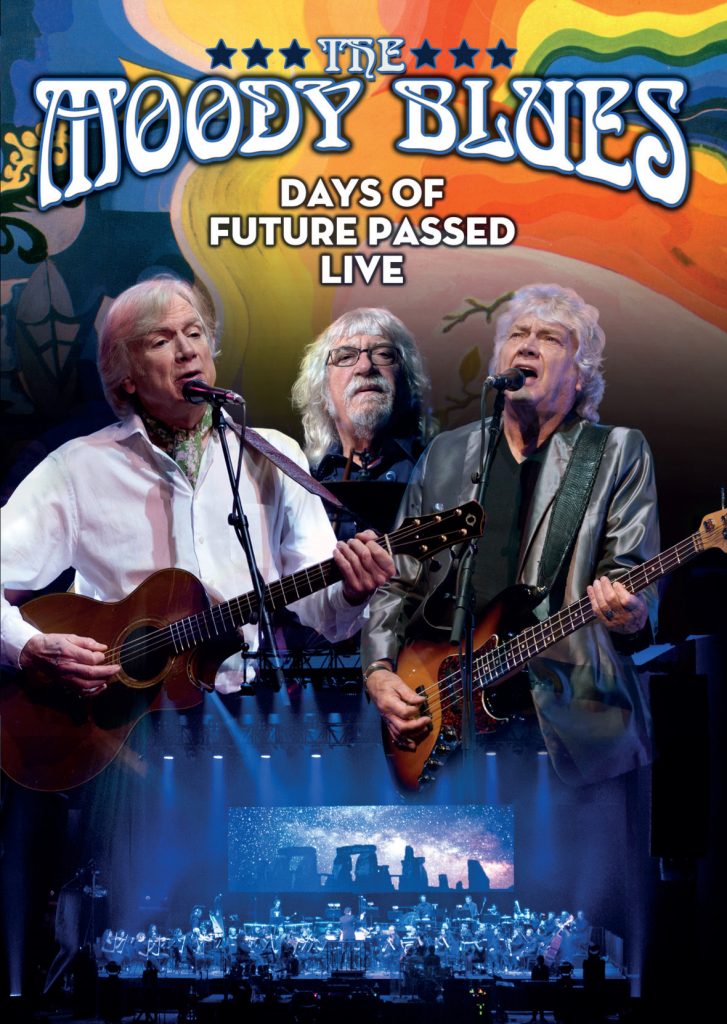 Timed to coincide with the band's induction in the Rock and Roll Hall of Fame's Class of 2018 (on April 14), Days of Future Passed Live by The Moody Blues will be released on March 23 on DVD, Blu-ray and 2-CD by Eagle Rock Entertainment. Filmed in high-definition, this title captures the Moody Blues delivering a performance of Days of Future Passed live in its entirety with a full orchestra. The concert includes "Nights in White Satin," "Tuesday Afternoon (Forever Afternoon)," "I'm Just A Singer (In A Rock And Roll Band)," "Isn't Life Strange," "I Know You're Out There Somewhere," "Question," "Ride My See-Saw" and many more.
Pre-order the DVD here. Pre-order the Blu-ray here. Pre-order the 2-CD here.
On March 12, the announced a return to Wynn Las Vegas for nine performances of Days of Future Passed, from Sept. 19 to Oct. 6. Tickets are on-sale here.
In 2017, the band headed out on the album's 50th Anniversary Tour, which included the show captured here at the Sony Centre for the Performing Arts in Toronto, accompanied by a full orchestra. The concert begins with the band alone performing a selection of classic Moody Blues tracks before they are joined by the orchestra to perform Days of Future Passed plus a couple of encore tracks. The bonus feature, titled "Remembering Days Of Future Passed," delivers brand new interviews with Justin Hayward, John Lodge and Graeme Edge discussing the making of this classic album.
Watch the official trailer for the release
Related: Our "Album Rewind" review of … Future Passed at 50
The Moody Blues—Hayward (guitar, vocals); Lodge (bass, vocals) and Edge (drums, percussion)—are joined onstage by Norda Mullen (flute, guitar, percussion, vocals); Julie Ragins (keyboards, percussion, guitar, saxophone, vocals); Alan Hewitt (keyboards, vocals); Billy Ashbaugh (drums, percussion) and Elliot Davis (musical director, conductor and co-arranger). The live show also features the voice of Oscar-winning actor Jeremy Irons on the two spoken word tracks: "Morning Glory" and "Late Lament."
Watch "Steppin' in a Slide Zone" from the release
Track Listing
Part One – The Moody Blues In Concert (CD Disc 1)
1) I'm Just a Singer (In a Rock and Roll Band) 2) The Voice 3) Steppin' in a Slide Zone 4) Say It With Love 5) Nervous 6) Your Wildest Dreams 7) Isn't Life Strange 8) I Know You're Out There Somewhere 9) The Story In Your Eyes
Watch "The Morning (Prelude)" / "Another Morning"
Watch "Tuesday Afternoon (Forever Afternoon)" from the release
Part Two – Days Of Future Passed Live (CD Disc 2)
10) The Day Begins 11) Morning Glory 12) Dawn (Prelude) 13) Dawn Is A Feeling 14) The Morning (Prelude) 15) Another Morning 16) Lunch Break (Prelude) 17) Peak Hour 18) Tuesday Afternoon (Forever Afternoon) 19) Evening (Time To Get Away) 20) The Sun Set (Prelude) 21) The Sun Set 22) Twilight (Prelude) 23) Twilight Time 24) Late Lament 25) Nights In White Satin 26) The Night (Finale)
Encore
27) Question 28) Ride My See-Saw
Watch "Nights in White Satin" from the collection

Latest posts by Best Classic Bands Staff
(see all)