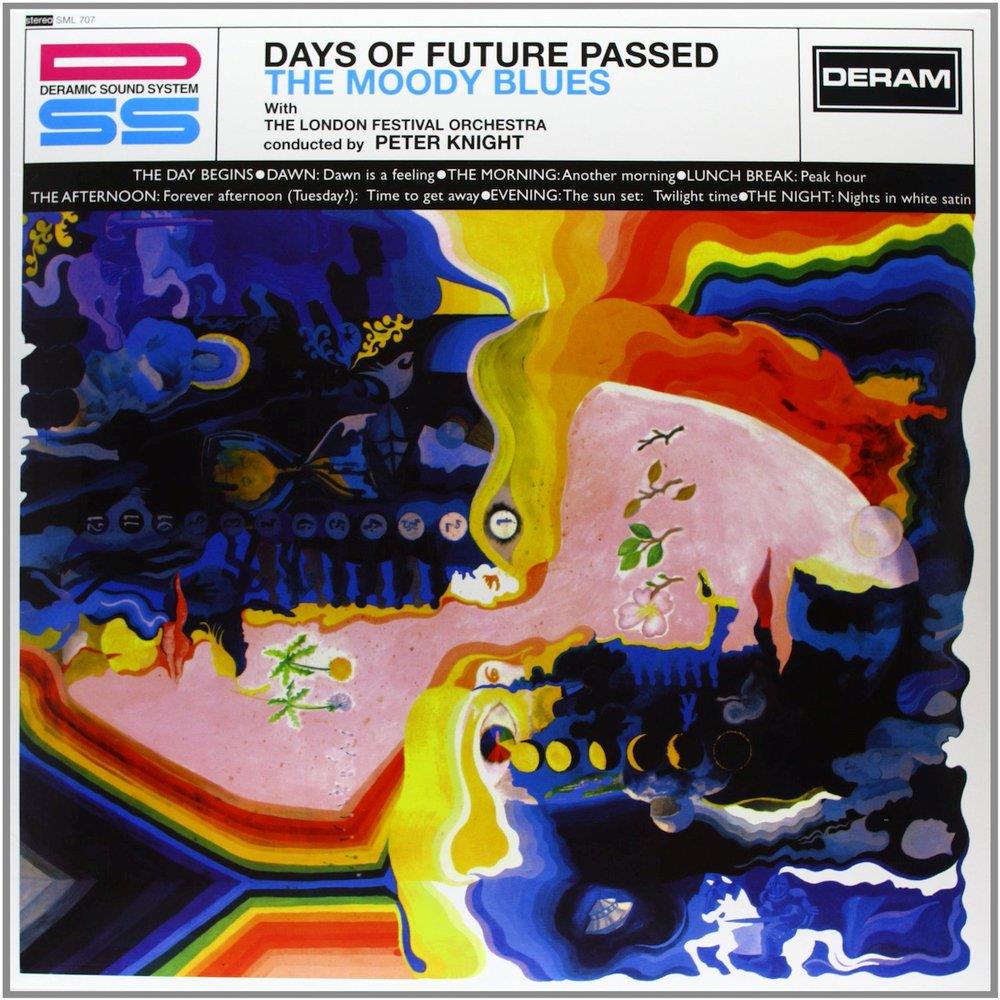 The Moody Blues announced on February 16, 2017, that they will celebrate the 50th Anniversary of their iconic, landmark album, Days of Future Passed, with a special tour in which they will perform the album live onstage for the first time ever.
At each performance, the progressive rock band will perform their greatest hits in the first half, and then finish with Days of Future Passed as the second half. The North American tour begins on June 3 and continues through July 23, hitting 25 cities. (See itinerary below.) Tickets are available here.
Days of Future Passed was the band's second studio LP and it was a ground-breaking "concept" album when it was first released. The announcement notes that the album, originally released in 1967, marked the first time a rock band had fused their sound with a symphony orchestra, the London Festival Orchestra.
Their label, Decca Records, had requested that the struggling band record an album to test stereo recording, which was in its infancy at the time. Decca was primarily a classical label, and the band "were asked to record a rock version of Dvorak's 9th Symphony. They complied, but wanted to record it on their own terms. Behind closed doors, they came up with the concept of fusing classical music with rock, but written to their own soundtrack."
The result features a "concept" album without breaks, chronicling "a day in the life" with songs that include: "The Day Begins," "Dawn: Dawn Is a Feeling," "The Morning: Another Morning," "Lunch Break: Peak Hour," "Tuesday Afternoon (Forever Afternoon)," "Evening Time to Get Away," "Twilight Time" and "The Night: Nights In White Satin."
The album was only a modest hit in the U.K., reaching just #27 on the sales chart. A single, "Nights in White Satin," only made it to #18 there with no success in the U.S. A follow-up single, 1968's "Tuesday Afternoon," made it to #24 in the U.S. It wasn't until five years later that the world truly discovered the album and single.
The group had a series of Top 30 singles including "Question" and "The Story in Your Eyes" and "Nights in White Satin" was again released as a single in 1972, this time reaching #2 on the Billboard Hot 100 and becoming the band's signature tune. That success helped return it to the British charts where it reached #9. (It was the album's only song to feature the band and orchestra performing together.)
Related: 10 re-released songs that became hits
Days of Future Passed ultimately made it to #3 on the U.S. sales chart.
Justin Hayward, vocalist, guitarist and songwriter of their biggest hits, says: "Little did we know when we made Days of Future Passed that it would eventually change our lives — it took five long years to make it the top of the charts. But we mustn't take all the credit for this remarkable project — there were many creative minds who contributed at the time, and who believed in us when we were young and inexperienced. We just wrote the songs — about every-man."
Bass guitarist, vocalist and songwriter ("Ride My See-Saw," "Isn't Life Strange?") John Lodge adds: "Days of Future Passed… seven days that changed my world…"
The band's lineup also still features drummer and songwriter Graeme Edge.
The Moody Blues have sold a reported 70 million albums worldwide. Some of their other hits include: "The Story In Your Eyes," "Question," "I'm Just A Singer (In A Rock And Roll Band)" and "Gemini Dream."
Don't miss a post! Sign up for Best Classic Bands' Newsletter; form is on every page.
Days Of Future Passed – 50th Anniversary Tour:
6/3/17 Agua Caliente Casino Rancho Mirage, CA
6/4/17 Starlight Theater Pala, CA
6/6/17 The Mountain Winery Saratoga, CA
6/7/17 The Mountain Winery Saratoga, CA
6/9/17 Edgefield Portland (Troutdale), OR
6/10/17 Chateau Ste. Michelle Seattle (Woodinville), WA
6/11/17 Chateau Ste. Michelle Seattle (Woodinville), WA
6/17/17 Hollywood Bowl Los Angeles, CA
6/18/17 Ironstone Amphitheatre Murphys, CA
6/20/17 Fiddler's Green Amphitheatre Denver (Englewood), CO
6/27/17 Orpheum Theatre Minneapolis, MN
6/28/17 Milwaukee Summerfest Milwaukee, WI
6/30/17 Ravinia Park Chicago (Highland Park), IL
7/1/17 Fraze Pavilion for the Performing Arts Dayton (Kettering,) OH
7/2/17 Hard Rock Live Cleveland (Northfield), OH
7/6/17 Sony Centre For Performing Arts Toronto, ON
7/7/17 Sony Centre For Performing Arts Toronto, ON
7/9/17 Toyota Presents the Oakdale Theatre Wallingford, CT
7/10/17 Blue Hills Bank Pavilion Boston, MA
7/12/17 Nikon at Jones Beach Theater Wantaugh, NY
7/13/17 PNC Bank Arts Center Holmdel, NJ
7/15/17 Mann Center for the Performing Arts Philadelphia, PA
7/16/17 Saratoga Performing Arts Center Saratoga Springs, NY
7/18/17 Sands Bethlehem Events Center Bethlehem, PA
7/19/17 Pier 6 Pavilion Baltimore, MD
7/20/17 Wolf Trap Vienna, VA
7/22/17 Ryman Auditorium Nashville, TN
7/23/17 Chastain Park Amphitheatre Atlanta, GA

Latest posts by Best Classic Bands Staff
(see all)