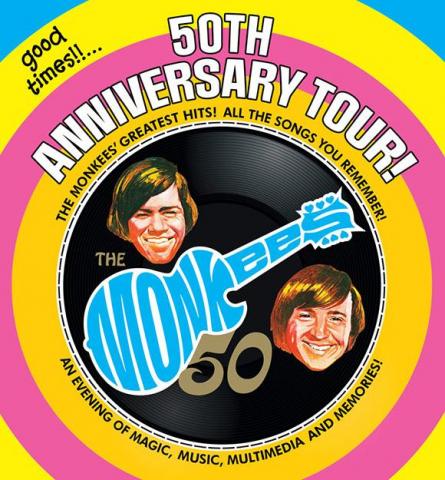 This year marks just over five decades since the start of Monkee-mania – the day that four mop-headed young men made their breakthrough television debut on NBC. The Monkees was an instant hit and the perfect vehicle to promote the group's albums. Despite winning two Emmy Awards including Outstanding Comedy Series, it was canceled after only two seasons, but the (other) fab four left an indelible mark on popular culture and music with hits like "Last Train To Clarksville," "I'm A Believer" and "Daydream Believer." The Monkees will be releasing their first new studio album in 20 years on June 10th, and they commence a massive summer and fall tour in Fort Myers, Florida on May 18th, set to wrap up in late November in Englewood, NJ.
Expect both new and old tunes on tour, but fans will be happy to hear that the sets will be heavy on the classics. Only original members Mickey Dolenz and Peter Tork will take part, sans Davy Jones, who died in 2012, and Michael Nesmith, who hasn't participated in most reunion shows despite being invited. The jury's still out on whether or not Nesmith will sing or play guitar at all on the new record, as well.
Good Times! is star-studded to stay the least, featuring the likes of indie and classic rock rock figures Rivers Cuomo (Weezer), Ben Gibbard (Death Cab for Cutie), Andy Partridge (XTC) and Zach Rogue (Rogue Wave) collaborating on songwriting. Noel Gallagher and Paul Weller have collaborated on a song. Adam Schlesinger of Fountains of Wayne is set to produce the album, and recording is reportedly still in progress. "One reason we don't have a final track listing yet is because once we put the word out, all these people said they wanted to get involved," Micky Dolenz told Billboard. "I began doing research, and I realized that the whole indie rock scene is about recapturing that 1960s jangly guitar sound of the Monkees, amongst many other groups, of course."
The record will also feature some oldies, though, specifically a final cut of a song called "Good Times" that was originally recorded by Harry Nilsson and Michael Nesmith in 1968. There will also be a song penned by Neil Diamond ("Love To Love") and a tune written by Carole King ("Wasn't Born to Follow").
Partial Track Listing (with songwriters noted)
(Final Version To Be Announced)
"Good Times!" (Harry Nilsson)
"You Bring The Summer" (Andy Partridge)
"Terrifying" (Zach Rogue)
"Me & Magdalena" (Ben Gibbard)
"She Makes Me Laugh" (Rivers Cuomo)
"Love To Love" (Neil Diamond)
"I Know What I Know" (Michael Nesmith)
Tickets for The Monkees' forthcoming tour go on sale February 12th, and if purchased through Ticketmaster, fans can get a bonus free digital download of the Monkees new album. The Monkees – The Complete Series, a limited-edition 10-disc Blu-ray collection of all 58 episodes of the show, is also available for pre-orders at Monkees.com.  (Click here for more details about the release.) And in case all of this still isn't enough Monkees for you, you can now order the ultimate collectibles via Figures Toy Company – your very own band member action figures, clad in "MonkeeMen" superhero attire or tuxedo outfits.

The Monkees 2016 Tour Dates:
July 16: Hampton Beach, N.H. @ Hampton Beach Casino Ballroom
July 22: Hot Springs, Ark. @ Oaklawn Racing and Gaming
July 24: Augusta, GA @ Bell Auditorium
Aug. 5: Monterey, CA @ Golden State Theatre
Aug. 6: Reno, NV @ Grand Sierra Resort
Aug. 11: Dallas, TX @ The Bomb Factory
Sept. 04: Vancouver, BC @ PNE Amphitheatre
Sept. 14: Tucson, Ariz. @ Fox Tucson Theatre
Sept. 15: Phoenix, Ariz. @ Mesa Arts Center
Sept. 16: Los Angeles, CAali. @ Pantages Theatre
Sept. 17: Las Vegas, Nev. @ Primm Valley Casino Resorts
Sept. 20: San Francisco, Cali. @ The Warfield
Sept. 21: Modesto, Cali. @ Gallo Center For The Arts
Sept. 23: Lincoln City, Ore. @ Chinook Winds Casino Resort
Sept. 24: Lincoln City, Ore. @ Chinook Winds Casino Resort
Sept. 25: Seattle, Wash. @ The Moore Theatre
Sept. 29: Austin, TX @ Paramount Theatre
Oct. 1: Biloxi, Miss. @ Hard Rock Live
Oct. 3: Branson, MO @ Welk Resort Theatre
Oct. 21: Anaheim, CA @ City National Grove
Oct. 22: Paso Robles, Cali. @ Vina Robles Amphitheatre
Oct. 26: New Brunswick, NJ @ State Theatre
Oct. 29: Shippensburg, Penn. @ H. Ric Luhrs PAC
Nov. 05: St. Charles, MO @ The Family Arena
Nov. 19: Lincoln, RI @ Twin River Event Center
Nov. 20: Englewood, NJ @ Bergen PAC

Latest posts by Best Classic Bands Staff
(see all)