A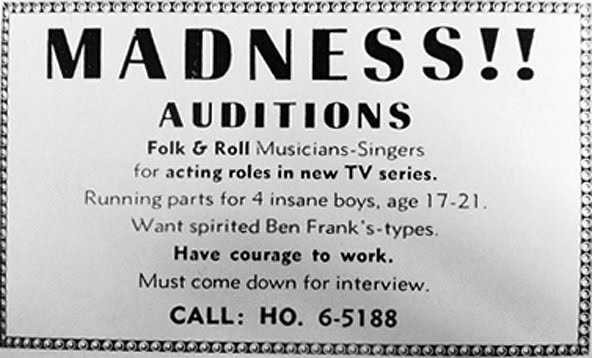 tiny classified ad in The Hollywood Reporter on September 8, 1965 didn't reveal the name of the group. But it signaled the start of what would become Monkee-mania.
The ad offered "running parts for 4 insane boys… Musicians-Singers for acting roles in new TV series." And in boldface type: Have courage to work.
Micky Dolenz, Davy Jones, Michael Nesmith and Peter Tork were cast as The Monkees. But not before other talented performers auditioned for the roles like Stephen Stills, Harry Nilsson, Danny Hutton (later of Three Dog Night) and Paul Williams. And while rumors of Charles Manson auditioning may make for a clever bar bet, they are not true.
A year later – September 12, 1966 to be precise – NBC aired the first episode of The Monkees. The series was an instant success and a tremendous vehicle to promote the group's albums. Though it earned two Emmy Awards including Outstanding Comedy Series, the madcap concept ultimately wore thin, even for its young target audience. The series was canceled after just two seasons. But The Monkees left an indelible mark on popular culture and music.
Don't miss a post! Sign up for Best Classic Bands' Newsletter; form is on every page.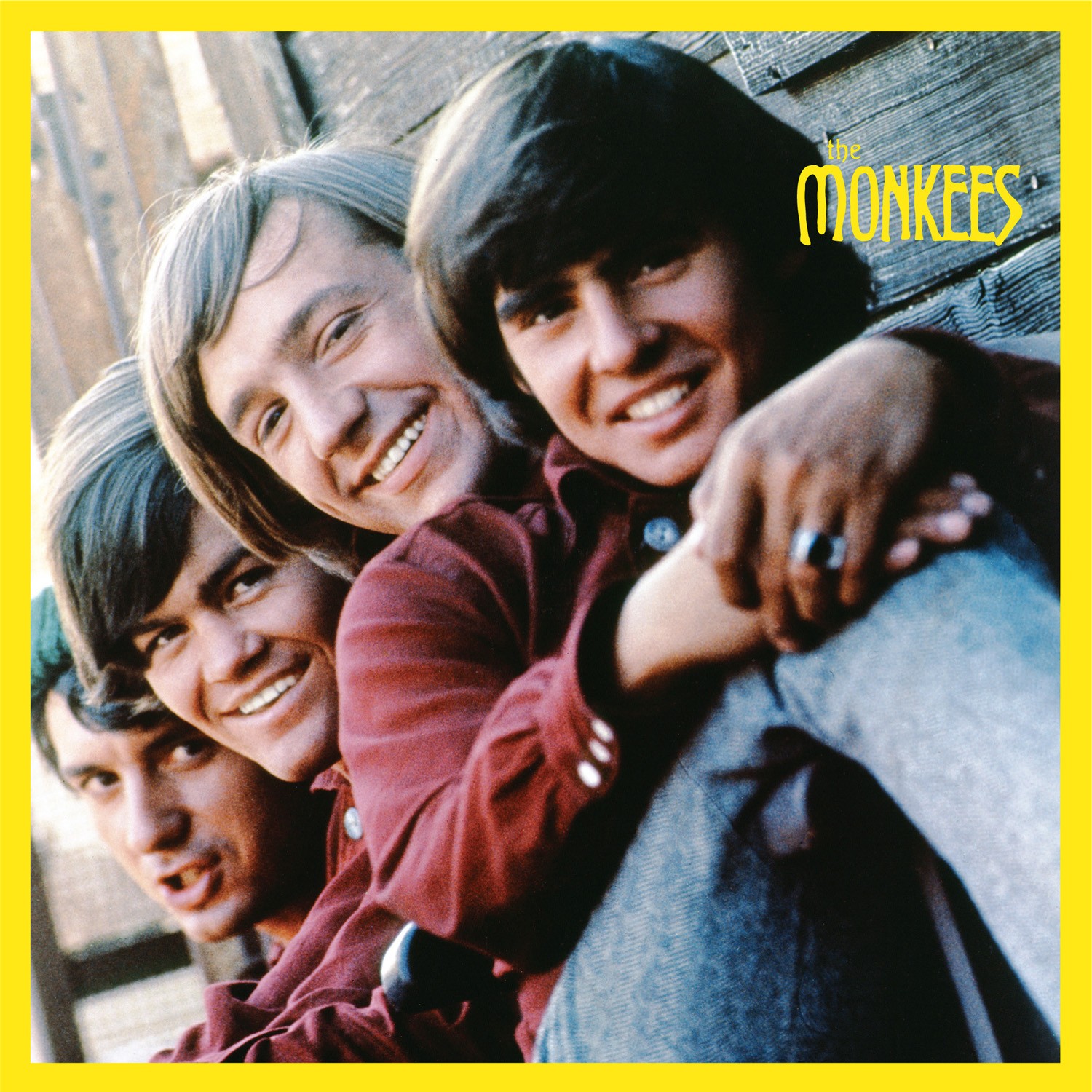 Their biggest hits include three #1 singles – "Last Train To Clarksville," "I'm A Believer" and "Daydream Believer" – plus the Top 5 singles "A Little Bit Me, A Little Bit You," "Pleasant Valley Sunday" and "Valleri."
Over the past year, Rhino Entertainment has celebrated the group's 50th Anniversary by issuing a limited edition, 10-disc Blu-ray collection of all 58 TV episodes "painstakingly restored in high definition from the original film negatives," as the announcement stated, plus the 1968 cult classic, Head. The set included other goodies; details and order info are here.
This past spring, the Monkees released their first new studio album in 20 years, Good Times!, which earned unanimous praise from critics including Best Classic Bands which called it "exceptionally good."
Related: Our review of Good Times
Here's the video for the album's "She Makes Me Laugh"…
Dolenz and Tork have toured extensively this year. At their June 1 concert at The Town Hall in NYC, they were  joined by Nesmith via Skype. Watch it here. (Jones, of course, died in 2012 at just 66.) U.S. dates continue through November 20, followed by a year-end tour of New Zealand and Australia. Tickets are available here.
On September 10, Tork announced that a family emergency would require to step away for the next few days, with Nesmith subbing in…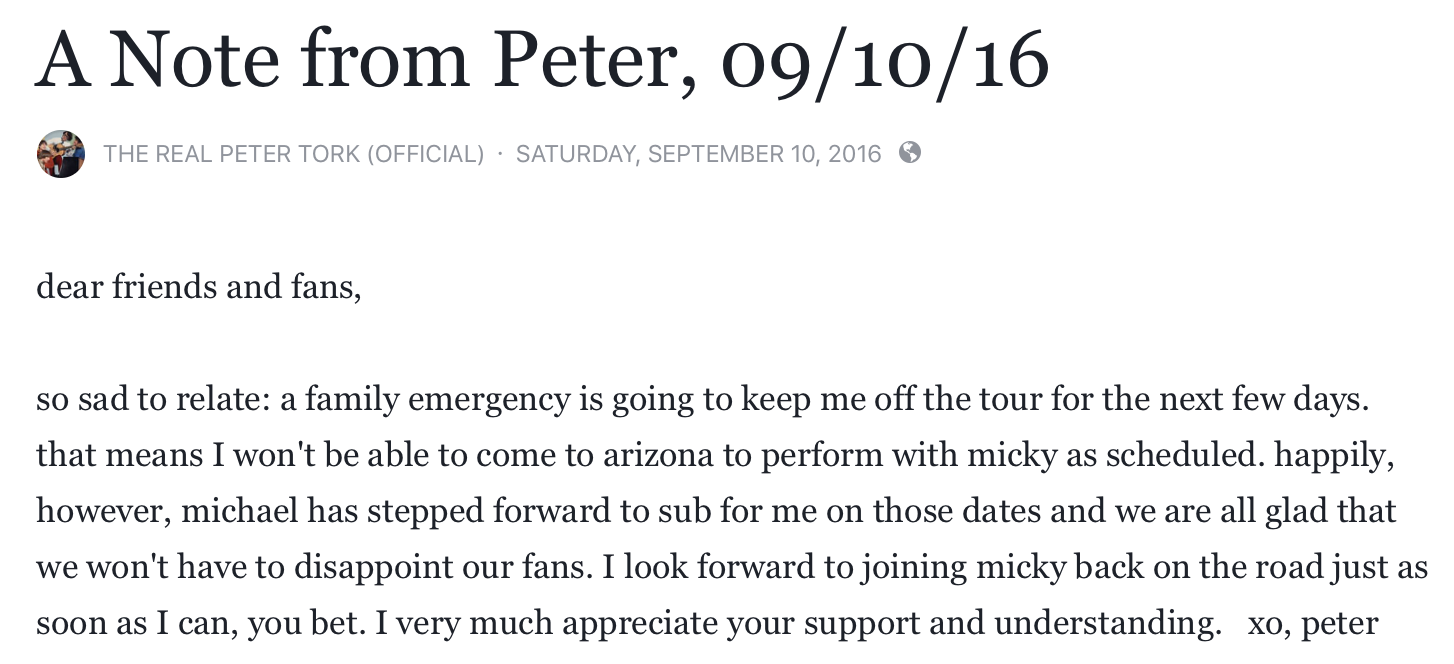 Rhino has issued two other anniversary collections: The Monkees 50 is a three-CD set packed with 50 songs; Forever, a 14-track compilation that spotlights the group's biggest hits. Full details on both here.
What would this tribute be without acknowledging what many would call their best song? 50 years later… we're all believers!
If you're a new Best Classic Bands reader, we'd be grateful if you would Like our Facebook page and/or bookmark our Home page.

Latest posts by Best Classic Bands Staff
(see all)