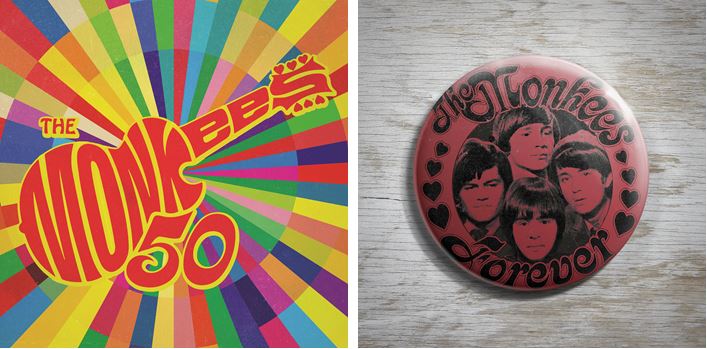 Monkee-mania lives on! Fueled by the critical and commercial success of Good Times!, their first new studio release in 20 years – and the accompanying tour – The Monkees' 50th anniversary celebration continues with a pair of career-spanning music collections, coming on August 26 from Rhino.
The Monkees 50 is a three-CD set packed with 50 songs from the band's legendary career including their three #1 hits – "Last Train To Clarksville," "I'm A Believer" and "Daydream Believer" – as well as such hit singles as "(I'm Not Your) Steppin' Stone," "A Little Bit Me, A Little Bit You," "Words," and "Valleri." The release delves even deeper into the band's catalog to include classic fan favorites "She," "Mary, Mary," "Goin' Down," "Tapioca Tundra," and "Papa Gene's Blues." The career retrospective also contains "She Makes Me Laugh" and "You Bring The Summer" from Good Times.
Don't miss a post! Sign up for Best Classic Bands' Newsletter; form is on every page.
The second release is Forever, a 14-track compilation that spotlights the group's biggest hits. See complete track listings for both titles below.
The Monkees returned to the charts in June when Good Times! debuted at #14 on the Billboard Top 200 Albums chart, the highest chart position the group had achieved since 1968.
All three surviving band members – Micky Dolenz, Michael Nesmith, and Peter Tork – wrote new songs for the album, which also features the voice of Davy Jones, a founding member of the group who died in 2012. Good Times! was produced by Grammy® and Emmy®-winning songwriter Adam Schlesinger (Fountains Of Wayne).
Related: Our rave review of Good Times
Dolenz and Tork are currently traveling North America together for a nearly 50 date tour, including a homecoming gig at the Pantages Theater in Los Angeles on September 16. Tickets for the Monkees 50th Anniversary Tour are available here.
The band has also released the entire series of The Monkees television show on Blu-ray for the very first time. All 58 episodes have been restored in high-definition from the original film negatives. The 10-disc Blu-ray collection also includes the 1968 cult-classic film Head, along with many never-before-seen outtakes. The collection, limited to 10,000 individually numbered pieces, is available exclusively at Monkees.com.
The Monkees amassed a dozen Top 40 hits. Sales of their LPs were more phenomenal still: The Monkees' self-titled debut occupied the #1 position for 13 consecutive weeks and More Of The Monkees for 18 weeks. Both Headquarters and Pisces, Aquarius, Capricorn & Jones Ltd. went to the top as well, for a four-in-a-row feat in the short space of 13 months. The tally: 16 million albums and 7.5 million singles were sold in a mere 2 1/2 years.
The Monkees 50 Track Listing:
Disc One
"(Theme From) The Monkees"
"Last Train To Clarksville"
"Take A Giant Step"
"Papa Gene's Blues"
"I'm A Believer"
"(I'm Not Your) Steppin' Stone"
"She"
"A Little Bit Me, A Little Bit You"
"The Girl I Knew Somewhere"
"Look Out (Here Comes Tomorrow)"
"Mary, Mary"
"Sometime In The Morning"
"Randy Scouse Git"
"You Told Me"
"Shades Of Gray"
"For Pete's Sake"
Disc Two
"Pleasant Valley Sunday"
"Cuddly Toy"
"Words"
"Love Is Only Sleeping"
"Daydream Believer"
"Goin' Down"
"Valleri"
"Tapioca Tundra"
"P.O. Box 9847"
"Auntie's Municipal Court"
"D.W. Washburn"
"It's Nice To Be With You"
"Porpoise Song (Theme From Head)"
"As We Go Along"
"Circle Sky" (Live)
Disc Three
"Tear Drop City"
"A Man Without A Dream"
"You And I"
"Listen To The Band"
"Someday Man"
"Good Clean Fun"
"Mommy And Daddy"
"French Song"
"Oh My My"
"I Love You Better"
"That Was Then, This Is Now" – Micky Dolenz & Peter Tork
"Anytime, Anyplace, Anywhere" – Micky Dolenz & Peter Tork
"Heart And Soul"
"MGBGT" (Live)
"Every Step Of The Way"
"You And I"
"Regional Girl"
"You Bring The Summer"
"She Makes Me Laugh"
Forever Track Listing:
"I'm A Believer"
"Valleri"
"You Just May Be The One"
"That Was Then, This Is Now" – Micky Dolenz & Peter Tork
"(I'm Not Your) Steppin' Stone"
"Pleasant Valley Sunday"
"Daydream Believer"
"Last Train To Clarksville"
"She Makes Me Laugh"
"A Little Bit Me, A Little Bit You"
"Porpoise Song (Theme From Head)" (Single Version)
"Heart And Soul"
"Words"
"Goin' Down" (Single Version)

Latest posts by Best Classic Bands Staff
(see all)