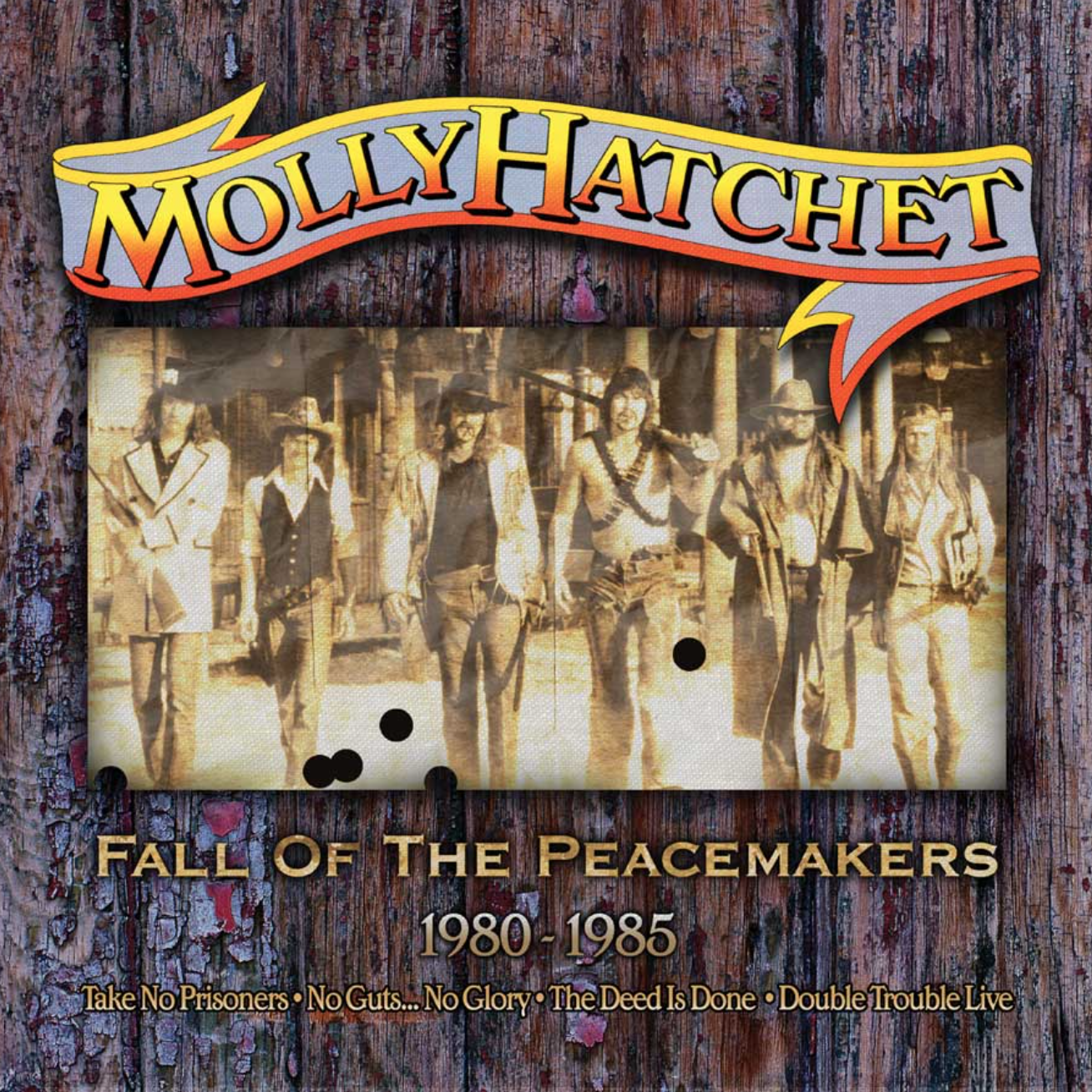 Molly Hatchet are being celebrated with the release of a 4-CD box set collecting albums and bonus tracks from the Southern rock band. The collection, Fall of the Peacemakers: 1980-1985, arrives on July 27 by U.K. label Cherry Red Records.
The new set is named for a track on the band's No Guts… No Glory 1983 album originally released on Epic Records, and included here. The other albums in the new collection are 1981's Take No Prisoners, 1984's The Deed is Done and 1985's Double Trouble Live. (Pre-order here.)
Formed in Jacksonville, Fla. in 1971 by lead guitarist Dave Hlubek, and fronted by singer, Danny Joe Brown, Molly Hatchet filled arenas across the U.S. by the time their second LP, Flirtin' With Disaster, was released in 1979. By 1980, Brown had been replaced with Jimmy Farrar on vocals, and it was this line-up that appears on Take No Prisoners.
[The original band featured Hlubek, guitarist Steve Holland and bassist Banner Thomas, with drummer Bruce Crump and guitarist Duane Roland joining in the mid-'70s. Hlubek was the band's vocalist prior to Brown, who joined in 1976.]
Related: Our obituary for Dave Hlubek, who passed on Sept. 3, 2017
The album now includes radio edits of "Lady Luck" and "Power Play" as bonus tracks, as well as a cover of "Mississippi Queen," with the band joined by Ted Nugent. The disc also includes six songs recorded at Lakeland Civic Center Arena in 1980, previously released only promotionally to radio stations.
Danny Joe Brown returned to the band who were again joined by producer Tom Werman. No Guts… No Glory is expanded here to feature a radio edit of "Kinda Like Love" and a short version of "Fall Of The Peacemakers." On The Deed is Done, the band enlisted the recording engineer for fellow southern rockers ZZ Top's Eliminator album, Terry Manning, to produce their new record and welcomed back drummer Bruce Crump. For the box set, this disc includes a short version of "Satisfied Man," a radio edit of "Stone in Your Heart," and live tracks "Walk on the Wild Side of Angels" and "Walk With You," both of which were originally included on 1985's Double Trouble Live.
The latter features such Hatchet favorites as "Flirtin' With Disaster," "Gator Country" and "Boogie No More," as well as covers of classic rock songs "Freebird" and "Dreams (I'll Never See)."
Related: No surprise… Molly Hatchet are featured in our story: 11 Great Southern Rock Albums

Latest posts by Best Classic Bands Staff
(see all)