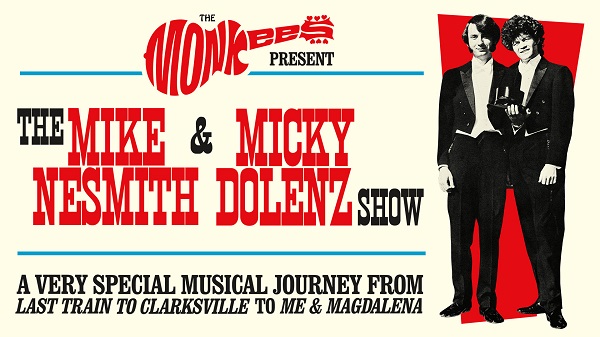 For their first-ever national tour as a duo, Michael Nesmith and Micky Dolenz of The Monkees will hit the road in June. Billed as "The Monkees Present: The Mike & Micky Show," these performances will feature songs that span the group's entire career, from its 1966 eponymous debut to 2016's Good Times. The shows will highlight many of Nesmith's compositions, including some that have never been performed live. The tour also includes two shows in Canada, which represent Nesmith's first "Monkees" concerts since the band played there in 1969.
Tickets and VIP packages are available here.
"I love being on stage with Micky," says Nesmith in a press release. "We've been collaborating for over 50 years, so it's hard to believe it's never been just the two of us. I'm excited to dust off some tunes that I haven't played for a long time too. These are going to be some fun shows."
Related: Nesmith dropped in on his old bandmates in 2016
"Right from the get-go, I admired Mike's songs. When we used to get together around the campfire to sing in the early days, we were always doing his songs," says Dolenz in the same announcement. "We always had such a great a vocal blend; he was the one who encouraged me to write songs of my own. I've always been a big fan and now we finally get to do the Mike & Micky show that we riffed on back when we were shooting the Monkees."
Original Monkee Peter Tork will not take part in the tour. Instead, he's focusing on Relax Your Mind, a new album by Peter Tork and Shoe Suede Blues that honors the music of Lead Belly. The album is available now via CD Baby and Bandcamp.
"I have in general made no secret of the fact that all these recent years of Monkees-related projects, as fun as they've been, have taken up a lot of my time and energy," says Tork. "Moving forward, I have blues projects that I want to give my attention to, hence Relax Your Mind. So, I'm shifting gears for now, but I wish the boys well, and I've learned to never say never on things further down the line."
The Monkees Present: The Mike & Micky Show Tour Dates
June 01 – Chandler, AZ @ Chandler Center For The Arts
June 02 – Los Angeles, CA @ The Orpheum
June 03 – San Diego, CA @ Humphrey's
June 05 – Anaheim, CA @ The Grove
June 06 – Saratoga, CA @ The Mountain Winery
June 08 – Stockton, CA @ Bob Hope Theatre
June 09 – Stateline, NV @ Harrah's Lake Tahoe
June 12 – Denver, CO @ Paramount
June 14 – Chicago, IL @ Copernicus Center
June 15 – Huber Heights, OH @ Rose Music Center
June 16 – Cleveland, OH @ Cain Park
June 18 – Toronto, ON @ Sony Center
June 19 – Kitchener, ON @ Centre In the Square
June 21 – Philadelphia, PA @ Keswick Theatre
June 22 – New York, NY @ Beacon Theatre
June 23 – Huntington, NY @ The Paramount
June 25 – Red Bank, NJ @ Count Basie Theatre
Watch Mike Nesmith and Mickey Dolenz sing "Me and Magdalena" in 2017

Latest posts by Best Classic Bands Staff
(see all)