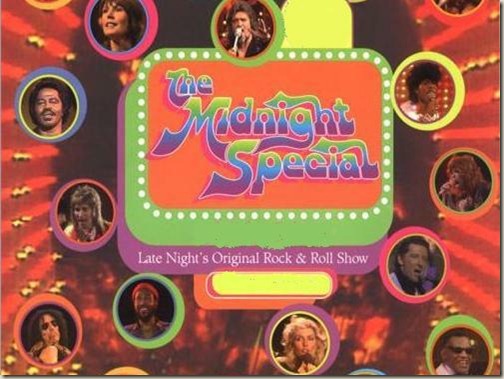 It was a far different time in music and television. There were only four TV networks, and they all signed off at 1:00 a.m. Most musical performances on TV were lip-synced. (The old saw about how "things were better back then" does not always hold true.)
Producer Burt Sugarman pitched NBC on a Friday night musical variety show that would follow the high-rated The Tonight Show at 1 a.m. and retain some of its audience. The network didn't bite. So he bought the airtime, found a sponsor (Chevrolet) and on August 19, 1972, premiered the 90-minute program, on which the acts played live, as a special. The pilot episode of The Midnight Special, hosted by John Denver, drew enough viewers for NBC to pick it up. The series ran 450 episodes from February 2, 1973, until May 1, 1981.
That jam-packed pilot episode featured Argent, War, The Everly Brothers, The Isley Brothers, Linda Ronstadt, Helen Reddy, David Clayton-Thomas, Cass Elliot and Harry Chapin.
Many subsequent episodes featured former border radio DJ Wolfman Jack as its announcer. Born Robert Weston Smith on January 21, 1938, the "Wolfman" had come to national prominence in George Lucas' 1973 film American Graffiti.
During its run some of the classic rock acts that appeared included AC/DC, Aerosmith, the Beach Boys, Blondie, David Bowie, Cheap Trick, Jim Croce, the Doobie Brothers, Electric Light Orchestra, Fleetwood Mac, Peter Frampton, Genesis, Billy Joel, Elton John and Manfred Mann's Earth Band.
Here's Journey…
Others included Kiss, Van Morrison, Randy Newman, New York Dolls, REO Speedwagon, T. Rex, Todd Rundgren, Steely Dan, Rod Stewart, Tom Petty and the Heartbreakers, Thin Lizzy and Tina Turner.
ABC soon followed suit and debuted In Concert on Friday late night. In September 1973 the syndicated Don Kirshner's Rock Concert bowed with the Rolling Stones as guests. Throughout the decade it was where many of us first heard and saw what would become our favorite bands.
Watch the Commodores perform "Brick House"
Watch singer Mickey Thomas sing lead vocals on Elvin Bishop's 1976 hit, "Fooled Around and Fell in Love"
Here's Fleetwood Mac…
Watch Argent perform their #5 smash "Hold Your Head Up"
Two weeks after "The Joker" topped the Hot 100 in 1974, the Steve Miller Band performed the smash on The Midnight Special.
And here's Wild Cherry with the bare-chest and silver jacket look playing "Play That Funky Music"…
Watch Blondie perform "Heart of Glass." Hey, Debbie, what's with that outfit?
From the Guess Who's performance on March 29, 1974, let's clap for the Wolfman!
The Wolfman died on July 1, 1995.
Related: Read Part 2 of our series – Rock Edition, and Part 3 – Solo Artists edition

Latest posts by Best Classic Bands Staff
(see all)