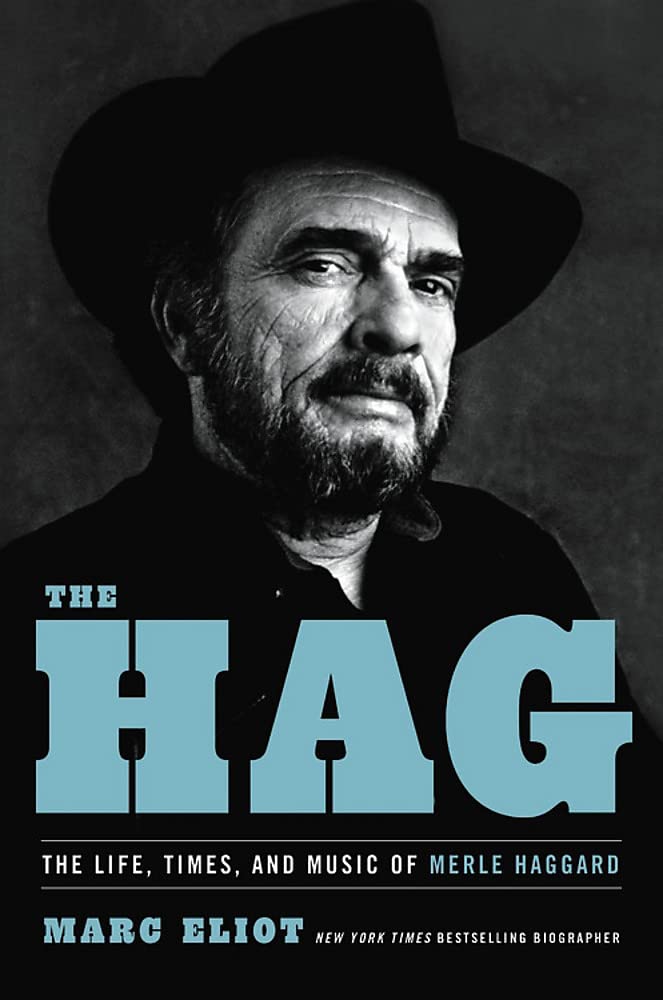 Country music legend Merle Haggard is the subject of a new biography, The Hag: The Life, Times, and Music of Merle Haggard book, on January 18, 2022 via Hachette Books. Author Marc Eliot's research for the title included more than 100 new interviews.
From the publisher's announcement: Haggard's musical career stretched across the second half of the 20th Century and into the first two decades of the next, during which he released an extraordinary 63 albums, 38 that made it on to Billboard's Country Top Ten, and 13 that went to #1, with 37 #1 hit singles. With his ample songbook, unique singing voice and brilliant phrasing that illuminated his uncompromising commitment to individual freedom, cut with a chip the size of Monument Valley on his shoulder, his music and outlaw persona helped change the look, the sound, and the fury of American music.
A childhood trauma—his father's death when he was only 9—set him off on a life of petty thievery, running away, and other assorted acts of rebellion that led him to a 15-year sentence at San Quentin penitentiary. When Johnny Cash performed at the prison, Haggard was in the audience, and credited that moment with helping him to turn things around. Eight years later, he was among the biggest stars in country music.
The Hag tells Haggard's extraordinary life, augmented by deep secondary research, sharp detail and ample anecdotal material that Eliot is known for in his books on such varied subjects as Eagles, Clint Eastwood and Cary Grant. It explores the uniquely American life of an angry rebellious boy from the wrong side of the tracks bound for a life of crime and a permanent home in a penitentiary, who found redemption through the music of "the common man."
Haggard's story is a great American saga of a man who lifted himself out of poverty, oppression, loss and wanderlust, to catapult himself into the pantheon of American artists admired around the world. Author Eliot has interviewed more than 100 people who knew Haggard, worked with him, or were influenced by him, including Dwight Yoakam, Marty Stuart, and Haggard's best friend Frank Mull.
Haggard was inducted into the Country Music Hall of Fame in 1994. He received a Lifetime Achievement Award from the Recording Academy in 2006, and Kennedy Center Honors in 2010.
Related: Haggard died on his 79th birthday, April 6, 2016

Latest posts by Best Classic Bands Staff
(see all)