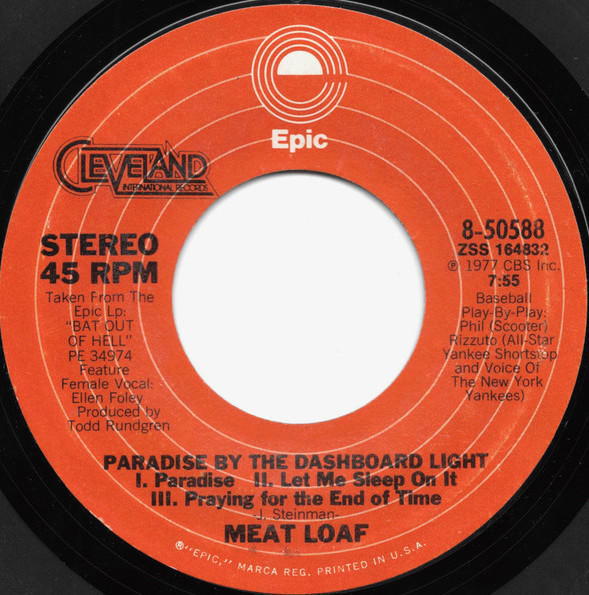 The highlight on the Meat Loaf/Jim Steinman 1977 masterwork, Bat Out of Hell, is the 8-minute tour-de-force, "Paradise By the Dashboard Light." The classic rock song describes memories of a couple in their high school days, sung gloriously by Meat Loaf and Ellen Foley, getting increasingly intimate in his car. Early on, the young man is pressuring his girlfriend to "go all the way tonight."
As we know, the female protagonist, "barely seventeen and barely dressed," confronts her eager boyfriend. "Stop right there!," she shouts. "Before we go any further… Will you make me happy for the rest of my life? Will you love me forever?"
So what happened in between? Steinman's script ingeniously uses the "first base," "second base" baseball analogy for sex, with play-by-play delivered by the New York Yankees legendary shortstop-turned-broadcaster Phil Rizzuto. "This boy can really fly… He's rounding first and… he's gonna try for second… He's… safe at second base. This kid really makes things happen out there." Not long after, he's at third base and on his way home when Foley cool thing down.
When Bat Out of Hell arrived in October 1977, "the Scooter," as the beloved Rizzuto was known from his playing days at shortstop, was 60 years old. His charming personality made him a natural in the Yankees broadcast booth and always exclaimed "Holy Cow! when he witnessed an exceptional or unusual play on the field. He was persuaded to participate on the album from the then-unknown recording artist.
Shortly after the album was released, Meat Loaf and Steinman were guests of disc jockey Dennis Elsas on his show on New York's WNEW-FM, where the song was quickly emerging as a favorite of the influential station's listeners.
"People can understand what the story is about," Elsas says to his guests. "Who came up with the idea of using Phil Rizzuto?"
"We talked about Mel Allen and a couple of others," says Meat. "This is a perfect example of how Steinman and I work. Seven months before [we got] Phil Rizzuto, we said, 'Phil Rizzuto'."
"Holy Cow!" ~ Phil Rizzuto is looking sharp in the New York #Yankees broadcast booth back in the day! #Scooter #MLB #History pic.twitter.com/LXwgfg80eX

— Baseball by BSmile (@BSmile) September 15, 2018
Elsas asks, "Did Phil have any idea what he was involved with?"
"No!" the pair shout in unison, laughing. "[Producer] Todd [Rundgren] forgot to bring the tape of the song," says Steinman. "So Phil had to do it as a separate piece of tape that got mixed in later. Phil had no idea. His agent had only one question. He said, 'Do you have to take drugs to listen to this album?'"
"Now that it's been out," says Elsas, "does Phil know what he's involved with?"
"I have no idea," says Steinman. "But I love to fantasize about one of those days in the new season when there's a rainout and they have to fill time. [Imitates Rizzuto] 'Holy Cow, Frank [referring to fellow Yankees broadcaster Frank Messer], I saw in Record World my record at 23 with a bullet. We're doing good at retail and it's in heavy rotation. We're really flying up there'."
So, was Rizzuto in on the joke? "Rizzuto frequently claimed not to have understood the innuendo behind his part in a song about teenage lovers and a parked car," writes Bryan Hoch, in a Jan. 21, 2022 story on MLB.com. The veteran baseball reporter dug up an interview that Meat Loaf did with ESPN in 2007. "Phil was no dummy — he knew exactly what was going on, and he told me such," Meat Loaf told the network. "He was just getting some heat from a priest and felt like he had to do something. I totally understood. But I believe Phil was proud of that song and his participation."
Nearly 30 years after their first interview, Elsas reunited with Meat Loaf at New York's WFUV-FM in 2006, where the veteran DJ has been doing afternoon drive since 2000. Early on, Elsas asks the performer to recall the decision to use Rizzuto on the recording.
"I guess it was Jim Steinman's," says Meat. "It was his idea to have the play-by-play, and we discussed using Mel Allen, and Harry Carey."
Elsas asks if he and Steinman were in the studio with Rizzuto when his part was recorded.
"Yeah. Phil was very funny in the studio. He was so animated on TV, but he couldn't do it in the room. [mimics a robotic Rizzuto] We're going, 'Phil… Phil… think of it as a game'."
But Rizzuto still needed to get the hang of it. "We had pizza delivered and I had pizza boxes laid out in the studio. He was in the control room and I was sliding into pizza boxes. A 300-lb. guy sliding into pizza boxes. I don't know if that helped him or not. I just did it because I thought it was funny.
"He wasn't [recording his part] to the music. He makes the claim that he doesn't know what the song is about, which is not true. But he didn't do it to the music."
Listen to both of Elsas' interviews with Meat Loaf here.
After he retired, Rizzuto was honored by the team he had played and worked for, for more than five decades.
Rizzuto was inducted into the Baseball Hall of Fame in 1994. He died on Aug. 13, 2007, at the age of 89.
Related: Our obituary for Meat Loaf

Latest posts by Best Classic Bands Staff
(see all)