Max Yasgur was hardly your typical Upstate New York dairy farmer. The son of Russian Jewish immigrants, he had been raised on the family's farm in Bethel, NY. But he also attended New York University, where he earned a degree in real estate law.
In the summer of 1969, after the nearby villages of Saugerties and Wallkill declined to provide a venue for a rock festival, Yasgur – whose farm was the largest dairy operation in Sullivan County in the foothills of the Catskill Mountains – offered the promoters his just-harvested alfalfa field for the festival site. The sloping land formed a perfect natural amphitheater. It's 58 miles from the festival's namesake town known as the Colony of the Arts.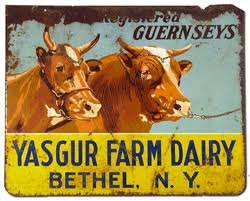 Max was no fool when it came to the value of his land. His fee started at $10,000 and eventually rose to $75,000 for the cost of using his land and facilities. After he struck a deal with promoters Woodstock Ventures, his neighbors and community members let him know their feelings on it all. Despite some stiff opposition, supporters apparently outnumbered the naysayers.
Nearly five months after the festival, on January 7, 1970, Yasgur was sued by some neighboring farms for $35,000 for damages they'd suffered during the festival. He'd run up another $50,000 in costs for hosting it (for which he was to be paid). But by then Yasgur was well aware that he had also hosted history.
Festival co-creator Michael Lang notes in his book, The Road to Woodstock, "When [Max] found out that a few people were selling tap water to festivalgoers, he hung a huge sign on his barn that said FREE WATER. He gave away water, milk, cheese, and butter."
Related: Woodstock performers – Where Are They Now – Pocket Guide
Watch Yasgur's "I'm a farmer" speech to the crowd, immortalized in the Woodstock movie
If you're a new Best Classic Bands reader, we'd be grateful if you would Like our Facebook page and/or bookmark our Home page.
Yasgur died on February 9, 1973 at 53, just three-and-a-half years after the music festival.
Related: Woodstock 50 debacle – No Peace. No Love. No Music

Latest posts by Best Classic Bands Staff
(see all)