Marshall Crenshaw, the veteran rock 'n' roll singer and songwriter, whose body of work encompasses ten studio albums as well as a variety of EPs, compilations and live discs, recently regained ownership of the five acclaimed albums he released on the Razor & Tie label between 1994 and 2003. In 2020, Crenshaw launched a series of ambitious revised editions of those albums, on his own Shiny-Tone label (distributed through Megaforce). The new expanded reissues, all of which include newly recorded bonus tracks, are being released on vinyl, as well as on CD and on all digital platforms.
Crenshaw was first introduced to music audiences in 1982 with the release of his self-titled debut album for Warner Bros. Records. That LP yielded two favorites, "Someday, Someway," which reached #36 on the Hot 100, and its terrific follow-up, "Cynical Girl."
His reissue series, which began with 1996 effort Miracle of Science, now continues with a freshly revised edition of his 1999 set #447, remastered by legendary engineer Greg Calbi. The original 11-song set includes such Crenshaw favorites as the tongue-in-cheek "Dime a Dozen Guy," the haunting "Television Light," the infectious "Tell Me All About It" and the romantic "T.M.D." Recorded in the artist's own home studio as well as Nashville's Alex the Great studio, #447 features Crenshaw on vocals, guitar, bass, drums, percussion and various vintage keyboards, with additional instrumental contributions from such kindred spirits as Brad Jones, Bill Lloyd, Greg Leisz, Andy York and former E Street Band member David Sancious.
The new edition of #447 incorporates a pair of new Crenshaw recordings, "Will of the Wind" and "Santa Fe." Listen to both of them below. Those songs appear as a 7" single packaged with the album's new vinyl edition, and as bonus tracks included on the CD and in the digital edition, all of which arrive on February 4, 2022.
"I love it that phonograph records are popular again," enthuses Marshall Crenshaw. "They were consigned to oblivion by the music business back when I was recording for Razor & Tie, but now they're back!"
Writing in allmusic.com, writer/musician Cub Koda of Brownsville Station observed that #447 "stands tall as one of his finest albums, as well as his most ambitious and perhaps perfectly realized. The big news is the wealth of great original material, plus Crenshaw's newfound interest in guitar textures, giving this album a complex weave of interesting tones that literally leap out of the mix … But with Crenshaw, the pop hook's the thing, and tunes like 'Dime a Dozen Guy,' 'Television Light' [and] 'Glad Goodbye' do not disappoint. This is Marshall Crenshaw firing on all four cylinders, doing what he does best."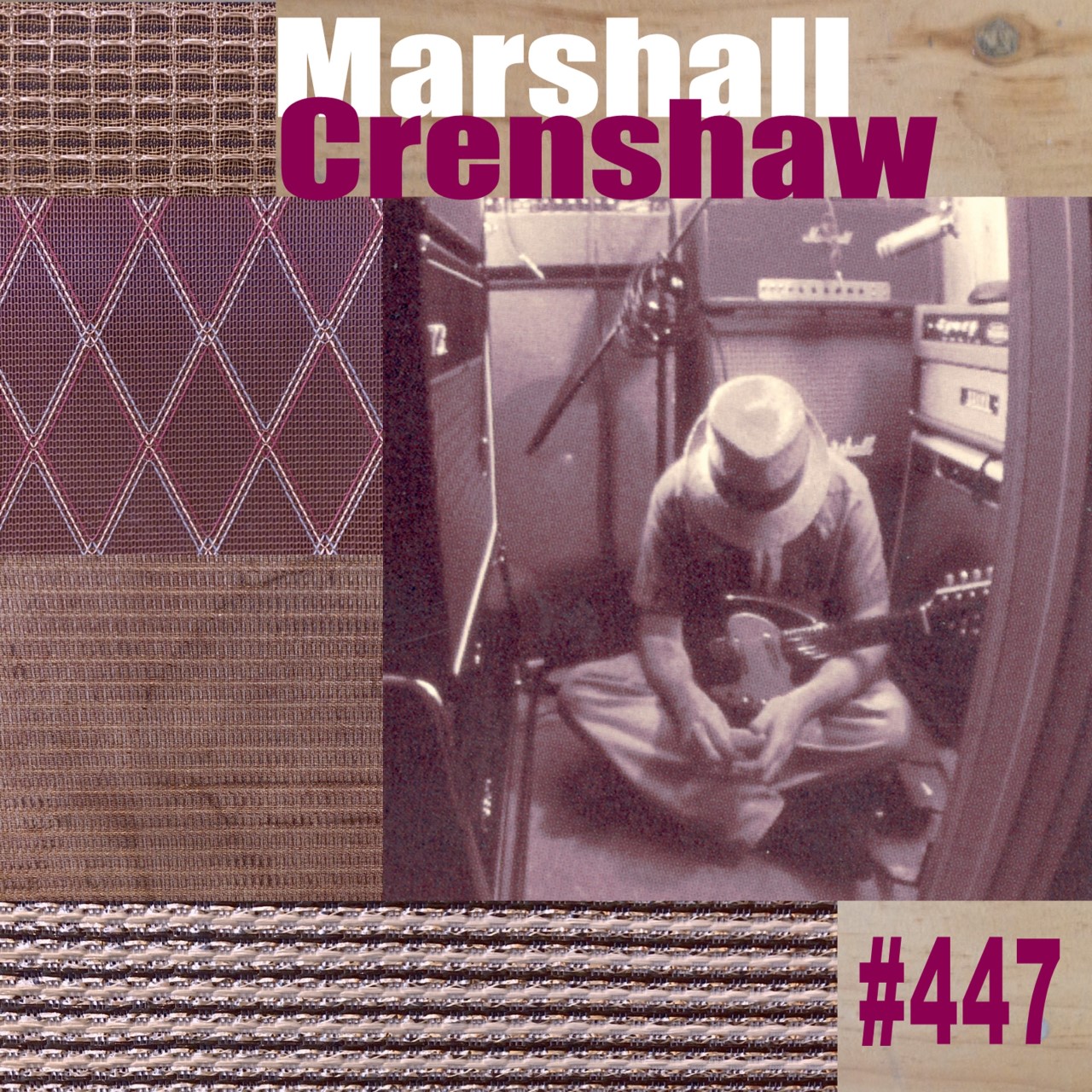 Recalling the period that spawned #447, Crenshaw says, "I was happy to get out of the major label world back in 1991, after Life's Too Short, my one album for MCA/Paradox — the tapes of which [apparently] got burned up in the Universal vault fire and are now dust particles floating in outer space. Oh well, there might be some symbolism there.
"After that, it was back to a hands-on/home studio/auteur approach to record-making for me, and I was happy about that. It suited me better. By 1993/1994, I had a great little studio space behind our house in Woodstock, which was beautiful inside, visually and sonically. And I was involved with Razor & Tie Records, which was a no-pressure situation at all times.
"I was in a space where I could really think clearly. I'd had a cash windfall from co-writing 'Til I Hear It From You' for the Gin Blossoms, and had stocked up on some classy recording gear with brand names like TubeTech, Manley and Ampex. Along with what I was doing at home by myself, I was doing the other half of the work at a great studio in Nashville, Alex the Great, presided over by Brad Jones. He and I always had a good rapport and were pretty much always on the same page in terms of what we thought was cool, aesthetically and artistically. Brad and I had established a really good groove on Miracle of Science, and on #447 we got deeper into that."
Both of the new songs on the reissue reflect Crenshaw's admiration for veteran punk iconoclast Gregg Turner, best known for his pioneering work with the Angry Samoans.
"These songs are the first brand-new material that I've recorded since 2016," Crenshaw notes. "The A-side, 'Will of the Wind,' was written and recorded by me during the first months of lockdown in early 2020. I had no way to get together with other musicians, so I did the whole thing by myself. Lyrically, it captures that particular moment in time — that sense of disorientation, uncertainty and being at the mercy of nature, which we always are anyway. It's a pretty good rock 'n' roll song, in my opinion. Gregg Turner helped me finish the lyrics."
"The B-side is 'Santa Fe,' a Gregg Turner song. A mutual friend gave me one of Gregg's solo CDs a few years ago and I really flipped over it. I had been meaning to cover 'Santa Fe' for a while now. I got hypnotized and fascinated by this song during a cross-country drive back in 2013, on which Gregg's CD Gregg Turner Plays the Hits was part of the soundtrack. Lyrically, to me, it seems like two separate songs in one, first a breakup song and then … you'll have to ask Gregg about the rest of it. Big thanks to the great Mike Neer on steel guitar; he sounds like he's done some cross-country drives himself."
The new reissue series appears on Crenshaw's newly created Shiny-Tone imprint, whose label design echoes the distinctive graphics of the legendary Roulette label. "I couldn't resist paying tribute to the circa-1958 Roulette Records label design," he explains. "I hope nobody comes after me about that, but we checked and there's no copyright."
Crenshaw continues to tour regularly. Tickets are available here.
Related: Our review of a Crenshaw concert in 2019
Watch him perform "Cynical Girl" in 1985

Latest posts by Best Classic Bands Staff
(see all)