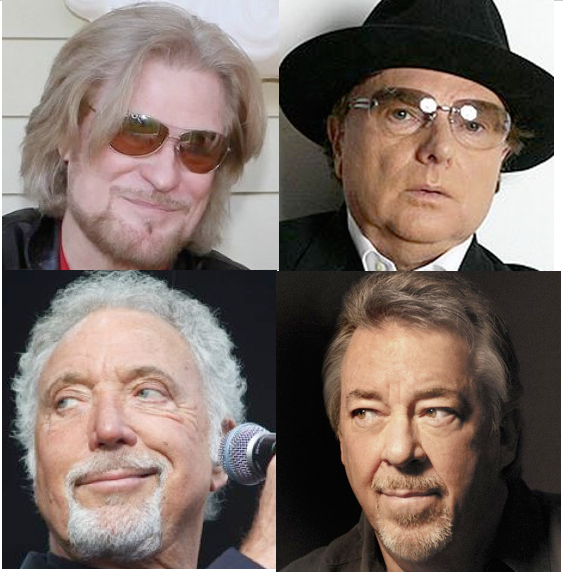 Blame it on my being raised on not just The Beatles and Stones but also the music that came out of Motown, Memphis and Muscle Shoals – there are few musical things I enjoy more than male blue-eyed soul singers: a white artist whose vocals brim with black R&B and gospel soulfulness. Because there are few things I enjoy more than a great black soul singer, such as Otis Redding, Sam Cooke, Jackie Wilson, Sam Moore (of Sam & Dave), Marvin Gaye and others.
What makes a singer soulful? Being able to channel the rich emotionality and vocal agility of the R&B-based style; the howls, growls, shouts, coos, whispers and more that invest soulfulness into the singer's delivery. What marks soul singing greatness? I'll rework how Supreme Court Justice Potter Stewart defined pornography to say I know it when I hear it. And you'll hear it too from the singers listed below.
12) Paul Young: Sadly, the most talented blue-eyed soulster to emerge in the 1980s has released very little new material in recent years. But that's no reason to count Young out. The man who sang the opening lines to "Do They Know It's Christmas" (the song that launched Live Aid) and was an MTV favorite and British teen idol in the mid-'80s showed he had the pipes of a smooth as silk soul man on his cover of Daryl Hall's (more on him, below) "Everytime You Go Away," which reached #1 in the U.S. on July 27, 1985.
11) Alex Chilton: Worshipped by a rather substantial cult for his stunning pop-rock with his early 1970s band Big Star – it seems like everyone who bought one of the only 2,000 copies originally pressed up of their first album went on to either start a band or become a rock critic – the late singer and songwriter's earlier work as the lead singer for The Box Tops gets undeserved short shrift. Reared within the Memphis music scene and making soulful pop records with some of the city's best songwriters, producers and players, Chilton sang with a different, deeper and throatier voice than later in his career, definitely going "soul deep" on "The Letter," the 1967 #1 debut single by The Box Tops. Bonus points: When I saw the The Box Tops as a teen (as was Alex at the time), he worked the stage with a fury like he was Otis Redding.
10) Georgie Fame: Many of you might say: Georgie who? Fame in the U.S. has eluded the man who adopted the word as his last name. His biggest U.S. hit was the somewhat cheesy (but still well sung) "The Ballad of Bonnie and Clyde," which reached #7 in 1967. But during his three year residency at London's Flamingo club leading his band The Blue Flames in the early 1960s, Fame found favor with black American servicemen for his R&B authenticity as well as Jamaican immigrants for his mastery of ska music and was popular with the young English mods (as heard on his first release, 1963's Rhythm and Blues at the Flamingo, an all-time favorite album of mine shamefully unavailable in the U.S. for decades) The clip below from a 2000 appearance on the English live music show Later… with Jools Holland shows his masterful ease at blending both, and gives a taste of his skills on the always soulful Hammond B-3 organ on a take of his trademark 1964 U.K. # 1 hit song – the infectious "Yeh Yeh." Bonus points: In recent years Fame toured and recorded with Van Morrison, playing organ and singing.
9) Paul Carrack: The English singer, songwriter and keyboard player has been quite the in-demand band member since he first cracked the American charts in 1974 with his group Ace's # 3 hit, "How Long," working with Squeeze (with whom he sang "Tempted"), Mike + The Mechanics (that's him singing "The Living Years") and Roxy Music. The video below of him crushing it on Marvin Gaye's "What's Going On" attests to Carrack's mighty pipes. Bonus points: He's a damn fine keyboard player as well.
8) Steve Marriott – A while back, I read a disparaging comment on Facebook that called Marriott a "screamer" and nearly hit the roof. He was able to wail in the high registers with the deepest soul yet still rock throughout his career with The Small Faces and Humble Pie. And no one else could make a Ray Charles song rock so hard yet still sing it with as much soul as he did on the Pie's a bit raw but supremely righteous take on "Hallelujah (I Love Her So)" from their classic 1971 double disc Performance: Rockin The Fillmore.
Related: An interview with Steve Marriott
7) Bill Medley/Bobby Hatfield; The Righteous Brothers – We'll make this entry a two-for-one even if Medley's deep baritone and Hatfield's high tenor can both be singled out for praise. But the way they intertwined was sheer magic, and nowhere as much as on the Phil Spector-produced 1964 #1 smash hit and golden oldie "You've Lost That Lovin' Feeling."
6) Tom Jones: Quite simply, one of the greatest singers of our age, period. And a man who can kill on a great soul song as well as no slouch singing pop, country, blues, gospel – his masterful 2010 spiritual LP Praise & Blame is well worth seeking out – or whatever, really. No wonder the ladies throw him their panties onstage. He delivers songs with elan and aplomb and has a mega-watt vox box. To show just how soulful Jones can get, we could feature his very hip 1988 collaboration with Art of Noise on Prince's "Kiss." But a listen to how he wails in a duet with Nina Persson of The Cardigans on a cover of the Talking Heads tune "Burning Down the House" from his wonderful 1999 collection Reloaded shows just how well Jones can deliver the soul, plus it's one wickedly cool track.
5) Daryl Hall: The fact that Hall is a stone-cold monster of a vocal soul man may have been overshadowed a bit by the pop success he and partner John Oates (who rightly shares some of this honor) enjoyed with an impressive string of Top 10 pop hits like "Sara Smile" (#4), "Rich Girl" (#1), "Kiss on My List" (#1), "You Make My Dreams" (#5), "Private Eyes" (#1), "I Can't Go for That (No Can Do)" (#1), "Did It in a Minute" (#9). "Maneater" (#1), "One on One" (#7), "Family Man" (#6), "Say It Isn't So" (#2), "Adult Education" (#8), "Out of Touch" (#1), "Method of Modern Love" (#5) and "Everything Your Heart Desires" (#3) – phew! – but it's that voice (intertwined with that of Oates) that helped make all those Hall & Oates songs into hits. I still favor how he wails on their 1973 classic "She's Gone" – originally only a #60 chart showing that five years later went to #7 (as noted on our list of 10 Re-Released Songs That Became Hits) – with such power, passion and sheer soufulness that it makes my toes curl.
Related: Many of these great singers continue to tour today. See our listings
4) Steve Winwood: Since America first heard Winwood on the 1966/'67 back-to-back Top 10 hits "Gimme Some Lovin'" and "I'm a Man," the soulful vocal influence of his early hero Ray Charles has echoed through his voice in his work with Traffic and Blind Faith as well as his solo career. His natural and engaging R&B flair works no matter what hue the musical style may be; now that's a voice. He shows his soul stuff below on the Junior Walker Motown classic "Road Runner" backed by an all-star band (including Eric Clapton) at the 1983 Ronnie Lane Appeal for ARMS concert. (Alas, Winwood so liked the melody he borrowed it for his 1988 #1 hit "Roll with It" and subsequently got popped for plagiarism.)
3) Boz Scaggs – Big-time bonus points bring Boz way up the list as the artistic comeback kid here thanks to two recent killer real-deal soul/R&B albums in a row, 2013's Memphis and 2015's A Fool to Care – two timeless gems. He showed his deep R&B command, accent on the 'b'-lues, on his 1969 self-titled second album singing "Loan Me a Dime" with Duane Allman behind him; later hits like "Lowdown," "Lido Shuffle" and "Breakdown Dead Ahead" showcased a smooth soul sophisticate. Today his seasoned voice is as rich, real and expressive as it gets.  Not only does he sing with grace and finesse on Willie DeVille's "Mixed Up Shook Up Girl" – one of my favorite songs ever – but also dig the utterly sublime track behind him from the Memphis album.
2) Felix Cavaliere – When Motown was "The Sound of Young America" and Memphis & Muscle Shoals had multiracial rhythm sections blowing the doors off behind some of the finest soul singers to ever grace this planet in the mid-1960s, The Rascals née Young Rascals showed us that four white guys from Jersey could deliver the goods with the same assurance, chops and you-just-can't resist it feeling. Bonus points here go to Little Steven Van Zant for bringing the band back together again in 2012 for the Once Upon a Dream multimedia stage show.
1) Van Morrison: I shall brook no argument here. When it comes to blue-eyed soul, Van is The Man. White Soul Brother #1. Even on the clanging 1964 garage band rock classic "Gloria" with Them he delivered the lyrics with a full kit of impassioned soul vocal techniques. This year he showed that his mighty singing skills are still formidable on the Duets: Reworking the Catalogue album, outclassing every guest (see our review here). Really, there's no case for me to make here; it's just indisputable fact that Morrison is the finest. Many songs over the year could handily show his stuff, but none is more apropos than his nod to one of soul music's greatest singers on 1974's "Jackie Wilson Says (I'm in Heaven When You Smile)."

Latest posts by Rob Patterson
(see all)