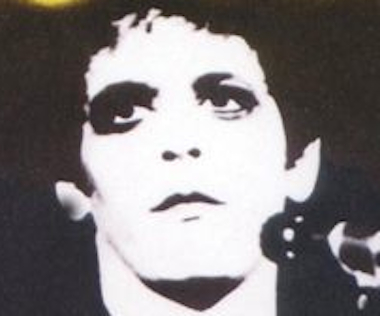 On July 30th, the day at the Lincoln Center Out of Doors Festival will be all about Lou Reed. His widow and fellow artist Laurie Anderson and his friend and noted producer Hal Wilner will curate the event titled "The Bells: A Daylong Celebration of Lou Reed" (after Reed's song "The Bells").
Many of the details remain to be worked out and announced, but here's the basics on the full day of free events at Lincoln Center on Manhattan's Upper West Side: It will begin in the morning with group Tai Chi led by Reed's teacher, Master Ren Guangyi, that is open to all (beginners welcome). It culminates in Damrosch Park with "Lou Reed's Love Songs," an evening concert featuring performances by a raft of artists – to be announced – across a range of music genres (take note: Wilner is a master at putting together such events). The concert will be followed by a screening in the park of Julian Schnabel's 2008 film Berlin, which captured Reed's live 2006 concert performances of the 1976 album of the same name.
In between will be a wide array of events, including: a sound installation "Lou Reed: Drones" created from six of Reed's guitars and amps in a feedback loop to produce an immersive sound environment; screenings of films and documentaries at the Film Society of Lincoln Center's Elinor Bunin Munroe Film Center; a demonstration by Tai Chi Master Guangyi with his martial arts students; readings from Reed's collected lyrics by notable actors and artists; afternoon musical performances; and an all-day marathon playing of Reed's recordings.
Reed (who died in 2013) and Anderson frequently attended Lincoln Center events and also performed there – separately and together – on several occasions. In November 2013, the only public event marking Reed's death, organized by family and friends, took place outdoors on Lincoln Center's Hearst Plaza. There was no ceremony. No speeches. Just Reed's music – selections of his Velvet Underground and solo recordings playing on loudspeakers for a gathering of several hundred people, alerted by a posting on his Facebook page. It was, as reported in The New Yorker, a "public memorial that celebrated Reed by filling the whole complex with his music, like church bells ringing in a town square."
More information about participating artists, venues, event starting times and other details will be announced at a later date. Watch for the May 4th announcement of the Lincoln Center Out of Doors schedule, featuring concerts and events from July 20th to August 13th here.


Latest posts by Best Classic Bands Staff
(see all)