Grammy-nominated Chicago blues artist Lonnie Brooks died April 1, 2017, in Chicago, according to an announcement from his son, Ronnie Baker Brooks. He was 83. Brooks "combined Chicago blues, rock 'n' roll, Memphis soul, swampy Louisiana grooves and country twang into a style that his fellow musicians called 'voodoo blues,'" said a press release from Alligator Records, one of the labels for which Brooks recorded.
He was inducted into the Port Arthur Historical Society Hall of Fame in 2001 and the Blues Hall of Fame in 2010. On June 12, 2012, Chicago Mayor Mayor Rahm Emanuel declared Lonnie Brooks Day in Chicago.
Lonnie Brooks was born Lee Baker Jr. on December 18, 1933. Over the course of his 60-year career, he recorded 11 full albums and dozens of 45s for a number of labels. His career began in Port Arthur, Texas, in the mid-1950s. Recording under the name Guitar Junior, he scored a string of regional hits, including "Family Rules" and "The Crawl" for the Goldband label.
Said the Alligator release, "The success of his singles led to numerous southern tours and a busy performance schedule that included dancehalls, juke joints and roadhouses across Texas and Louisiana. In 1959, Lonnie befriended the great Sam Cooke, who suggested his move to Chicago. Once settled, he changed his name to Lonnie Brooks (Chicago already had a Guitar Junior) and became infatuated with the sound of deep Chicago blues. He soon landed a job as a sideman with blues hitmaker Jimmy Reed, with whom he toured and recorded. Brooks cut a handful of singles throughout the 1960s, as well as appearing on a number of Chicago blues and R&B recording sessions. He played nightly in the bars on the South and West sides of Chicago and in Gary and East Chicago, Indiana. In 1969, Capitol Records released Brooks' first album, Broke an' Hungry, under his old stage name, Guitar Junior."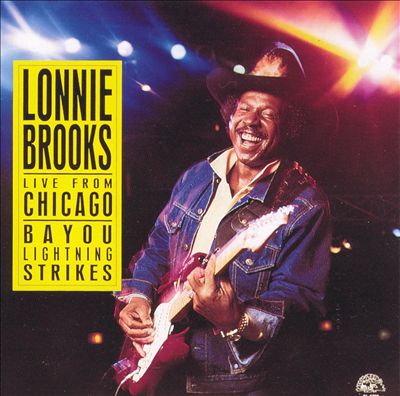 In 1978, Brooks recorded four songs for Alligator Records' Grammy-nominated Living Chicago Blues anthology. This led to a full contract with the label. His Alligator debut, Bayou Lightning, was released in 1979. The album won the Grand Prix du Disque Award from the 1980 Montreux Jazz Festival. While appearing in Montreux, Brooks befriended country star Roy Clark, who arranged an appearance for Brooks on the popular country music television show Hee Haw.
Constant touring in the U.S. and abroad kept Brooks in the public eye. His 1980 live performance of "Sweet Home Chicago" on the Blues Deluxe album resulted in Brooks' second Grammy nomination. A 1982 trip to Germany resulted in an hour-long Lonnie Brooks special shown on German television. BBC radio broadcast an hour-long live performance across Great Britain in 1987. Brooks spent the summer of 1993 on a national concert tour with B.B. King, Buddy Guy, Koko Taylor, Junior Wells and Eric Johnson (see video below). In 1995 Eric Clapton honored Brooks by inviting the bluesman on stage for an impromptu jam at Chicago's Buddy Guy's Legends club. In 1998 alone, Brooks appeared in the film Blues Brothers 2000, performed on The Late Show With David Letterman and co-authored (along with his son Wayne Baker Brooks and music scribe Cub Koda) the book Blues For Dummies.
Brooks' final two releases were 1996's Roadhouse Rules and 1999's Lone Star Shootout (recorded with fellow Gulf Coast blues veterans Long John Hunter and Phillip Walker). His recording of "It's Your World" from Roadhouse Rules was featured in an episode of HBO's The Sopranos. In 2008, Brooks appeared in the film The Express—The Ernie Davis Story.
Both of his sons, Wayne Baker Brooks and Ronnie Baker Brooks, lead their own bands and have released recordings. In 2011 and 2012, Lonnie, Ronnie and Wayne toured as the Brooks Family Dynasty. Lonnie's last recording appearance was as a guest on Ronnie's latest album, Times Have Changed.
Watch Lonnie Brooks in an all-star jam that also includes B.B. King, Buddy Guy, Junior Wells, Eric Johnson, Gregg Allman and Koko Taylor

Latest posts by Best Classic Bands Staff
(see all)