Most songwriters won't admit that they truly can't stand a song that they've written. Paul Simon is not one of them. Whenever he's asked if there is a composition of his that he despises, he readily pipes up: "The 59th Street Bridge Song (Feelin' Groovy)" is the one tune that he wishes he could erase from his lexicon, from his very life.
OK, we admit that it's kind of soppy, and sappy, and just plain saccharine, with its "doo-ait-n-doo-doo, feeling groovy/Ba da-da da-da da-da, feeling groovy" sing-along tag line. But in the right state of mind, it can also be kind of sweet, a harmless little flower-power paean to those moments when "all is groovy." Doo-ait-n-doo-doo!" to you too, baby!
But nah, Simon hates it, wants it dead. He hates it so much that, in 2018, when he forgot the lyrics to another song while onstage, he told the audience he was going to "penalize himself" by performing "Feelin' Groovy." You can watch it right here–scroll ahead to 8:47 in the video below to see the self-flagellation unfold.
Maybe he liked it at one time in his life, perhaps the day he wrote it, or when he sang it with his partner Art Garfunkel for the 1966 Parsley, Sage, Rosemary and Thyme album, or when the duo performed it as the third song in their set at the Monterey Pop Festival. That one was so pretty…just watch.
But in any case, he clearly does not care for it now. And if there was ever a chance that he might warm to it, that was surely killed by the existence of this:
That version is by the one-and-only Liberace and a gang of youths called the Young Folk. It's scary. It's awful. It's an affront to humanity. It'll make anyone want to murder "Feelin' Groovy." It'll make you feel grotty.
OK, we're exaggerating. It's actually pretty funny.
Maybe we need to put this all into context. In 1966, Simon and Garfunkel were sitting on top of the world. Their history is well-documented, the tale beginning when the two kids from Queens, New York, with a penchant for singing had scraped into the top 50, all the way back in 1957-58, with an upbeat Everly Brothers-esque rocker called "Hey Schoolgirl." They called themselves Tom and Jerry at the time, but it was Paul Simon and Art Garfunkel for sure.
They went their separate ways, then came back several years later as folkies and cut an album called Wednesday Morning, 3 A.M., which sold nothing. They went their separate ways again, Simon going to England to try his luck as a solo act, only to learn that a song he and Garfunkel had cut, "The Sound of Silence," had been remixed by producer Tom Wilson with studio musicians and was on its way to becoming a #1 hit in late 1965. The album Sounds of Silence followed, then Parsley, etc., then mega-stardom.
Parsley, Sage, Rosemary and Thyme, their third album, was, by any standards, a classic folk-rock LP, including such gems as "Scarborough Fair/Canticle," "Homeward Bound" and "The Dangling Conversation." Solid Simon and Garfunkel music. It was the album that high school English teachers of the era used when they wanted to show students how poetry could be set to music. The last song on side one was "The 59th Street Bridge Song (Feelin' Groovy)." It was chipper, it was cheerful, it was fun: "Hello lamppost, what'cha knowing?/I've come to watch your flowers growin'."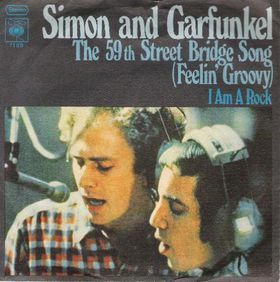 Why the 59th Street Bridge? We're not sure if Simon ever explained that. The bridge, built in 1909, connects Manhattan with Queens, Simon's home borough (today it's called the Ed Koch Queensborough Bridge, after the grouchy, late NYC mayor), so maybe Simon was feeling nostalgic—although the bridge itself is never actually mentioned in the song—when he titled it. From day one, everyone just called it "Feelin' Groovy," as if the main part of the title was inconsequential. It kind of was, so just in case anyone not familiar with the city's landmarks might be confused, Simon made sure to give it a subtitle, in parentheses, that quoted the two words that most defined its merry lyrics: "Feelin' Groovy."
It wasn't exactly an out-of-the-ordinary sentiment. At that time, lots of songs used the now-long-out-of-favor word groovy in their title or within their lyrics, from the Troggs' "Wild Thing" ("You make everything groovy") to the Turtles' "Elenore" ("I really think you're groovy, let's go out to a movie") to the Mindbenders, whose ballad "A Groovy Kind of Love" peaked at #2 in 1966. Simon was just following the groovy path, and probably never gave much thought to either his use of the word or the chirpiness of the tune he had created.
Related: 16 very groovy tunes
In fact, Simon must have taken the song fairly seriously when he was getting ready to record it, because he didn't use just any studio musicians to play on the recording: He sought out, and recruited, bassist Eugene Wright and drummer Joe Morello, no less than the rhythm section of jazz piano giant Dave Brubeck's best-selling quartet. The entire track is only one minute and 43 seconds long on Parsley…, but its inclusion helped add to the album's character.
Listen: Paul Simon hated the song so much that he performed it in front of hundreds of thousands at his 1981 Central Park reunion concert with Art Garfunkel, just to torture them
And even if Simon was secretly harboring a disdain for it once he let it escape into the wild, he surely couldn't have minded when the royalty checks started to roll in from all of the cover versions. Most significantly, there was the #13 hit by the West Coast studio group Harpers Bizarre, cut in early 1967, just before the Summer of Love, arranged by one Leon Russell, who also played piano on the track. Guitarist Glen Campbell, bassist Carol Kaye, drummer Jim Gordon and other members of L.A.'s famous Wrecking Crew also contributed to the hit.
It is said that Jimmy Page used to insert a snippet of the melody into the Led Zeppelin song "Heartbreaker" during the band's live shows, and the Grateful Dead also quoted from it during their epic "Dark Star" on numerous occasions. The very hip keyboardist Al Kooper and the equally hip guitarist Michael Bloomfield played a slowed-down interpretation of the song at at Bill Graham's Fillmore Auditorium in San Francisco in September 1968, and put it on their live album.
Maybe Simon would have simply forgotten about the song if everyone agreed with him that it was garbage, but it seemed to keep coming back to haunt him. He even gave in to Stephen Colbert and performed the song with the TV host during a 2017 appearance. We kind of like the new lyrics.
Now, getting back to the point of this whole diatribe, we don't even know if Simon ever saw what Liberace and the Young Folk did to his song when they included it in a 1968 episode of The Red Skelton Hour, but that certainly wouldn't have helped sway him. That variety program starred the actor and comedian Richard "Red" Skelton, a show-biz veteran whose career stretched back to the vaudeville days and who would have been 55 years old in 1968. Skelton was known for creating a handful of non-PC, non-funny characters, with names like Freddie the Freeloader and Clem Kadiddlehopper, and for performing in pantomime. His program, which originated in 1960, mostly featured middle-of-the-road fare that was hardly attractive to the teenage set, although—reluctantly, no doubt—Skelton did book rock and roll acts once someone figured out that doing so would boost the ratings: The Rolling Stones famously taped three songs in London that aired on Skelton's program in August 1964, which must surely have sent the show's core audience of grannies scurrying for the powder room as the unkempt British youths invaded their sacred space.
By 1968, rock was commonplace on mainstream American TV programs, but what was even more common was for hopelessly whitewashed, clean-cut, well-scrubbed young people dressed inoffensively to take a hopelessly whitewashed, clean-cut, well-scrubbed rock song and rearrange it in such a way that the grandmas would stay put. "Feelin' Groovy" was ideal fodder, or so someone must have thought. It was cute, it didn't have bad words or screaming, it didn't glorify drugs or revolution in the streets, and it said that life was groovy—whatever that meant.
Watch: Here is yet another version of "Feelin' Groovy," this time sung by S&G on The Smothers Brothers Comedy Hour
And so it came to pass that on The Red Skelton Hour,  at some point in 1968, the lovable pianist Liberace and the so-clean-you-want-to-sully-them singing/dancing ensemble the Young Folk teamed up to perform a version of the song that Paul Simon came to hate.
Now, we have no idea who these Young Folk were—we can't help you with that. But if they knew that they were living in the late '60s they did an excellent job of obscuring that fact. They are so wholesome that, if you had a vat of LSD-spiked Kool-Aid, you'd desperately want to dunk all of their heads in it. You might also want to ask them what the hell they thought they were doing when they dressed in those absurdly straight-laced outfits and kept their hair so short while most people their age were letting their freak flags fly and feelin' all sorts of groovy vibes, man.
But never mind them. After a full minute of the Young Folk singing in harmless harmony and cavorting around a white piano that appears to be festooned with very large Covid cells that match the male singers' trousers, Liberace himself joins them. And man, is he a sight for sore eyes! Or maybe he is the sight causing the sore eyes, who knows? With a shiny yellow Hazmat vest to match the female dancers' yellow tights, sitting atop a bright orange shirt with puffy sleeves, and wearing pants that ridiculously match the flowery garb of the others, Liberace, who is actually a seriously talented pianist, doesn't, at first, play the instrument. Instead, he sings the Simon tune—with a little bit of improv just in case someone thought the song needed new words: "Hello, Young Folk, what's a-shakin'?/I gotta try that scene you're makin'/Liberace's turnin' on/Doo-ait-n-doo-doo, feelin' groovy," Liberace sings with a huge grin plastered across his ever-affable mug.
Um, maybe stick to your own scene, Władziu, and try a little less turning on. The Young Folk have got this one covered just fine.
At roughly 1:40 into the 2:49 clip, Liberace finally sits at the piano, where he bangs out about a half-minute's worth of a blues-inspired take on the song that's actually quite good, while the dancers gyrate groovily around him. Lib can no longer take it though, he has to join them. And so he does, abandoning the keyboard and making his way to the front of the troupe, who have now changed into more sedate versions of their earlier costumes.
But that won't do, either, he decides, and with 15 seconds left, Liberace returns to the piano bench, quickly thinks twice about it, and leaves us all with the words "Feelin' groovy" sung in a basso profondo.
It's all pretty surreal, to be sure, but we were used to barf-worthy interpretations of pop songs by grownups by that time. And it was only going to get worse before it got better. If you don't think so, just click here.
As for Liberace and the Young Folk, let's just say they helped Paul Simon make his point.
Watch: Before we leave you groovy people, just for kicks, here's Liberace proving that he can rock with the best of them.
Watch this too: And finally, because we just love this so much and want you to feel groovy, here is an encore performance of Liberace and the Young Folk transforming "The 59th Street Bridge Song (Feelin' Groovy") into something else altogether.
Liberace died at age 67 on Feb. 4, 1987.

Latest posts by Jeff Tamarkin
(see all)