'One Toke Over the Line' on 'Lawrence Welk'—Huh?
by Jeff Tamarkin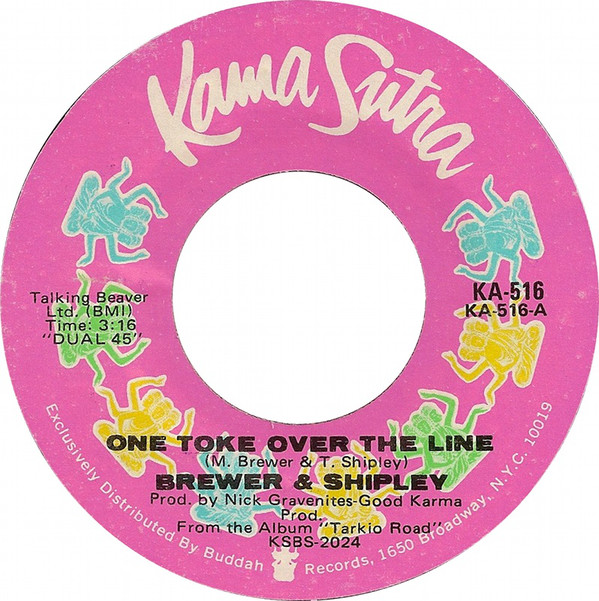 It's strange enough that Brewer and Shipley's "One Toke Over the Line," voted the #6 all-time best stoner song by Rolling Stone, somehow managed to scrape into the Billboard top 10 in 1971, a time when mere possession of a single joint of marijuana could still earn the user a long prison term in all 50 states.
But how in the world did the song—which not only refers blatantly to the state of overdoing it on weed but makes Jesus a central character—find its way to The Lawrence Welk Show, whose prime viewing audience was, well, everyone's pot-fearing grandparents?
It wasn't even meant to be a single. When Michael Brewer and Tom Shipley, a couple of twenty-something folk-rockers, were working on their third album, the idea for the tune just popped up while they were holed up in a coffeeshop in Kansas City. "It was just another song to us," Brewer told The New York Times in 1998. "It wasn't even one of our favorites."
Nonetheless, Brewer and Shipley—Midwesterners transplanted to L.A., then transplanted to Kansas City to escape L.A.—included it on 1970's Tarkio album,  and before long FM radio DJs zeroed in on the country-flavored track, with its irresistible sing-along chorus:
"One toke over the line, sweet Jesus
One toke over the line
Sittin' downtown in a railway station
One toke over the line"
The story line itself is nothing remarkable. The singers have been smokin' it up, and now find themselves waiting for a train to take them home to see their "sweet Mary." They've been away and been around, "met all the girls and loved myself a few," but now they've had enough of all that.
First, let's watch Brewer and Shipley sing their song.
Many stations, especially on the more commercial AM band, wouldn't play it because of the drug content. Vice President Spiro Agnew, who never missed a chance to denigrate the counterculture, reportedly called the song "blatant drug-culture propaganda" that "threatens to sap our national strength." His boss, President Nixon, is said to have included the singers on his famous enemies list.
Brewer and Shipley have never denied that they were, indeed, ripped when they wrote the song, but have stopped short of saying the song was about weed itself. In an interview whose origin seems to have been lost to time, Shipley said, "When we wrote 'One Toke Over the Line,' I think we were one toke over the line. I considered marijuana a sort of a sacrament…If you listen to the lyrics of that song, 'one toke'' was just a metaphor. It's a song about excess. Too much of anything will probably kill you."
Brewer told the Associated Press, cryptically, "It's what anybody wants it to be."
Related: What were some other surprising hits of the '70s?
In early 1971, Kama Sutra released "One Toke…" as a single—produced by Nick Gravenites, former lead vocalist for the Electric Flag—and watched as it remarkably climbed all the way to #10 nationally, even after the FCC issued a warning to radio stations informing them that a "toke" was hippie code for inhaling the evil weed, a veiled suggestion that playing the record might not be a good idea.
The producer of The Lawrence Welk Show must have missed that memo. In what has to be one of the most surreal moments on a TV show that was surreal to begin with—seriously, have you ever actually sat down and watched it?—"One Toke Over the Line" was chosen as a featured number to be interpreted for its viewers, few of whom, it had to be assumed, had much experience with toking.
Some time after the song became a hit, there it was, on Welk's program, then in its final season after a 16-year run on ABC. One of the most purposefully wholesome offerings on television, the variety program featured some of the squarest music imaginable—dance tunes and polkas, big-band standards and the like—watered down to within an inch of its life as soap bubbles floated crazily on the set and the sound of popping champagne corks was heard. A collection of in-house singers and musicians made most of the music, and followers of the show knew them all by name.
So, when resident accordionist Myron Floren (coughing while he spoke, as if he'd just swallowed a toke himself) introduced regulars Gail Farrell and Dick Dale (most definitely not the same Dick Dale often credited with creating the sound of surf guitar), performing "one of the newer songs," viewers had no reason to suspect they would sing a tune about, well, whatever they thought it was about.
And now, ladies and gentlemen, The Lawrence Welk Show invites you to toke along. A one and a two…
Welk was born on March 11, 1903. He died on May 17, 1992, at age 89.
Some have speculated that the inclusion of the name of Jesus led the programmers to believe this was a new gospel hit. Others have suggested that they misheard the lyric as one "toe" over the line.
We'll probably never know what was going through their un-stoned heads. But for a few brief minutes, there it was, the song so dangerous that the leaders of the free world were forced to condemn it, flashing across television sets in living rooms and nursing homes across America. Somewhere in America, Brewer and Shipley's jaws dropped.
Bonus video: Here are Brewer and Shipley performing their biggest hit live in 1998.

Latest posts by Jeff Tamarkin
(see all)