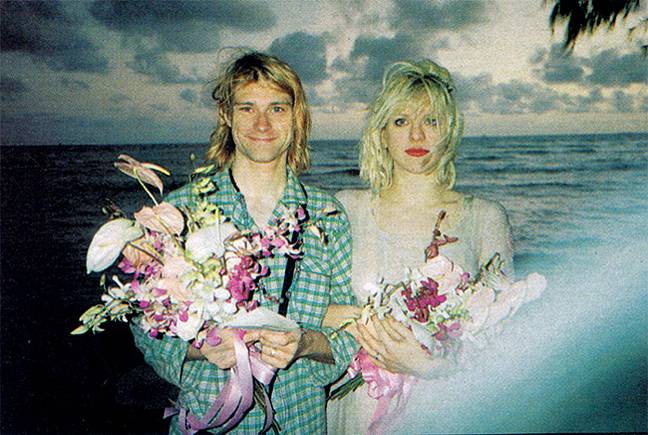 It was a small ceremony on Waikiki Beach in Hawaii at sunset with a mere eight people attending. The groom wore his pajamas. The bride wore a silk and lace dress that had been owned by Frances Farmer, an actress from the 1930s and '40s who was involuntarily committed to a mental hospital and became something of an outsider icon. The marriage was performed by a female non-denominational minister.
Courtney Love had discovered she was pregnant a few weeks earlier, so she and Kurt Cobain scheduled the nuptials for when Nirvana played Hawaii at the end of a tour of the Pacific Rim. The band's drummer Dave Grohl, who played a part in fostering the relationship, attended. Kris Novoselic, Nirvana's bass player, did not, as he was opposed to the pairing.
Honeymoon? Over the coming months of Love's pregnancy and after the child's birth, Cobain took a break from touring and indulged his heroin habit. Love was able to kick her dependency on the drug while carrying the baby, which they named Frances Bean – Frances for Farmer, and Bean for what she looked like in the first sonogram the couple saw, i.e. a bean. Conveniently, Cobain was being treated for chemical dependency at Cedars-Sinai Medical Center in Los Angeles when Love gave birth there and was able to be present for the blessed event.
Their tempestuous marriage would last only a little over two years until Cobian died. It certainly was controversial. Cobain initially resisted Love's pursuits after they first crossed paths in 1990 and '91. He had said "I knew that I liked Courtney so much right away that it was a really hard struggle to stay away from her." Yet he is also to have said that their pairing was "like Evian water and battery acid," and that Love "seemed like poison." The two were estranged when Cobain took his own life on April 5, 1994.
Related: Watch 1000 musicians perform "Smells Like Teen Spirit"

Latest posts by Best Classic Bands Staff
(see all)