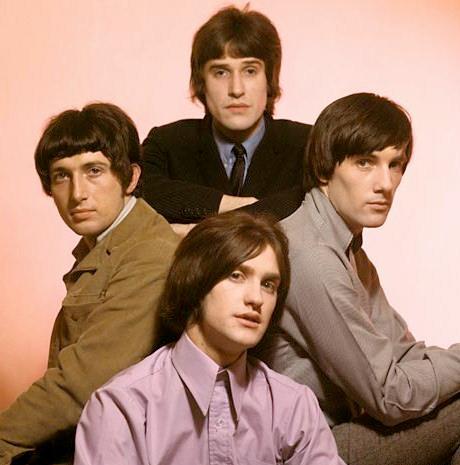 Dave Davies says that Kinks fans shouldn't give up on new material from the band. It's just that he and his brother, Ray Davies, continue to get sidetracked. In a March 2021 interview with Matt Friedlander of ABC Audio, brother Dave talked about the new collaboration that has been discussed for several years and offered an explanation for the delay.
The Kinks continue to issue expanded 50th anniversary editions of their late '60s and early '70s output. In December 2020, that meant their 1970 Lola Versus Powerman and the Moneygoround, Part One concept album. Next up is a reissue of 1971's Muswell Hillbillies. (In 2018, they released an expanded edition of The Kinks Are the Village Green Preservation Society.)
Referring to work that the pair had already begun on new material, Dave Davies said, "It's still around, but it's always something. You know, it's kind of like when you get in front of your desk, you work on the things you're working on in the moment or in front of you, and then that piece of paper leads to the next piece of paper and the next project."
He understands that Kinks fans might be tired of waiting. "Luckily, there's a lot of work we can do and demo. And then Ray's all the time buzzing around… [He's] got ideas, old and new and in-between."
In Nov. 2020, the band premiered an animated video of "Lola" for the Lola Versus Powerman collection. The classic rock song tells the story of a romantic encounter between a young man and a possible trans-gender person whom he meets in a club in Soho, London.
As far back as August 15, 2018, Ray Davies told a BBC Radio 2 interview that he covets new music with the band's surviving members.
That followed his comments in mid-July of that year when – more than two weeks after stunning the rock world with his announcement that The Kinks would reunite in some as-yet-undetermined fashion – Davies elaborated in an interview with SiriusXM's Mark Goodman and Alan Light, which was quoted extensively in Variety. "If I can get Dave and Mick in the same room — I've spoken with them independently and they're both on board spiritually, but whether they can handle it, I don't know," Davies said, referring to his brother, guitarist Dave Davies, and drummer Mick Avory. "I've got all these great songs — I think they're great — that need to be aired. There's something about the chemistry of the Kinks. If I can get them on the right day, we can produce it. It will be down to the music — if we can make four or five tracks that we really feel are energized and in keeping with what we can do, I'll consider it."
The Variety article further quoted Ray Davies as telling the BBC in June, "Individually they're both up for it. There's a whole reservoir of songs we half-did in the '70s and '80s, so there's material there — we wouldn't just go out and play the hits…The trouble is, the two remaining members, my brother Dave and Mick, never got along very well. But I've made that work in the studio and it's fired me up to make them play harder, and with fire. So if I can recapture those moments…"
In the August 2018 interview on the "Chris Evans Breakfast Show" on BBC Radio 2 to plug a 50th anniversary edition of the Kinks' Village Green Preservation Society, Davies was asked for an update. "They haven't been in the same room since 2005," he said, referring to his brother and Avory. "So, first we need them to get into a room together. We [need] the United Nations." [laughs]
Evans wondered if things have progressed at all. "Well, if I can get them to talk, that would be great. The most important thing is if we can make new music. If the music's good, anything can happen."
Evans asked: "Can I take it as a 'yes' from you?" "It's always been a yes from me," said Davies, "because they've always been great players. Anyone listening to Village Green will see it's a special band and they should make more music."
"I'm talking to them both separately and they're both up for it," Davies continued. "It's chemistry." Listen to the complete interview here.
On August 17, Dave Davies tweeted a reply refuting an article in the Telegraph
Me and Ray love each other https://t.co/OdV5m7C32L

— Dave Davies (@davedavieskinks) August 18, 2018
The talk of a Kinks reunion initiated from a TV interview that aired in the U.K. on June 25, 2018, when Ray Davies revealed that, after decades apart, The Kinks were in the early stage of a reunion.
"We're making a new Kinks album," Davies said with a smile to Channel 4's Krishnan Guru-Murthy, "inspired by the Rolling Stones." The interviewer, who had expected to be discussing Davies' new solo album, asks incredulously, "Are you really? Or are you pulling my leg?"
Davies replied, "I've got these songs that I wrote for the band when we parted company. It seemed like an appropriate time to do it."
"Are the Kinks getting back together?" Davies is asked. "Officially, we are. Yes, in the pub later on," was the reply. "It won't be well-organized like the Rolling Stones. I must praise the Rolling Stones for being great at publicity and a great band, great at organizing their careers. Mick's done an incredible PR job. It's kind of inspiring to see them doing it.
"The Kinks will probably play in the local bar."
Guru-Murthy asked Davies, "Which of the Kinks will get back together?" Again, with a smile, Davies said, "Those that are still alive." 1968's The Kinks Are the Village Green Preservation Society was the last album that the original lineup made before their bass player, Pete Quaife, departed. (Quaife died in 2010; "It's kind of a tribute to him.")
In Best Classic Bands story, Will the Kinks Ever Reunite?, writer Jim Sullivan relates various discussions that he's had over the years with both Ray Davies and his brother Dave Davies. They remain on the short list of bands that classic rock fans are eager to see return to the stage.
Davies noted that the two remaining members, Dave and drummer Mick Avory, "never got along very well, but I made that work in the studio… so if we can recapture those moments. I've got some great Kinks tunes in my head."
Davies acknowledged that the three have yet to have a meeting together. "Separately. I haven't brought them together in the same room yet but we're working on it."
Watch Ray Davies' full interview below.
On June 26, Dave Davies weighed-in on the subject: "Me and Ray have spoken about the possibility of us working on a new album. Ray has a few songs he wants to finish. I have 3 or 4 songs I've written with Ray. We've been talking about it for some time now. We haven't discussed shows or anything else at the moment."
Me and Ray have spoken about the possibility of us working on a new album. Ray has a few songs he wants to finish. I have 3 or 4 songs I've written with Ray. We've been talking about it for some time now. We haven't discussed shows or anything else at the moment.

— Dave Davies (@davedavieskinks) June 26, 2018
Dave toured the U.S. in spring 2018 and released an album later that year, produced by his son, Simon, titled Decade. "It's an [album] of unreleased material from the '70s, hence we're gonna call it Decade, being the decade of the '70s," he told ABC Radio in March 2018.
Related: Listings for 100s of classic rock tours
In 2015, Dave Davies said that he'd kept in touch with Mick Avory via email but had yet to meet with the drummer in person. Asked specifically about Dave, Ray said, "My brother is much brighter than I am. I'm a lost soul." Dave returned the compliment, telling Rolling Stone, "Look, my brother is very intelligent. He's a good writer."
At Christmastime in 2015, Ray Davies surprised a London audience at a Dave Davies concert when he walked onstage, spoke a few words to the audience and joined the band for a performance of "You Really Got Me," the Kinks' first hit from 1964.
Watch that 2015 one-song reunion: Ray and Dave Davies performing "You Really Got Me"
In the ensuing years, the Kinks earned over a dozen Top 10 hits in the U.K. In the mid-'60s, they were one of the early British Invasion bands to score big with U.S. audiences on such "Kinks Klassics" as "You Really Got Me," "All Day and All of the Night," "Tired of Waiting For You," "A Well-Respected Man" and "Sunny Afternoon."
In 1970, with a revised lineup, they had another smash with "Lola." The Kinks last performed together in 1996. They never broke up officially, and reunion rumors have popped up through the years yo no avail, but the new announcement is the first that appears to have some validity to it.
You Really Got Me, a Julien Temple-directed biopic about the Kinks, was slated to begin filming in 2016 and then again in 2020 although no announcement has been made recently as to the state of that project.
Also in 2018, Ray released a studio album, Our Country: Americana Act II, a follow-up to his 2017 album and 2013 memoir, Americana.
Watch Davies' complete June 25, 2018 interview with the U.K.'s Channel 4

Latest posts by Best Classic Bands Staff
(see all)