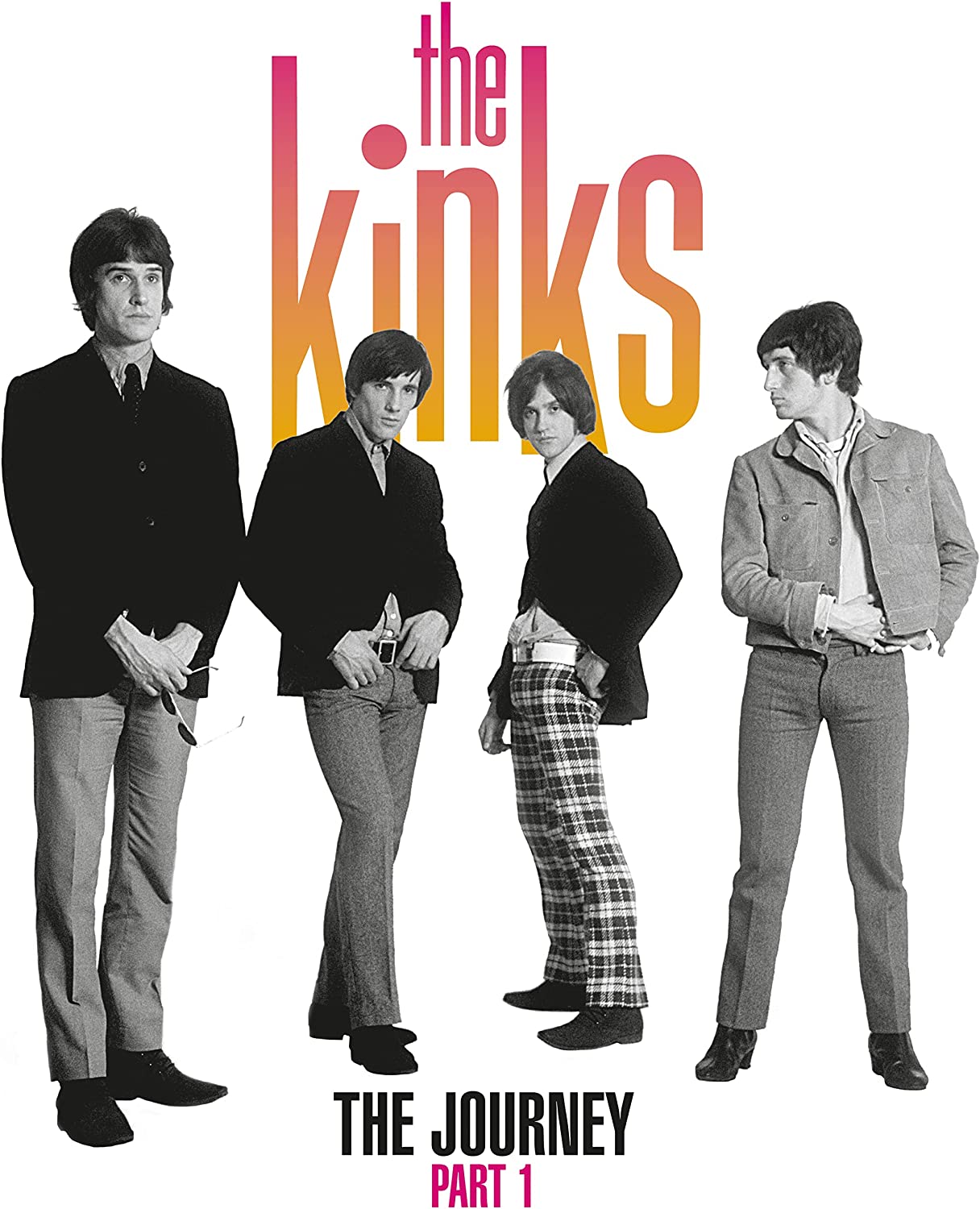 The Kinks, one of the great British rock groups, celebrate their 60th Anniversary in 2023. Formed in 1963 in Muswell Hill, North London, by brothers Ray Davies and Dave Davies with their friend Pete Quaife, and joined by Mick Avory in early 1964, the band quickly established themselves as one of the epoch-defining groups of the 60s. The band is commemorating the anniversary with global events and activities throughout 2023 and 2024. The first was a career-defining anthology, The Journey – Part 1 (1964-1975), handpicked by Ray, Dave and Mick, as a 2-CD or 2-LP set, that arrived on March 24 via BMG. The sequel, The Journey – Part 2, again available as a 2-CD or 2-LP set, was released on November 17. Listen to many of the tracks from both collections below.
The Kinks have sold over 50 million records worldwide; they have achieved five U.S. Top 10 singles and seventeen U.K. Top 20 singles. Among numerous honors, they have received the Ivor Novello Award for Outstanding Service to British Music and were inducted into the Rock & Roll Hall of Fame in 1990. Multi-award winning, legendary frontman Sir Ray Davies is widely recognized as one of the greatest British songwriters of all time.
From the campaign's original Feb. 15 announcement: The Kinks 60 campaign is a two-year-long celebration of their illustrious musical journey career, confirming their place as one of the greatest and most influential rock groups of all time. The songs on The Journey – Part 1 (1964-1975) were curated according to themes inspired by the trials and tribulations of their journey through life together as a band since 1963. Featuring hits such as "You Really Got Me," "Waterloo Sunset," "All Day and All of the Night," "Celluloid Heroes," "Dead End Street," and "Death of a Clown" The Journey – Part 1 follows recently remastered 50th anniversary deluxe editions of The Village Green Preservation Society, Lola Versus Powerman Part 1, Muswell Hillbillies and Everybody's In Show-Biz. All tracks have been remastered from the original audio sources.
The Journey – Part 1 contains a booklet with band photos and personal track-by-track notes from Ray, Mick, and Dave, sharing their memories of the time these tracks were recorded and weaving them into the Kinks' story.
The Journey – Part 2, announced on Sept. 27, includes singles, B-sides, album tracks and, notably, six new Ray Davies mixes, three of which are previously unreleased live performances from the New Victoria Theatre, London in 1975.
Listen to "Everybody's a Star (Starmaker)" (Live 1975, 2023 Mix)
Hits featured on Part 2 include: "Lola," "Sunny Afternoon," "20th Century Man," "Dedicated Follower Of Fashion," "Till the End of the Day," "A Well Respected Man," and "See My Friends."
Says Ray Davies, "I thought I knew everything about my songs until I was given the opportunity to put this record together. The new sequencing has enabled us to show the 'big picture' and give a more insightful back story about how our music evolved. I learned a lot about myself in putting this together."
A host of global events and activities will be launching through 2024 to mark the band's 60th, with more to be announced in the coming months. In the meantime, we keep wondering about a possible reunion.
The track listings and more music for both editions appear below the Amazon listings. When you buy something using a link on this page, we receive a commission as an authorized affiliate. Thank you for supporting Best Classic Bands.
The Kinks The Journey – Part 1 (1964-1975) Track Listing
CD1
Songs about becoming a man, the search for adventure, finding an identity and a girl:
1. You Really Got Me (UK#1, 1964)
2. All Day And All Of The Night (UK#2, 1964)
3. It's All Right (1964)
4. Who'll Be The Next In Line (1965)
5. Tired Of Waiting For You (UK#1, 1965)
6. Dandy (Germany#1, 1966)
7. She's Got Everything (1968)
8. Just Can't Go To Sleep (1964)
9. Stop Your Sobbing (1964)
10. Wait Till The Summer Comes Along (1965)
11. So Long (1965)
12. I'm Not Like Everybody Else (1966)
Songs of ambition achieved, bitter taste of success, loss of friends, the past comes back and bites you in the backside:
13. Dead End Street (UK#5, 1966)
14. Wonderboy (1968)
15. Schooldays (1975)
16. The Hard Way (1975)
17. Mindless Child Of Motherhood (1969)
18. Supersonic Rocket Ship (UK#2, 1972)
19. I'm In Disgrace (1975)
20. Do You Remember Walter? (1968)
CD2
Days and nights of a lost soul, songs of regret and reflection of happier times:
1. Too Much On My Mind (1966)
2. Nothin' In The World Can Stop Me Worryin' 'Bout That Girl (1965)
3. Days (UK#2, 1968)
4. Last Of The Steam-Powered Trains (1968)
5. Where Have All The Good Times Gone (1965)
6. Strangers (1970)
7. It's Too Late (1965)
8. Sitting In The Midday Sun (1973)
A new start, a new love, but have you really changed? Still haunted by the quest and the girl:
9. Waterloo Sunset (UK#2, 1967)
10. Australia (1969)
11. No More Looking Back (1975)
12. Death Of A Clown (UK#3, 1967)
13. Celluloid Heroes (1972)
14. Act Nice And Gentle (1967)
15. This Is Where I Belong (1967)
16. Shangri-La (1969)
The Kinks The Journey – Part 2 Track Listing
CD1
The World Around The Journeyman Starts To Crumble As His Life Is Turned Upside Down
1. Till The End Of The Day (1965)
2. Preservation (1973)
3. David Watts (1967)
4. This Time Tomorrow (Alternate Take, 2020 Mix) (1970)
5. A Well Respected Man (1965)
6. Monica (1968)
7. Scrapheap City (1974)
8. He's Evil (1974)
The Journeyman Is Led Astray By Ghosts And A Dark Angel
9. Lola (1970)
10. Sunny Afternoon (1966)
11. Animal Farm (1968)
12. Creeping Jean (1969) *
13. Two Sisters (1967)
14. See My Friends (1965)
15. Money Talks (2023 Mix) (1974) **
16. No Return (1967)
17. Don't You Fret (1965)
The new 2023 mix of "Money Talks" is taken from The Kinks' 1974 studio concept album Preservation Act 2, and has been mixed by Ray Davies and Matt Jaggar at Konk Studios in London. Ray Davies says the track is about "Moral decline." Dave Davies adds: "Always amused me when we did it live. An exceptional song I think." Drummer Mick Avory fondly recalls: "I have memories of playing this song on the US tours in the '70s. It's a good old stomper for the stage."
CD2
Our Journeyman Is Seduced By Those Ghosts And Demons Of The Underworld And Searches For His Lost Innocence
1. I Need You (1965)
2. Rainy Day In June (1966)
3. Dedicated Follower Of Fashion (1966)
4. Where Are They Now? (2023 Mix) (1973) **
5. Wicked Annabella (1968)
6. Alcohol (1971)
7. Susannah's Still Alive (1967) *
8. 20th Century Man (1971)
9. Sitting By The Riverside (1968)
10. Artificial Man (2023 Mix) (1974) **
Despair Turns To Elation As Journeyman Overcomes His Fear. Reunites With Old Friends
11. New Victoria Suite – Everybody's A Star (Starmaker) (Live, 2023 Mix) (1975) **
12. New Victoria Suite – Slum Kids (Live New Victoria Theatre) (Live, 2023 Mix) (1975) **
13. New Victoria Suite – (A) Face In The Crowd (Live New Victoria Theatre) (Live, 2023 Mix)
(1975) **
14. Holiday Romance (1975)
15. Big Sky (1968)
16. Lincoln County (1968) *
17. God's Children (1971)

Latest posts by Best Classic Bands Staff
(see all)