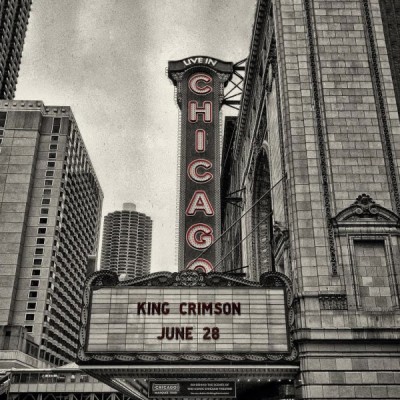 Oct. 10 marked the 48th anniversary of the release of their debut album, In the Court of the Crimson King, and beginning this week, prog-rockers King Crimson will head out on the latest leg of their ongoing Radical Action World Tour of North America. The tour this time will roll out in Austin, Tex., on Oct. 19 and wind up in Milwaukee, Wis., on Thanksgiving weekend. These dates follow an earlier romp around the country and Mexico in June and July.
In addition to the new tour, on Oct. 27, King Crimson will release Official Bootleg: Live in Chicago, June 28th, 2017, a two-CD set, taken from one of the show's from the band's most recent U.S. tour. Presented as a King Crimson Collectors' Club special edition, Live in Chicago is packaged in a media-book style hardcover 2-CD edition with a 24-page booklet featuring photographs by Tony Levin, introductory notes by Fripp and photos/production notes by KC producer/manager David Singleton.
The album showcases many iconic King Crimson pieces performed live by this line-up for the first time, including: "Islands," "The Lizard Suite," "The Errors," "Fallen Angel," "Cirkus" and more. The personnel on the live set is Mel Collins: saxes and flute, Robert Fripp: guitar and keyboards, Gavin Harrison: drums, Jakko Jakszyk: guitar and voice, Tony Levin: basses, stick, voice, Pat Mastelotto: drums, Bill Rieflin: keyboards, Jeremy Stacey: drums and keyboards
Related: Greg Lake dies at 69
King Crimson hasn't released a new studio album since 2003's The Power to Believe. They have released three previous live recordings in recent years: Live at the Orpheum, Live in Toronto and the three-disc boxed set Radical Action to Unseat the Hold of Monkey Mind.
Finally, on Nov. 3, King Crimson will release Sailors' Tales (1970–1972), a limited-edition 27-disc boxed set containing 21 CDs/4Blu-rays/2 DVDs (all audio).
To pre-order Chicago, go here.
To pre-order Sailors' Tales, go here.
King Crimson Fall 2017 U.S. tour dates
Oct 19: Austin Bass Concert Hall, TX
Oct 21: Dallas Music Hall, TX
Oct 23: Atlanta Center Stage, GA
Oct 24: Atlanta Center Stage, GA
Oct 26: Raleigh Duke Energy Centre For The Performing Arts, NC
Oct 28: Washington Lisner Auditorium, DC
Oct 29: Washington Lisner Auditorium, DC
Oct 31: Newark New Jersey Performing Arts Centre, NJ
Nov 02: Philadelphia Merriam Theatre, PA
Nov 03: Philadelphia Merriam Theatre, PA
Nov 06: Boston Orpheum Theatre, MA
Nov 08: Albany The Egg, NY
Nov 09: Albany The Egg, NY
Nov 11: Allentown Miller Symphony Hall, PA
Nov 17: New York Beacon Theatre, NY
Nov 18: New York Beacon Theatre, NY
Nov 22: Ann Arbor Michigan Theatre, MI
Nov 24: Cleveland Hard Rock Rocksino, OH
Nov 26: Milwaukee Riverside Theatre, WI
Watch King Crimson perform "Starless"

Latest posts by Best Classic Bands Staff
(see all)