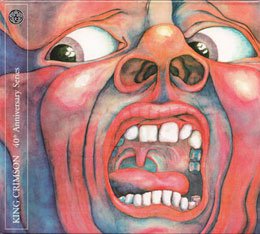 Update (Jan. 20): A few more details of The Elements Tour have been revealed. A first leg will run from June 13 to July 15. The first date revealed is June 30 at the Rochester (NY) International Jazz Festival on June 30.
Robert Fripp also shared that: "a King Crimson 12-inch single is being planned for April: a stomper IMO. It's a Number One!" No other details were revealed.
Our original item from Jan. 9…
Prog-rockers King Crimson will tour the United States in 2017, according to the band's guitarist Robert Fripp. The tour will launch in Seattle and continue along the West Coast in June and July. The U.S. tour will continue this fall on the East Coast, Fripp announced on his website. Specific dates were not given but Fripp said that the group would spend most of the year touring the U.S.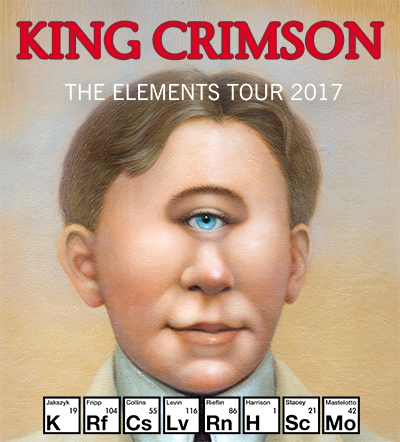 Fripp also announced that he will be expanding the configuration of the band he called the Seven-Headed Beast to become the new Double Quartet Formation. Multi-instrumentalist Bill Rieflin has returned to the band following a sabbatical and, along with Fripp, rounds out a lineup featuring guitarist Jakko Jakszyk, bassist Tony Levin, saxophonist Mel Collins and drummers Gavin Harrison, Pat Mastelotto and Jeremy Stacey.
"Existing repertoire will be re-calibrated for the about-to-be-becoming King Crimson Double Quartet Formation," Fripp said on the site. "King Crimson is the first group of which Jeremy has been a full-member. Jeremy became a full-contributor to the Seven-Headed Beast during the 2017 EuroTour, a remarkable achievement for Jezza to adopt the entire repertoire on both drums and keyboards. Bill is presently returning from his Sabbatical, and now The Beast has Eight Heads. Jeremy and Bill are both multi-instrumental, so King Crimson is likely to be making a lot more noise than before," Fripp said.
Related: Greg Lake dies at 69
King Crimson hasn't released a new studio album since 2003's The Power to Believe. They have released three live recordings in recent years: Live at the Orpheum, Live in Toronto and the three-disc boxed set Radical Action to Unseat the Hold of Monkey Mind.
Original King Crimson vocalist/bassist Greg Lake was among the many rock greats who passed away in 2016.
Watch King Crimson perform "Starless"
If you're a new Best Classic Bands reader, we'd be grateful if you would Like our Facebook page and/or bookmark our Home page.

Latest posts by Best Classic Bands Staff
(see all)