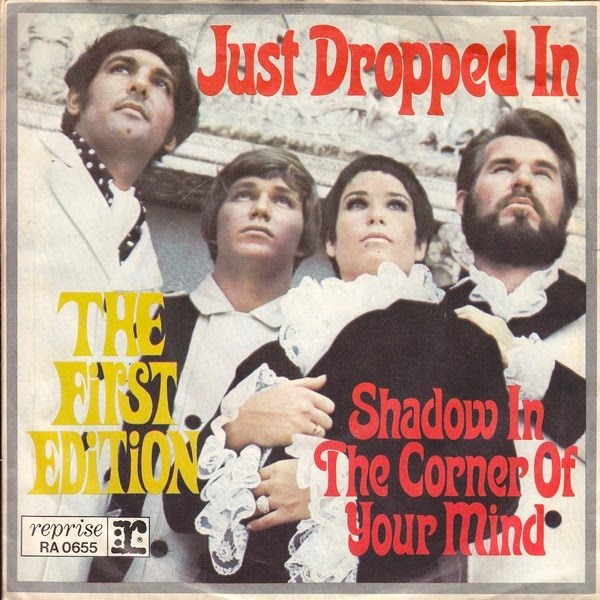 Before he became a huge country music star–and one of the world's most popular male vocalists–Kenny Rogers spent a year as a member of the folk singing ensemble, the New Christy Minstrels. In 1967, he and several other members left to form a rock band known as Kenny Rogers and the First Edition and by 1968 they had scored a pop smash with a psychedelic single, "Just Dropped In (To See What Condition My Condition Was In)." The song, written by Mickey Newbury, hit #5. It was joined a year later by another pop hit, "Ruby, Don't Take Your Love to Town," which reached #6, and the 1970 single, "Something's Burning."
All told, the First Edition scored 10 singles on the Hot 100. By the mid-1970s, Rogers began a solo career that has made him one of the most successful recording and touring artists of all time.
Rogers, born August 21, 1938, scored ten Top 10 pop hits, including his duets with Kim Carnes ("Don't Fall in Love With a Dreamer"), Sheena Easton ("We've Got Tonight") and a #1 smash with Dolly Parton ("Island in the Stream"). The tally includes his contribution to the 1985 worldwide blockbuster "We Are the World."
On April 5, 2018, Rogers, in the midst of a farewell tour, announced that he had been forced to abruptly cancel the remaining dates due to "a series of health challenges." His manager told People: "His doctors fully expect the outcome to be great, but they have advised him to cancel all performances through the end of the year to focus on recuperation."
Eight dates had remained including two in June at New York's Beacon Theatre and his final performance which had been scheduled for August 25 at the Livewire Festival in Blackpool, U.K. He died less than two years later.
Related: Our tribute to Rogers, who died on March 20, 2020
Oddly enough, the song for which Rogers is perhaps most known, 1978's "The Gambler," only reached #16 on the pop charts, though it was one of the singer's numerous #1 country singles and earned him a Grammy Award. The song and album's success led to a series of TV movies, starring Rogers.
But it was a hit with the First Edition that got him started. "Just Dropped In (To See What Condition My Condition Was In)" peaked at #5 on the Hot 100 on March 23, 1968.
Watch Kenny Rogers and the First Edition perform the song
Related: A Rogers album was side-by-side big classic rock titles among 1980's top sellers
We ask you… have you not sung along to the chorus of Rogers' signature tune?

Latest posts by Best Classic Bands Staff
(see all)