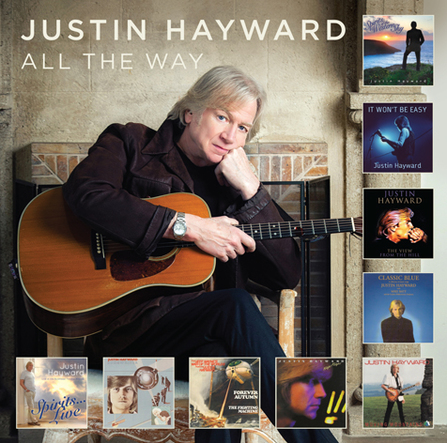 Justin Hayward—vocalist, guitarist and songwriter for the Moody Blues for a half-century—has announced the forthcoming release of his new solo album, All the Way. Eagle Records will release the new set in digital formats (as All The Way—Tour Edition) on September 2, followed by a CD release on October 14. (Pre-order available here.) A compilation from Hayward's solo career, All The Way includes Hayward's solo songs, a recording with the London Philharmonic Orchestra, solo live performances, unique versions of classic Moody Blues tracks and a new song, "The Wind of Heaven."
In addition, a 2014 intimate concert performance – Live in Concert at the Capitol Theatre – is being released September 23 on DVD. The collection features such favorites as "Tuesday Afternoon," "Lovely to See You," "Question" and "Nights in White Satin." See full track listing below; pre-order is available here.
All the Way, the announcement says, features material from throughout Hayward's solo career outside of the Moodys. Among the tracks, the press release says, "are Hayward's hit 'Blue Guitar,' included here in its original version recorded with members of 10cc, through his global smash 'Forever Autumn' from Jeff Wayne's musical version of War Of The Worlds and on through tracks from solo albums Songwriter, The View From the Hill, Classic Blue, Moving Mountains and Spirits Of The Western Sky before concluding with the brand new track 'The Wind of Heaven,' written for the film of the same name."
Hayward has a September U.K. tour. followed by U.S. dates with the Moody Blues in October and November. For U.S. tickets, click here or here.
Related: The Moody Blues "I'm Just a Singer (In a Rock and Roll Band)"
Hayward had already been performing since the early '60s when he answered an ad placed in a British music paper by Eric Burdon of the Animals. Burdon passed Hayward's demo tape on to Mike Pinder of the Moody Blues, who hired Hayward immediately to replace departing singer Denny Laine (who went on to join Paul McCartney's Wings). Soon after Hayward joined, the Moody Blues changed their direction from an R&B-based band to one that incorporated the Mellotron synthesizer. The 1967 album Days of Future Passed, with its Hayward-written hit single "Nights in White Satin," became a classic rock cornerstone and the group continues today with Hayward still on board.
Here's a clip from Hayward's new live DVD featuring some Moody Blues classics and "The Wind of Heaven"…
All the Way Track List:
1) Blue Guitar
2) Forever Autumn
3) Broken Dream
4) Troubadour
5) The Best Is Yet To Come
6) One Day Someday
7) One Lonely Room
8) In Your Blue Eyes
9) Vincent
10) Nights In White Satin
11) Raised On Love
12) It's Not Too Late
13) The Story In Your Eyes
14) The Western Sky
15) The Wind Of Heaven
Live in Concert at the Capitol Theatre Track List:
Tuesday Afternoon
It's Up To You / Lovely To See You
In Your Blue Eyes
The Western Sky
You Can Never Go Home
Watching And Waiting
I Dreamed Last Night
One Day, Someday
The Eastern Sun
December Snow
What You Resist Persists
Your Wildest Dreams
Forever Autumn
Question
Nights In White Satin
I Know You're Out There Somewhere
Blue Guitar (bonus track)
Who Are You Now (bonus track)
The Wind of Heaven (bonus track)

Latest posts by Best Classic Bands Staff
(see all)