Moody Blues' Justin Hayward: 2018 Concert Review
by Greg Brodsky
Though the Moody Blues were eligible for the Rock and Roll Hall of Fame for decades, it wasn't until 2018 that they were finally inducted. Surprisingly, the group did not take a customary, well-deserved victory lap tour. The band had celebrated the 50th anniversary of their 1967 masterpiece, Days of Future Passed, with an orchestral U.S. tour in 2017, and members Justin Hayward and John Lodge now do solo dates.
Hayward, the group's lead singer, guitarist and writer of many of their well known songs, arrived in New York on August 16 for songs and stories from throughout his career. For this tour, he's joined onstage by Julie Ragins (keyboards and backup vocals) and Mike Dawes, his lead guitarist of several years. The talented, fingerstyle guitarist also served as the evening's opening act. (See our review of Lodge's 2017 solo performance here.)
Over the course of 95 minutes, at the first of two sold-out concerts at City Winery, Hayward offered a well-chosen setlist of 17 songs, many of which – like "Tuesday Afternoon" and "Never Comes the Day" – are favorites from the Moody Blues catalog that he wrote five decades ago. At 71, Hayward's singing – that voice! – is remarkably strong, carrying the familiar "You know it's true" line from "Never Comes the Day" with conviction.
Hayward shared stories throughout the night, including one about collaborating with the Moody Blues' flute player, Ray Thomas. "We would always find ourselves a little place at every studio we worked out. At Decca Studios in London, we found this broom cupboard that was just perfect [for us] to set up our little stash and paraphernalia. In fact, we wrote quite a few songs in there like 'Are You Sitting Comfortably' and 'Visions of Paradise.' When it came to making the Octave album in the late '70s, we found ourselves in [keyboard player] Mike Pinder's studio. When Ray and I set up 'our stuff' it got a little smoky in there."
Born on Oct. 14, 1946, he talked about growing up in Swindon, 70 miles west of London, sharing a room and listening to music with his older brother. When his brother left to join the Navy, the teenaged Justin would look out of the bedroom window gazing at the western sky and wondering what the future would bring. Years later, when he came to America for the first time with the Moody Blues, he got to visit towns with historical musical influence that he had only heard about, such as Tupelo, Miss. and Lubbock, Tex., the birthplaces of Elvis Presley and Holly.
Watch Hayward share a story and perform "The Western Sky"
The main set ended with two Hayward-penned Moody Blues favorites.
Watch Hayward perform "Question" the following evening at the same venue
Watch Hayward perform "Nights in White Satin," also on August 17
Related: Hayward talks about Days of Future Passed with radio legend Dennis Elsas
When the performance ended with "I Know You're Out There Somewhere," the Moodys' final chart hit from 1988, the crowd finally got to their feet, grateful for a familiar voice and storyteller they've appreciated for five decades.
Justin Hayward, August 16, 2018, City Winery, NYC Setlist
Dawning is the Day
Tuesday Afternoon
This Morning
Lovely to See You
Had to Fall in Love
In Your Blue Eyes
The Western Sky
New Horizons
Watching and Waiting
One Day, Someday
Forever Autumn
Never Comes the Day
Your Wildest Dreams
Question
Nights in White Satin
Encore
Blue Guitar
I Know You're Out There Somewhere
When Justin Hayward tours, tickets are available here.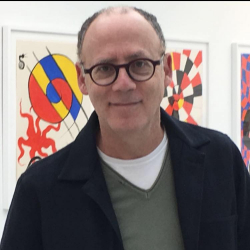 Latest posts by Greg Brodsky
(see all)