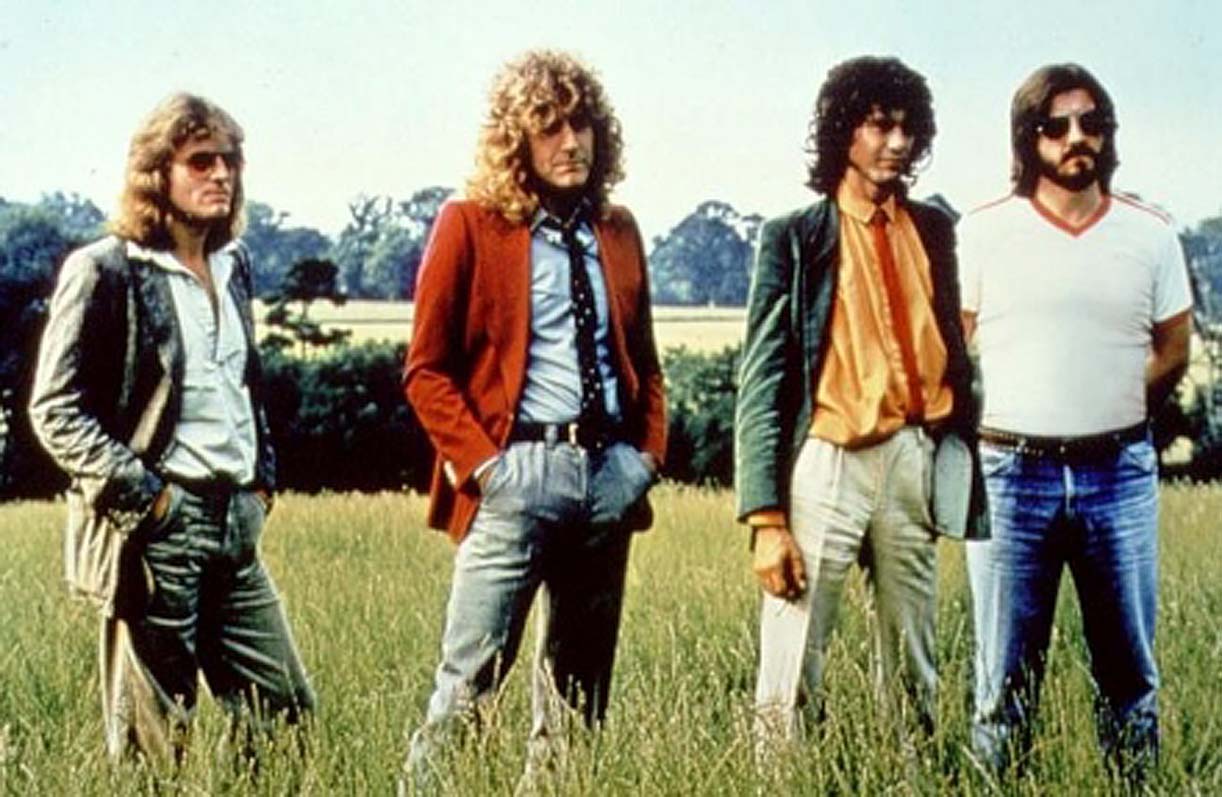 (Update 6/13/16): Led Zeppelin's guitarist and singer will both be in attendance in Los Angeles as U.S. District Court Judge R. Gary Klausner hears the case of whether parts of Led Zeppelin's signature song "Stairway to Heaven" was plagiarized from the song "Taurus" by the band Spirit, which begins tomorrow (6/14). Although as the writers of the song Page and Plant are defendants in the case it is not yet known if either will testify.
Plant and Page claim they never heard the 1968 instrumental song by Randy California, Spirit's guitarist and main songwriter, who died in 1997. The lawyer for California's estate claims that they heard it when the two groups toured together in 1968 and '69.
The plaintiff's case has been weakened by Klausner's ruling that similar cases and settlements in which Led Zeppelin was accused of plagiarizing songs can't be admitted as evdence. The trial is being watched closely by music business observers, although a recent New York Times article finds experts divided on the significance of a recent spate of song plagiarism cases.
(Update 5/25/16): Both Jimmy Page and Robert Plant will attend the "Stairway to Heaven" plagiarism trial in Los Angeles. A change in the date of the trial from May 10th to now June 14th caused Plant to cancel an appearance at a London charity show that was to be the closing event of the annual Meltdown Festival.
His pullout as well as other unrelated factors caused the cancellation of the show itself, The Ship We're In, slated for June 19, which was to raise funds for the awareness campaign by the British Red Cross that addresses Europe's current refugee crisis as a result of Middle East conflicts and chaos. "It's with great disappointment that Robert Plant must cancel his appearance at this year's Meltdown Festival," reads a statement on his Facebook page. "Robert is a defendant in a court case in LA which was due to take place May 10th. Through court rearrangements, the hearing has been moved to June 14th.
"Robert has been enthusiastic to help in any way to the increased awareness and support of so many powerless and distraught peoples. Therefore the opportunity afforded at… Meltdown was an event that Robert was passionately drawn to."
Don't miss a post! Sign up for Best Classic Bands' Newsletter; form is available on every page.
Attorneys for Page and Plant have said that they would both voluntarily attend the trial. The plaintiff's legal team has expressed skepticism on the participation and recently filed a motion with the trial judge to compel the two members of Led Zeppelin to attend and testify.
Best Classic Bands will continue to report on this story.
A Los Angeles U.S. District judge has ruled that a lawsuit against Jimmy Page and Robert Plant claiming that Led Zeppelin's most famous song was stolen will be decided by a jury. The copyright infringement suit filed in 2014 claims that the opening melody of "Stairway to Heaven" was taken from "Taurus," an instrumental song written by guitarist and songwriter Randy California of the 1960s classic rock band Spirit.
The action on behalf of the estate of California – legal name Randy Wolfe – points out that Page quite likely heard the Spirit song as the two bands toured together in 1968 and 1969. "Taurus" was recorded on Spirit's 1968 self-titled debut album on Epic Records. "Stairway…" was released in 1971 on Zeppelin's untitled fourth album (known as Led Zeppelin IV).
Wolfe – who died in 1997 rescuing his son from a Pacific Ocean rip current in Hawaii – noted in his liner notes to the 1996 reissue of the Spirit LP: "People always ask me why 'Stairway to Heaven' sounds exactly like 'Taurus,' which was released two years earlier. I know Led Zeppelin also played [the Spirit song] 'Fresh Garbage' [from the same album] in their live set. They opened up for us on their first American tour."
Judge Gary Klausner found in his decision that there is a "substantial" similarity between the songs. "While it is true that a descending chromatic four-chord progression is a common convention that abounds in the music industry, the similarities here transcend this core structure." he wrote. "What remains is a subjective assessment of the 'concept and feel' of two works… a task no more suitable for a judge than for a jury."
Page insisted in 2014 that the charge is "ridiculous." However, as an NPR All Things Considered story noted that same year, "This isn't the first time Led Zeppelin has been accused of plagiarism. Just listen to the band's recording of 'Dazed and Confused' and compare it with folk singer Jake Holmes' 'Dazed and Confused,' recorded two years earlier. It's practically the same song." Holmes also filed suit, and other actions and settlements have been made regarding Led Zeppelin and song plagiarism.
(If you're a new reader of ours, we'd be grateful if you would Like our Facebook page and/or bookmark our Home page.)

Latest posts by Best Classic Bands Staff
(see all)