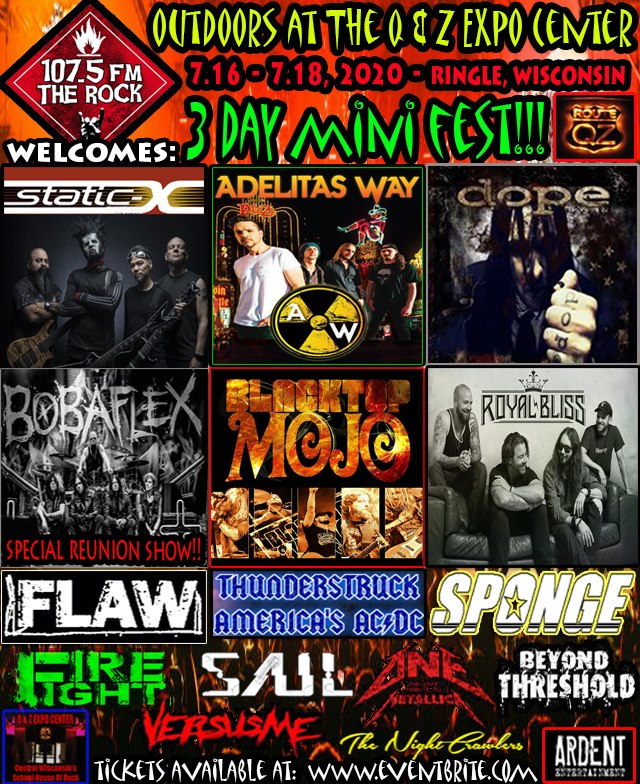 One by one, literally dozens of 2020 classic rock tours and music festivals have been cancelled or postponed due to the Covid-19 pandemic. From big stadium tours to the small club tours, the economic fallout has been enormous. (Of the scores of rock festivals that Best Classic Bands tracks, we are aware of only one festival worldwide that's scheduled through August that has yet to cancel or postpone.)
That was until we heard about the newly named July Mini Fest, which in recent days has announced three days of live music, in-person, from July 16-18, in Ringle, Wisc.
The event, limited to 2500 each day to allow everyone to properly social distance, will be held at the Q & Z Expo Center. The lineup includes AC/DC and Metallica tribute bands, as well as the headliners Static-X, Bobaflex, and  Blacktop Mojo, among its 15 bands.
The promoters point out, "For the record the venue's land can accommodate up to 10,000 occupancy. This is an OUTDOOR EVENT for 3 Days. We are only selling 20% of that so anyone has the choice and ability to social distance."
A 3-day pass to the event is $105.50 and is available here. Performances begin each day in the early afternoon and continue until 10 p.m. As the promoters note, "Marathon county quiet hours are from 11 p.m – 6 a.m. Music shuts off at 10 p.m. to ensure we are good neighbors."
Free overnight parking will be available.
The July Mini Fest organizers originally called the event the "Herd Immunity Festival" and apparently thought better of that branding.
Related: Links for 100s of classic rock tours

Latest posts by Best Classic Bands Staff
(see all)