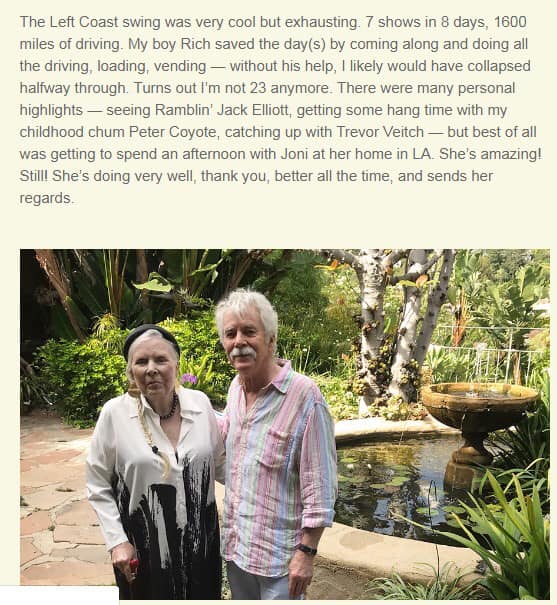 Joni Mitchell shared news on May 29, 2019, of a recent visit she received from a friend. On her social platforms, the famed singer-songwriter shared a picture taken with fellow musician Tom Rush. Rush had been touring on the "left coast" and recapped some highlights. "Best of all," he wrote, "was getting to spend an afternoon with Joni at her home in LA. She's amazing! Still! She's doing very well, thank you, better all the time, and sends her regards."
A post on Mitchell's official website revealed that she suffered an aneurysm on March 31, 2015, when she was found unconscious in her Los Angeles home and taken to UCLA Medical Center. The same post also noted that she is now back at her Bel Air residence and recovering.
"Joni did in fact suffer an aneurysm," says a statement approved by her friend and conservator Leslie Morris. "However, details that have emerged in the past few days are mostly speculative [referring to an interview with David Crosby on The Huffington Post]. The truth is that Joni is speaking, and she's speaking well. She is not walking yet, but she will be in the near future as she is undergoing daily therapies…. [S]he's getting better each day. A full recovery is expected."
Mitchell turned 77 on November 7, 2020.
A February 2019 photo of Mitchell with the artist David Hockney warmed hearts everywhere.
A photo of Joni Mitchell and David Hockney holding hands has captivated the internet https://t.co/a9jAr11LVf

— New York Times Music (@nytimesmusic) March 1, 2019
Mitchell is no stranger to health issues. At age eight she contracted polio and was hospitalized, and has been an unrepentant smoker since she was nine years old. Retired from recording and touring, the seven-time Grammy winner suffers from Morgellons Disease, a controversial, self-diagnosed condition with a wide range of dermatological symptoms that include scratching, itching and burning feelings, often accompanied by the emergence of threads, strings, and filaments from the skin of the sufferers. Studies performed and published by the Centers for Disease Control and Prevention have determined that Morgellons is a psychosomatic disorder.

Latest posts by Best Classic Bands Staff
(see all)