Johnny Cash: Forever Words–a collaborative album consisting of songs created from his unknown poetry, lyrics, and letters set to music by an array of contemporary artists, will be released on April 6. The Feb. 8 announcement, from Sony Music's Legacy Recordings, noted that the title will be available on CD and as a 2-LP set.
When Johnny Cash and June Carter Cash passed, they left behind what John Carter Cash, their son and the album's co-producer, describes as a "monstrous amassment" of things, including a treasure trove of undiscovered material that includes his father's handwritten letters, poems and documents, penned across the entirety of his life.
Over the past two years, John Carter Cash and co-producer Steve Berkowitz invited a stellar cast of musicians including Elvis Costello, John Mellencamp, Willie Nelson and Kris Kristofferson to create new music to accompany these newly discovered writings. Listen to Costello's song below.
The release is also the musical companion to the best-selling Forever Words: The Unknown Poems, a volume of Cash's unpublished writing edited by Pulitzer Prize-winning poet Paul Muldoon and curated by John Carter Cash and Berkowitz.
Watch the album trailer
Many of the songs on Johnny Cash: Forever Words were directly inspired by material in the book while others are drawn from different sources of Cash's unpublished writings. The tone of the album is established with the opening track "Forever/I Still Miss Someone" featuring Kristofferson reciting the last poem Cash ever wrote alongside guitar accompaniment from Nelson, both lifelong friends of Johnny.
Twenty-one years after Johnny Cash recorded his cover of Soundgarden's "Rusty Cage" for his Grammy Award-winning album, Unchained, Chris Cornell continues this special relationship with "You Never Knew My Mind," setting some of Cash's own poignant and introspective words to original music on one of Cornell's last solo recordings.
The album also features Rosanne Cash, Johnny Cash's eldest daughter, who interpreted her father's "The Walking Wounded," marking just the second time that she has collaborated on a record with her half-brother John Carter Cash.
The latter also collaborated here with his half-sister Carlene, his mother June's first daughter, on "June's Sundown." (Carlene Carter was just 12 years old when her mother June Carter married Johnny Cash, but bonded immediately with her stepfather who she referred to as "Big John.")
Bluegrass super-group Alison Krauss & Union Station recorded "The Captain's Daughter," their first new studio recording in six years.
Related: When Johnny Cash did time 'At Folsom Prison'
"Determining the artist for each song was truly a matter of the heart," said John Carter Cash. "I picked the artists who are most connected with my father, who had a personal story that was connected with Dad. It became an exciting endeavor to go through these works, to put them together and present them to different people who could finish them in a way that I believed that Dad would have wanted."
Listen to Costello sing "I'll Still Love You"
Johnny Cash: Forever Words Track Listing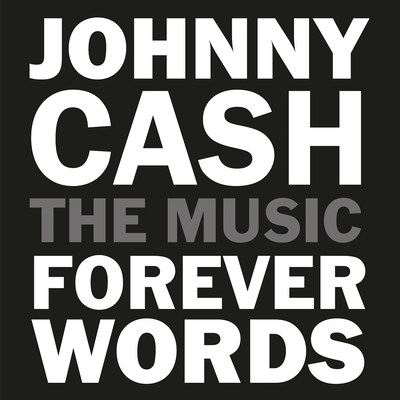 1. Forever/I Still Miss Someone – Kris Kristofferson and Willie Nelson
2. To June This Morning – Ruston Kelly and Kacey Musgraves
3. Gold All Over the Ground – Brad Paisley
4. You Never Knew My Mind – Chris Cornell
5. The Captain's Daughter – Alison Krauss and Union Station
6. Jellico Coal Man – T. Bone Burnett
7. The Walking Wounded – Rosanne Cash
8. Them Double Blues – John Mellencamp
9. Body on Body – Jewel
10. I'll Still Love You – Elvis Costello
11. June's Sundown – Carlene Carter
12. He Bore It All – Daily and Vincent
13. Chinky Pin Hill – I'm With Her
14. Goin', Goin', Gone – Robert Glasper featuring Ro James, and Anu Sun
15. What Would I Dreamer Do? – The Jayhawks
16. Spirit Rider – Jamey Johnson

The BCB team brings you the latest Breaking News, Contests, On This Day rock history stories, Classic Videos, retro-Charts and more.

Latest posts by Best Classic Bands Staff (see all)