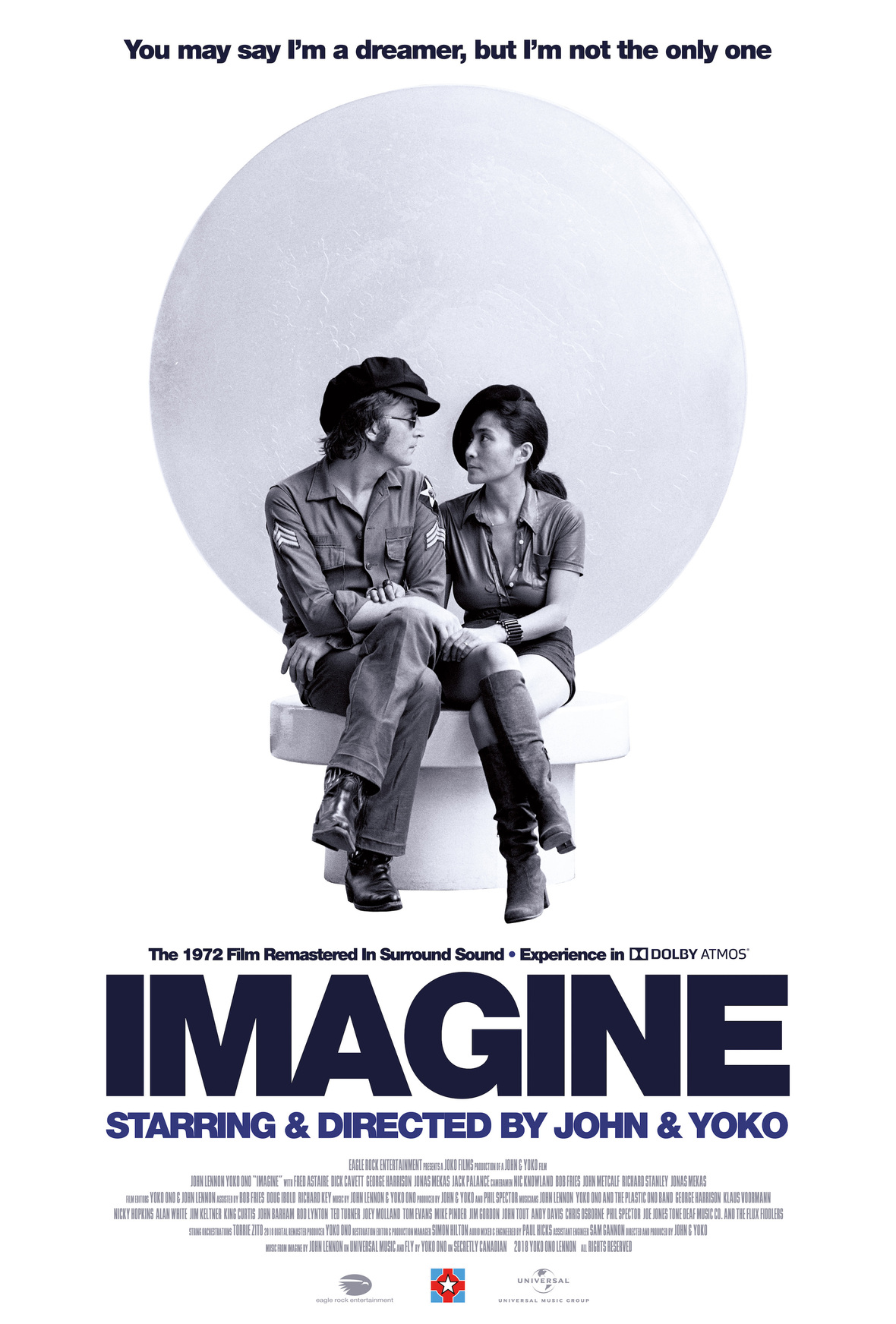 Imagine, the ground-breaking 1972 music film from John Lennon & Yoko Ono is coming to movie theaters in September. The announcement, on Aug. 14, notes that the film, restored and remastered frame-by-frame, will also include 15 minutes of previously unreleased bonus material, remixed and restored footage, with an immersive Dolby Atmos soundtrack mix.
The music film features a different visual treatment for every song, and follows Lennon and Ono during the recording sessions for Imagine in the U.K. and New York, as they co-produced the record with Phil Spector. Cinema showings begin Sept. 17. Watch the trailer below.
Imagine has been restored frame-by-frame, from the original reels with the audio remix by 3x Grammy® Award-winning engineer, Paul Hicks. It is accompanied by 15 minutes of never-before-seen extras including studio footage of Lennon and the Plastic Ono Band (including George Harrison, Nicky Hopkins, Alan White and Klaus Voormann) performing "How Do You Sleep?" and "Oh My Love" from the album in a specially created Dolby Atmos surround sound "raw studio" mix that, the announcement says, "puts you in the center of the recording studio while the band play live." The album also includes  "Jealous Guy."
In the announcement, Ono said: "The people who all worked on Imagine were Peace People and it was so enlightening and exciting all the way through to be one of them. Remember, each one of us has the power to change the world."
Related: USPS to dedicate Lennon "Forever" stamp on Sept. 7
The film is produced and directed by John and Yoko, and includes guest appearances by Fred Astaire, Andy Warhol, Dick Cavett, Jack Palance and Jack Nicholson.
For details of cinemas participating in the special event screening, visit imaginefilmtickets.com.
CRIPPLED INSIDE

John: Allen Klein was having a party for his wife's birthday. Yoko got a list out of all her old friends and they all came, including some mutual friends like Miles Davis and Viva, and Andy Warhol brought his whole mob.

🎟 https://t.co/1uog3pr0Je pic.twitter.com/wirIOm6duW

— John Lennon (@johnlennon) August 16, 2018
A new 320-page hardcover book, titled Imagine, will be published Oct. 9—which would have been Lennon's 78th birthday—by Grand Central Publishing in the United States and Thames & Hudson in the U.K. Credited simply to John and Yoko, the book explores the making of the acclaimed 1971 album. Pre-order in the U.S. here; in the U.K. here.
Fans can expect the newly restored film to be released on DVD and Blu-ray, perhaps as early as later this year.

Latest posts by Best Classic Bands Staff
(see all)