Reports say that Aerosmith guitarist Joe Perry is resting in California following his July 10 collapse during a recent Brooklyn, NY performance with his other band, The Hollywood Vampires and subsequent stay at New York's Columbia-Presbyterian Hospital. Sources say that Perry's condition was caused by "a combination of dehydration and exhaustion." The band were in the midst of a grueling stretch of four shows in four nights.
Shortly after the July 10 incident, a spokeswoman for the Hollywood Vampires' label, Universal Music Enterprises, said he was "stable and resting" after he apparently collapsed just off stage while performing  the Ford Amphitheater on the Coney Island boardwalk.
In the immediate aftermath, the band postponed their regularly scheduled appearance on The Late Show with Stephen Colbert in what would have been their late night television debut.
But the band resumed their grueling tour without skipping a date. At their July 12 show in Kettering, OH, bandmate Alice Cooper led a "get well" cheer for Perry after their cover performance of Jimi Hendrix's "Manic Depression." In the video, as the band all took a bow, you will see Cooper get fans riled up to join together and yell "Get well, Joe!" You can also see other HV members, including actor Johnny Depp and Guns N' Roses and Velvet Revolver's Matt Sorum, there as well.
Don't miss a post! Sign up for Best Classic Bands' Newsletter; form is on every page.
Related: Our interview with Alice Cooper
The website Blabbermouth shared a quote from The Pulse of Radio by Perry's Aerosmith bandmate Steven Tyler regarding the toll that the tour was taking on the guitarist: "I think he's out there and someone's over-booking him," he said. "Even though one could say the band booked themselves; well, that's righteous of 'em, but they'e doing like eight or nine shows in a row — or five in a row. And I think they're all a little burnt. I think they need to look at that, Y'know, not young anymore, right?"
The demanding schedule continues with concerts on four consecutive nights from July 22-25. Aerosmith is scheduled to begin a South American tour on September 29 and their are at least three days off between dates.
In the aftermath of Perry's collapse, Tyler tweeted good thoughts to Perry…
I LOVE YOU @JOEPERRY…FEEL THE MILLIONS OF PRAYERS COMING YOUR WAY…WE ALL LOVE YOU…SENDING WHITE LIGHT AND ALL THAT I GOT YOUR WAY…ST

— Steven Tyler (@IamStevenT) July 11, 2016
According to witnesses, the 65-year-old collapsed during the July 10 performance's second song at around 9:30 pm as emergency medical staff came to his aid. Perry can be seen sitting down on stage equpment while performing a cover of Spirit's "I Got a Line on You." He then gets up mid-song and walks behind the band's setup where he was then administered to. He was taken to Coney Island Hospital by ambulance and was later transferred to Columbia-Presbyterian Medical Center.
The band, led by Cooper, Perry and Johnny Depp, are in the midst of a North American tour, which followed a European leg. They performed on July 9 in Niagara Falls, Ontario. Sunday night's concert was the fourth show in as many nights.
In the early morning hours following the performance and Perry's collapse, the band posted a reassuring message on their Facebook page…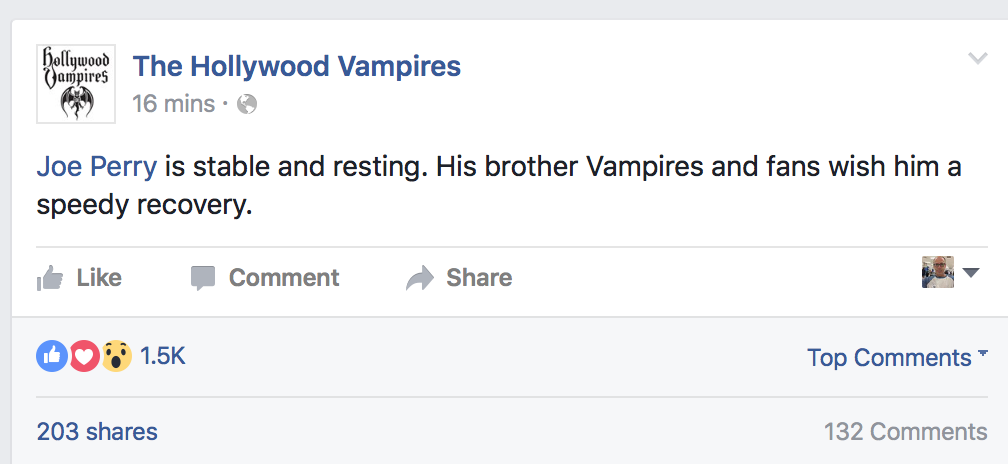 Just after 1 am Eastern, Perry's twitter account tweeted an update…
Thanks to all of the fans reaching out and asking about Joe. He is stable right now, with family and is under the best care. — Joe Perry (@JoePerry) July 11, 2016
Don't miss a post! Sign-up for Best Classic Bands' Newsletter; form is on every page.

Latest posts by Best Classic Bands Staff
(see all)