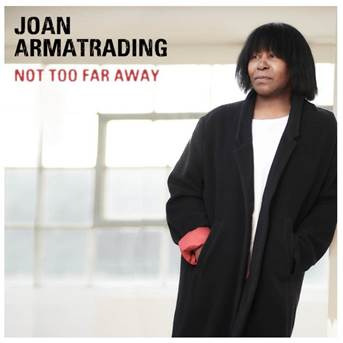 Singer-songwriter Joan Armatrading will release her 21st album, Not Too Far Away, May 18 on BMG. The new studio collection presents 10 tracks that, according to a press release, "take the deeply personal and make it universal…A love album of intensity that gets better on every listen."
For the album, Armatrading has written, sung, arranged and produced all the tracks as well as playing all the instruments except for drums, which she programmed. The album is her follow-up to the genre-based trilogy, This Charming Life (2010), the jazz-oriented Starlight (2012) and the blues-based Into The Blues (2007), which topped the Billboard Blues Chart, making Armatrading the first British female artist ever to do so.
Listen to the title track
Track Listing
1. I Like It When We're Together
2. Still Waters
3. No More Pain
4. Cover My Eyes
5. Invisible (Blue Light)
6. Not Too Far Away
7. Any Place
8. Always In My Dreams
9. This Is Not That
10. Loving What You Hate

Not Too Far Away will be released on CD, LP and digitally.
Watch the video for "I Like it When We're Together"
The album will be supported by live dates in the U.S. in May through July, followed by a major tour of the U.K. in September 2018. See the U.S. schedule below.
Related: 100s of classic rock tour listings
Listen to the track "No More Pain"
U.S. Tour Dates (Tickets are available here and here)
May 27 – Westhampton Beach, NY – Westhampton Beach PAC
May 29 – City Winery – New York, NY
May 30 – City Winery – New York, NY
June 1 – City Winery – Nashville, TN
June 2 – City Winery – Nashville, TN
June 4 – City Winery – Atlanta, GA
June 5 – City Winery – Atlanta, GA
June 6 – City Winery – Atlanta, GA
June 7 – City Winery – Atlanta, GA
June 9 – City Winery – Chicago, IL
June 10 – City Winery – Chicago, IL
June 12 – City Winery – Chicago, IL
June 13 – City Winery – Chicago, IL
June 14 – City Winery – Chicago, IL
June 16 – City Winery – D.C.
June 17 – City Winery – D.C.
June 18 – City Winery – D.C.
June 20 – City Winery – D.C.
June 21 – City Winery – D.C.
June 23 – City Winery – Boston, MA
June 24 – City Winery – Boston, MA
June 26 – City Winery – Boston, MA
June 27 – City Winery – Boston, MA
June 28 – City Winery – Boston, MA
June 29 – City Winery – New York, NY
June 30 – City Winery – New York, NY
July 1 – City Winery – New York, NY
July 2 – City Winery – New York, NY
Listen to "I Like it When We're Together"

Latest posts by Best Classic Bands Staff
(see all)