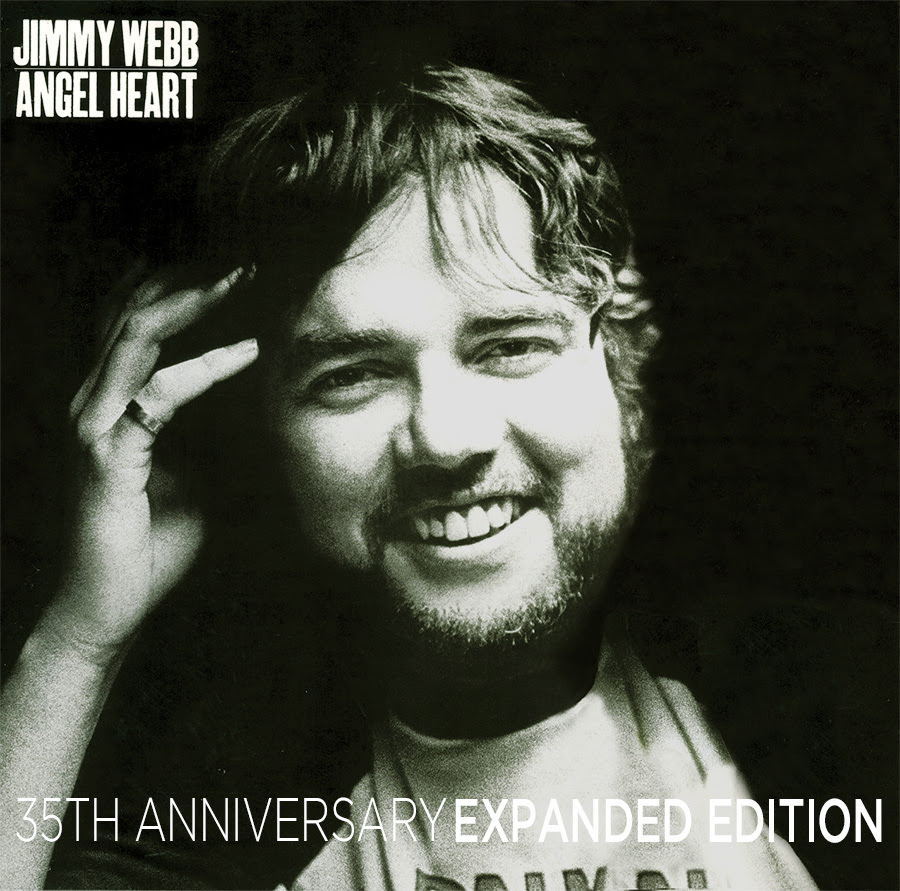 Real Gone Music will release the 35th Anniversary Expanded Edition of singer-songwriter Jimmy Webb's Angel Heart album on Dec. 8. Author of such songs as "Galveston," "Wichita Lineman" and "Up, Up and Away," Webb has often been called one of the greatest songwriters of his generation, but his solo album releases have never caught fire commercially. That all seemed destined to change as preparations began in 1978 to record the album that wound up being dubbed Angel Heart.
The backstory, according to a press release: Fresh off an international hit with Dan Hill's "Sometimes When We Touch," the hot production team of Matt McCauley and Fred Mollin had put together a can't-miss band consisting of David Foster, Lee Sklar, Dean Parks, Bob Glaub and Jeff Porcaro, David Paich, and Steve Lukather of Toto. Pre-order it here.
Related: Our interview with Jimmy Webb 
Says the release: "The label, 20th Century Fox, was 100 percent behind the project, and they were recording in the hallowed studios of Sunset Sound with a young Mark Linett (soon to be the preferred engineer for the Beach Boys) at the console. What could go wrong?
"Well, in classic record biz fashion, everything. As the band was assembling in the studio, word came down that the 20th Century Fox record exec behind the project got fired. Contracts came down from the new label president demanding Jimmy give up his publishing royalties on the project. And so Jimmy and his manager told the label to go jump in the lake (albeit in more colorful fashion).
"But Jimmy, with such an incredible band all set up and raring to go, couldn't resist. He paid for the sessions himself. And everybody in town swung by to pitch in. Michael McDonald, Graham Nash, Kenny Loggins, Gerry Beckley, Stephen Bishop, Daryl Hall, Leah Kunkel, Valerie Carter…they all sang on the record.
"The results were gorgeous. Just one problem: No record deal. Finally, Lorimar Records picked it up and put it out in 1982, after insisting that three songs be dropped and two new ones recorded. But, though Lorimar had major label distribution through Sony at the time, they were about to be dropped, too, so the record received zero promotion. A couple of CD releases came and went in the '80s and '90s, but the true story and glory of Angel Heart has remained to be told…until now."
Real Gone Music's 35th Anniversary Expanded Edition not only includes the three songs from the album sessions that were cut, but also adds three other unreleased Webb demos (contributed by Webb himself) for a total of six unreleased tracks. What's more, Webb himself has penned an intro to the liner notes, which feature rare, never-before-seen photos of the recording sessions along with a first-person account from co-producer Fred Mollin of what went down during the making of the album.
Listen to the title track from Angel Heart

Latest posts by Best Classic Bands Staff
(see all)