A former frontman for the Southern rock band Molly Hatchet, Jimmy Farrar, died October 29, 2018, at age 67. The cause was congestive heart failure compounded by liver and kidney failure; the place of death was not disclosed. Farrar had suffered three heart attacks during 2017 and underwent bypass surgery in Atlanta at that time.
Farrar served as the band's vocalist from 1980-82, singing on the group's Beatin' the Odds and Take No Prisoners albums. Born James Farrar on Dec. 8, 1950, in La Grange, Ga., Farrar performed in local bands in his teens before joining the Raw Energy Band in La Grange as their lead vocalist. He was heard by Molly Hatchet's road manager, who suggested to the band that he replace the departing Danny Joe Brown.
Related: Molly Hatchet's co-founder Dave Hlubek died in 2017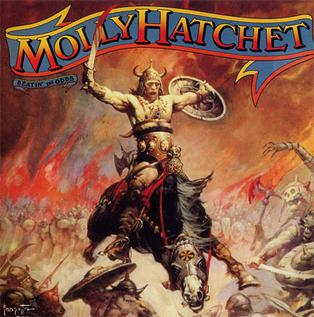 Farrar took the band toward a more mainstream, harder rock sound, honed during a grueling touring schedule of nearly 300 gigs per year. Beatin' the Odds performed well sales-wise, reaching #25 on the Billboard album chart, and Take No Prisoners reached #36. During Farrar's tenure with the band, several personnel changes took place, and Farrar himself left in 1982 for what was described at the time merely as "personal reasons."
Farrar subsequently sang with the bands Predator, Section 8 and the Dixie Jam Band. He also performed with other former members of Molly Hatchet in the groups Southern Rock Allstars and Gator Country. The latter, formed in 2005, included guitarist Duane Roland, drummer Bruce Crump, guitarist Steve Holland and bassist Riff West of Molly Hatchet, as well as Paul Chapman, a former member of the band U.F.O. They took their name from the title of the hit song, "Gator Country."
Farrar suffered a stroke in 2008, followed by his heart attacks, but he remained active in music, most recently with a band called Hanging Tough.
Watch Jimmy Farrar with Molly Hatchet on American Bandstand
Among Farrar's survivors are his wife, Elizabeth, a son, daughter, and his mother. The celebration of his life will be Sunday, November 4 at 2 p.m., at Stateline Congregational Church, believed to be in Five Points, Ala. Friends and family are welcome to attend and reminisce.

Latest posts by Best Classic Bands Staff
(see all)