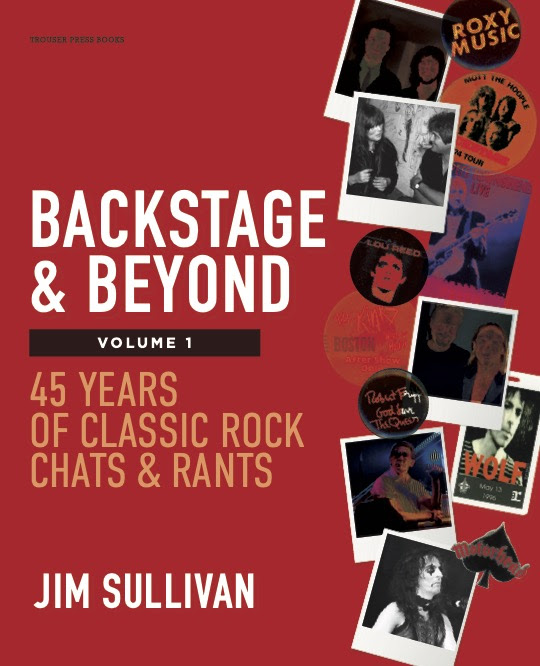 A new collection of interviews with classic rock artists, Backstage & Beyond Volume 1: 45 Years of Classic Rock Chats & Rants—the first-ever anthology from music journalist Jim Sullivan—was published in paperback and e-book on July 21, 2023, by Trouser Press Books. It's available to order here.
With more than 26 years writing for the Boston Globe and two decades more writing for national publications from Creem to Newsweek to the Best Classic Bands website—where he contributed pieces on Alice Cooper, Jethro Tull's Ian Anderson, U2 and others—Sullivan has interviewed and reviewed countless musicians, some multiple times. Though access is often hard to come by, Sullivan was able to engage with many of these superstars on a far more intimate level than journalists usually can or do.
Backstage & Beyond Volume 1 gathers Sullivan's writings on an array of iconic artists—21 of whom have been inducted into the Rock & Roll Hall of Fame—whose music came to prominence in the 1950s, 1960s and 1970s. Over the course of 350 pages, Sullivan, according to a press release, "shares fascinating, entertaining and occasionally hair-raising profiles" of Jerry Lee Lewis, Tina Turner, Iggy Pop, Lou Reed, Nico, Brian Eno, Neil Young, Richard Thompson, David Bowie, Peter Gabriel, Warren Zevon, Pete Townshend, Ray Davies and the Kinks, Dave Davies, Ginger Baker, Leonard Cohen, Marianne Faithfull, John Fogerty, Ian Hunter and Mott the Hoople, Bryan Ferry and Roxy Music, Robert Fripp and King Crimson, Darlene Love, Alice Cooper, Peter Wolf and the J. Geils Band, Joe Perry and Aerosmith, Lemmy and Motörhead, George Clinton, Tangerine Dream, Joan Baez and Roy Orbison.
Rather than simply collect previously published articles as they originally appeared, Sullivan combed his archive to find everything he wrote about each artist, reworking the original pieces into more expansive views of these legendary musicians, chronicling their changing situations, outlooks, and experiences through the passage of time and his own unique perspective. Backstage & Beyond Volume 2—which focuses on artists spanning Ramones, Sex Pistols, The Cars, and The Clash to The Cure, The Police, Beastie Boys, Puff Daddy, and Talking Heads—will follow in October.
Related: Jim Sullivan's interview with Alice Cooper for Best Classic Bands
"My hope is that the recollections contained here trigger some memories," writes Jim Sullivan in the book's preface, "bring you back to where you wanted to be—backstage and beyond, as it were. And if you weren't around then, I hope this transports you back to several golden ages of rock and roll."
"I've always admired Jim's writing and his remarkable ability to get close to artists," says Trouser Press Books Editorial Director Ira Robbins, "even those thought to be unapproachable: Lou Reed? Nico? Jerry Lee Lewis? Wow! I'm proud to help bring Jim's past work to as wide an audience as it deserves."

Latest posts by Best Classic Bands Staff
(see all)