Friend & Lover's 'Reach Out of the Darkness': So Groovy Now
by Jeff Tamarkin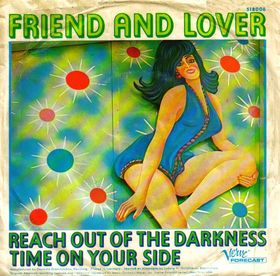 The song begins with a lyric that could only have been written in the late '60s: "I think it's so groovy now that people are finally getting together." And the record was attributed to artists whose name could only have come out of that same era: Friend & Lover.
It was called "Reach Out of the Darkness," and it was their only hit, scraping into the top 10 in mid-1968. It's a relic of its time, for sure, but one whose message is arguably needed now more than ever before.
Listen to "Reach Out of the Darkness"
Friend & Lover were the husband-and-wife folk duo of Jim Post and Cathy Post (nee Cathy Conn). He was the older of the two, born in Houston on Oct. 28, 1939; she came from Chicago, born on May 30, 1945. Jim Post had performed with a folk group called the Rum Runners and met Cathy at a fair in Alberta, Canada, in 1964. They soon married and began making music together, gaining some recognition in the Chicago clubs, and were signed to the Verve Forecast label (the rock-pop spinoff of the jazz label Verve Records), which served as home to Richie Havens, Tim Hardin, Janis Ian, the Blues Project and others.
Jim Post penned the song in 1967, the peak of the hippie era, telling a simple tale of a man who "knew a man that I did not care for/and then one day this man gave me a call." The two, in the song, "sat and talked about things on our mind, and now this man he is a friend of mine." The message of the song, "Don't be afraid of love…everybody needs a little love," rings out as the mildly funky, bass-, drums- and guitar-driven tune carries on, with the Posts switching off on lead vocals and coming together, appropriately, to harmonize.
Related: 16 more songs that use the word groovy
Recorded in Nashville, "Reach Out of the Darkness" was co-produced by Bill Lowery and Joe South (the latter of "Games People Play" fame) and featured Ray Stevens on keyboards (he also arranged the strings). South was also present on the session.
The song's peace-and-love message resonated first in Northern California before catching on nationally. The single, with a tune called "Time on Your Side" on the flip, began its climb up the charts on May 18, 1968, several months after it was recorded. It reached the #10 position on the Billboard chart of June 22 and remained in that exact position for two more weeks before beginning its descent.
Listen to "Time on Your Side"
Related: A look back at the music of 1968
Interestingly, although it's titled "Reach Out of the Darkness," that line is never sung: Friend & Lover sing, instead, "reach out in the darkness" throughout.
The Posts scored one further chart single, "If Love Is In Your Heart," a few months later, then never returned. Their sole album, also titled Reach Out of the Darkness, with all songs written by Jim Post, never charted.
According to their Wikipedia entry, "Their marriage and the band eventually broke up. Cathy remarried twice, became Cat Conn, had three children and five grandchildren, and lived for a short time in the mountains of New Mexico. In 2015 or 2016, she moved back into Chicago to live out the rest of her days with two of her grandchildren and one of her first children. She died in Evanston, Illinois, on July 4, 2018, at 73."
Jim Post continued to record under his own name, releasing albums on the Flying Fish and Fantasy labels.
"Reach Out of the Darkness," due to its positive (some might say naïve) message, has continued to stay alive via placement in various TV programs (including Mad Men) and movies, and has also become a staple of Christian rockers, its universal theme of, well, friendship and love, resonating perennially.
Listen to "If Love Is In Your Heart," the followup to the hit

Latest posts by Jeff Tamarkin
(see all)